Your Journey Starts Here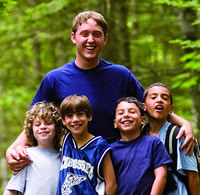 Curious what ACA has to offer? Interested in becoming one of the next camp leaders?
Take advantage of ACA's trial one-year free membership.
We know you'll find something you love. We value you as an important part of the camp and youth development community, and we believe so strongly in what ACA has to offer, we're willing to offer you one free year of ACA membership.
What do you get?
Take advantage of this opportunity for your professional development! Join now and use the promo code ACAFREE at checkout.
Frequently Asked Questions about This Free 1-Year Membership
This promotion is good only for individuals who are not existing or previous ACA members. Promotion is redeemed by the individual signing up online. Promotion allows individual to join in whatever membership category best fits. Individual must provide a unique e-mail address when signing up (as opposed to the camp's general e-mail). Membership is not transferrable to another person once individual signs up.