Hello everyone, and welcome to a blog post we are especially excited to share.  For months we've been working with ACA's research partners at the University of Utah and our Research Advisory Committee to determine the key findings from Phase 2 of the Camper and Staff Impact Studies (separate studies with overlapping approaches). 
This blog post is the first time we are sharing what we learned. From here, we'll share these findings at the ACA National Conference in Nashville, Tennessee, and several regional conferences in the spring. You can also read a more in-depth overview in an upcoming five-article series in Camping Magazine, the first of which will be in the January/February issue.  Around that time, we will also share a series of short videos that highlight some of the key findings through the voices of former campers — a perfect tool for communicating the lasting benefits of camp to parents, funders, and other stakeholders. 
Before we dive in, it might help to review what we know about the study and about what we learned in Phase 1.  First, it is important to remember that the study is being conducted by a third-party research team — we are way too excited about camp to do our own research, so we've enlisted this team, and an all-volunteer advisory committee, to ensure this study is rigorous, reliable, and as unbiased as possible. 
Another important feature of this study is our commitment to including ACA-accredited camps of all shapes and sizes — day camps, overnight camps, faith-based camps, and medically focused camps, for example. This allows us to apply what we find to the larger population of camps, even if not every camp actively participants in the study. We recognize that lots of camps have very specific purposes and camper populations, so, in partnership with several separate organizations, we've also done independent studies of these camp groups to learn more about their unique outcomes. 
The last thing I'll remind us of what we are doing and when. Phase 2 is the second of the three phases of the Camper Impact Study.  Phase 1 was an exploratory phase that began in spring 2017, Phase 2 built on what we learned in Phase 1 with a larger sample and more quantitative look at the lasting outcomes of camp, and Phase 3, which began in spring 2018, is a three-year phase that involves tracking campers and their parents to learn about the outcomes of camp, how those outcomes relate to school and other non-camp places, and how families decide to engage in camp and other out-of-school activities. 
But that's not all. Alongside the Camper Impact Study is a Staff Impact Study, which is funded by ACA, New York & New Jersey, and a study of CIT/LIT programs and effective camp staffing practices that is funded by the Spencer Foundation. The Staff Impact Study launched in spring 2018 and will include surveys and interviews with camp staff each year for five years (concluding in 2023), focusing on the outcomes of working at camp, how those outcomes help camp staff to thrive in college and in their early careers, and the motives and barriers young people face when deciding to work at camp.
Phase 1 set the stage for what we learned in Phase 2, so look briefly at those findings before diving into Phase 2. Recall that in Phase 1 we called a small sample of former campers ages 18–25 years old from a diverse sample of ACA-accredited camps and asked them about what they got out of camp as a kid and how they are now using what they learned in school, work, and in their emerging adult lives.  We learned that young people gain a great deal when they attend camp, notably in the areas of social-emotional learning. Of these skills, some in particular transfer beyond camp and, according to the participants in this phase of the study, help them thrive in school and in their early jobs. You can see some of these themes and their strength in academic in workplace settings below:

You can read more about the Phase 1 findings here; in the meantime, let's turn now to Phase 2.  Using the themes that emerged from in-depth interviews with former campers, the research built a survey to help explore these themes across a larger sample and in a more quantitative way. That survey was administered yet again to former campers between the ages of 18–25 years old, but this time the sample was much larger and included several segments so we could compare how the lasting outcomes of camp might differ between those currently working at an ACA accredited camps, those who attended specialized camps as a kid, such as mainline Christian camps or Girl Scout camps, and individuals from the general public who attended camp for at least three weeks as a child (but are not currently working at or attending an ACA-accredited camp).
Below are the findings from two of these groups: "Participants currently working at ACA-accredited camps" and "Participants not currently working at or attending an ACA-accredited camp" sample. The outcomes on both maps are represented by bubbles mapped out in a grip based on "Importance in Daily Life" (horizontal axis) and "The Role of Camp" (vertical axis). Importance in Daily Life refers to what participants learned at camp that they now use in their emerging adult lives, specifically in school and in the workplace. Role of Camp refers to camp's unique contribution to this lasting learning — compared to school, home, church, and other common places where young people are developing lifelong skills, how important was camp? Outcomes that are in the upper quadrants represent things that camp does especially well at contributing to the overall learning landscape.
You'll notice in these two "maps" the very reason why we used these two different samples: the outcomes are largely similar, which means that there is a core camp experience that transcends ACA camps (this is good news!), and the overall average scores for those the "ACA-accredited camp sample" are higher — higher in a statistically significant sense, in fact, than the scores from the "general public" sample (this is also good news!).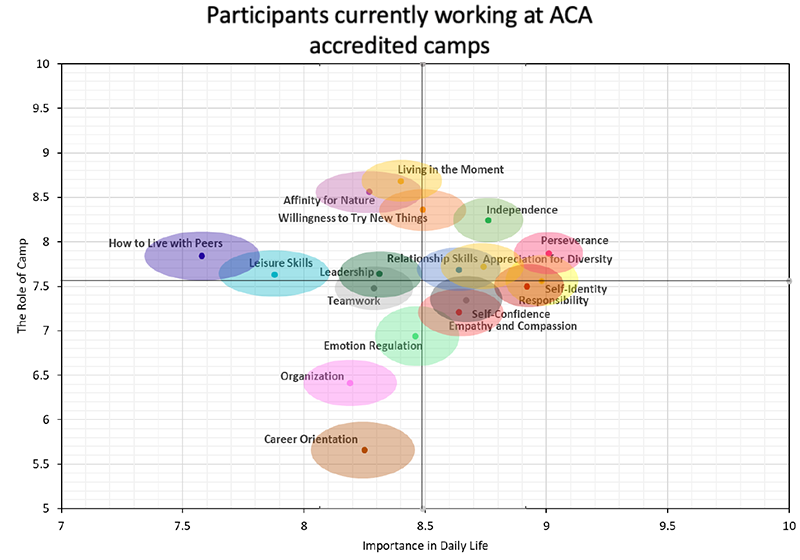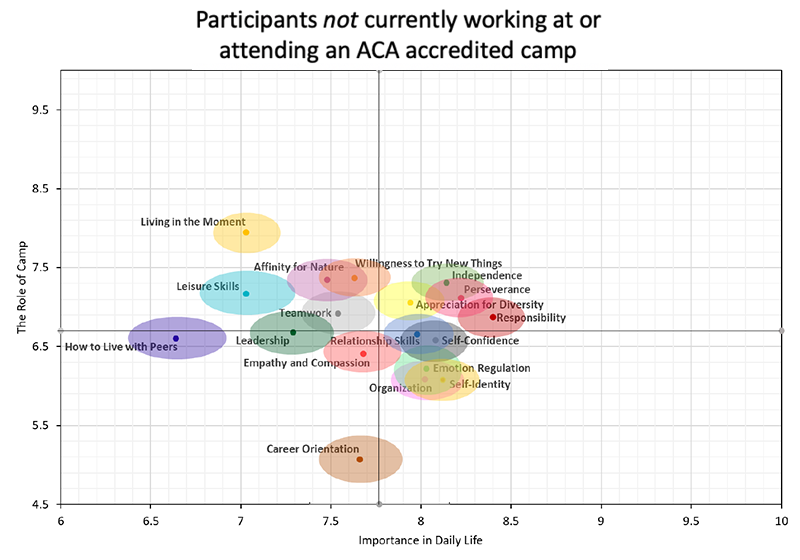 You can see in the maps above that the strongest outcomes, those that are most important later in life and most distinct to camp are all related to social-emotional learning.  You'll also see that there is quite a bit of overlap (the colorful bubbles) — this means the terms we are using to describe these outcomes need further exploration and definition—something the research team will be doing in Phase 3. 
Here are some of the other things we learned in Phase 2:
Relationship skills, independence and responsibility, appreciation for living in the moment, appreciation for diversity, perseverance, and willingness to try new things appear to be the most essential and lasting outcomes of camp, according to the participants in both samples.
"Appreciation for living in the moment" is a label used to describe participants' development of an appreciation or valuing of being present in the moment; not being focused on the future or the past. "Appreciation" here is important to note because participants were emerging adults (18-25 year olds) reflecting back on camp from the perspective of their current circumstances, so it is likely that appreciation for being present in the moment developed over time. They attributed their valuing of living in the moment to their camp experiences where they were able to experience and appreciate being present. While it is unclear exactly what this outcome is and how it benefits camp participants beyond their camp experiences, it is likely it is related to mindfulness, flow, or stress reduction, all of which have long-term benefits related to health and well-being.
"Appreciation for individual differences" is a label used to describe participants' reflection on camp as a place that helped them develop an awareness and valuing of people who are different than them—people who come from different neighborhoods, states, or even countries; people who had different values or beliefs; people who were different than their normal social group. The data did not indicate the extent to which this appreciation included an appreciation for other dimensions of diversity, such as race, ethnicity, gender, ability, and religion.
When compared to home and school, camp appeared to make special contributions to campers' overall learning in the areas of learning to live with peers (for those who attend overnight camps), independence, willingness to try new things, appreciation for living in the moment, identification recreational interests/hobbies through activities offered at camp, and affinity for nature. 
In general, participants currently working for an ACA accredited camp tended to attribute more of their learning to camp, while participants in the panel sample attributed more of their overall learning to school.  This finding was expected given the participants who are currently affiliated with an ACA accredited camp likely had a high degree of affinity and loyalty to camp, which is why they opted to return to camp to work.
People (campers and staff) and opportunities to learn through direct experience seemed to be the primary features that made camp a distinct learning context and the mechanisms that promoted learning that transferred to school, work, and life.
Data were also collected from seasonal staff members who had previously worked one or more years at camp ("senior staff," ages 18+) to explore motives for working at camp and the distinct and transferable outcomes of working at camp.  Key motives for returning to work at camp included perceptions of job impact (e.g., making a difference in the lives of kids) and feelings of job engagement (e.g., aligns with my interests and what I'm good at), while compensation and other job opportunities were reasons staff did not return.  Many of the outcomes revealed from these data mirrored the camper data; however, leadership appeared to be a distinct and transferrable outcome that was specific to the camp work experience.
This last bullet refers to some of what we've learned so far about staff — but there is a lot more to come. In spring 2019 we will be surveying a group of hiring managers from an array of industries about their perceptions of camp work on a resume and around the same time we will be conducting surveys and interviews with the 250 staff members as a part of the Staff Impact Study.  Look for more on what we know so far through our research with staff in upcoming Research 360 blog posts.  In the meantime, plan to join us at the Camp Research Forum, the ACA Research Awards Recognition and Social, and at educational sessions there and at other ACA regional conferences throughout the year.
Photo courtesy of Girl Scouts of Chesapeake Bay
---
Laurie Browne, PhD, is the director of research at ACA. She specializes in ACA's Youth Outcomes Battery and supporting camps in their research and evaluation efforts. Prior to joining ACA, Laurie was an assistant professor in the Department of Recreation, Hospitality, and Parks Management at California State University-Chico.  Laurie received her PhD from the University of Utah, where she studied youth development and research methods.
Thanks to our research partner, Redwoods.
Additional thanks goes to our research supporter, Chaco.