Youth Mental Health First Aid
Monday, March 30, 2020
9:00 a.m. - 4:00 p.m.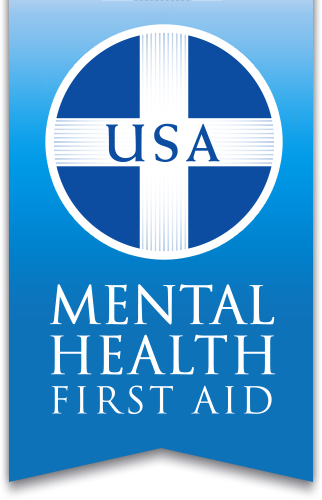 Mental Health First Aid is an 8-hour course that gives people the skills to help someone who is developing a mental health problem or experiencing a mental health crisis. The evidence behind the program demonstrates that it does build mental health literacy, helping the public identify, understand, and respond to signs of mental illness.
Just as CPR helps you assist an individual having a heart attack, Mental Health First Aid helps you assist someone experiencing a mental health or substance use-related crisis. In the Mental Health First Aid course, you learn risk factors and warning signs for mental health and addiction concerns, strategies for how to help someone in both crisis and non-crisis situations, and where to turn for help.
Topics covered includes depression and mood disorders, anxiety disorders and substance use disorders.
Mental Health First Aid teaches about recovery and resiliency – the belief that individuals experiencing these challenges can and do get better, and use their strengths to stay well.
ALICE Training
Monday, March 30, 2020
12:30 p.m. - 3:30 p.m.

Trainer: Amanda Wahle
ALICE (Alert, Lockdown, Inform, Counter, Evacuate) Training is the leading program for response to violent critical incidents (VCI). VCI are man-made forms of violent disaster, including active shooter, 
violent intruder, mass shooting, terrorism, workplace violence, and other unexpected tragedies.
The mission of ALICE is to save lives. The training program empowers individuals to participate in their own survival using proactive options-based response strategies when faced with violence. Participating in ALICE Instructor Certification provides you the training necessary to teach others these lifesaving strategies.
**There is a pre-training e-course that each participant must complete. The pre-training over-views the basic knowledge and foundations to prepare for the in-person training. The e-course takes approximately 1 hour to complete.