ACA Camp Food Service Conference
Date
February 8, 2023
9:00 am – 4:00 pm PT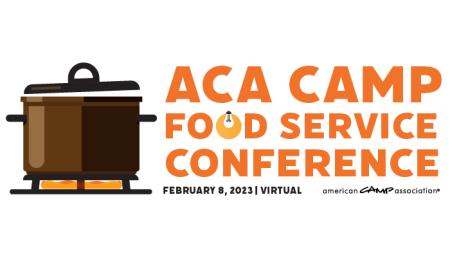 Cost
$25 members, $50 non-members
CECs
4.00
Please join us for the Camp Food Service Conference!  This virtual event will feature a variety of food service specific breakout sessions, time to share new ideas, hear about innovations, and problem solve and learn from fellow camp food service professionals. 
Registration includes virtual conference program. 
Recordings of sessions will be available to participants for 30 days following the event. 
Not an ACA Member? Join today for FREE and get the best rates for this event!   
| Type | Regular |
| --- | --- |
| Member | $25 |
| Nonmember | $50 |

Kathy Capron is a former Kitchen Manager at Camp Nor'wester in Washington State. Currently she serves as the HR/Operations staff at Common Threads Farm, a seed-to-table garden and cooking education program in Bellingham, WA. She grew up cooking with her mother and older sister and is grateful to them for giving her the skills and confidence to cook for large groups.

Beth Crawford is a passionate supporter of growth and professional development. As a regional sales manager for Campus Cooks, Elizabeth parlays this passion into a consultative approach designed to provide her clients with a fully customized dining experience in the university, camp, and private school sectors. She advocates for greater understanding of how nutrition can positively affect mental health and how experiences around the dining table create and shape communities.

Vicky Flaig, MEd, RDN is the Director of Operations for Ronald McDonald House Charities, Northern California – overseeing the Sacramento Ronald McDonald House and Camp Ronald McDonald at Eagle Lake, a residential summer camp serving campers with special health care needs. She is the director of an undergraduate food service internship that pulls students from all over the United States. She is not your conventional RD, but a passionate mentor, teacher and advocate for the importance of health and nutrition for all abilities and in all aspects of life. She completed her undergraduate degree at UC Davis, her dietetic internship at the Children's Hospital in Cincinnati Ohio and her Master's in Nutrition Education at the University of Cincinnati.

Amanda Haun brings 20 years of experience in the restaurant hospitality industry specializing in operational management. As a district manager at Campus Cooks, Amanda leads and manages over 40 private chefs focusing on a seamless operation to aid client and employee retention. Her passion for culinary shines through as she challenges and trains her employees to create new culinary dishes outside their realms. An avid backpacker, Amanda has a sense of wanderlust to see the world and different cultures, seeking adventure through unique experiences.
Things We Learned the Hard Way: 10 Tips for Operational Success in the Kitchen
Beth Crawford, Campus Cooks
Developing and maintaining a camp foodservice program is an integral part of a successful summer. Through years of experience in group dining the team at Campus Cooks has learned some lessons the hard way, and we're ready to share our secrets with you. From how to motivate and inspire your culinary talent to creating menus both campers and staff will remember for years to come, we're opening our playbook and arming you with the information you need to lead your kitchen with confidence.
Getting Rid of the Food Divide-a Creative Approach to Food Service Staffing
Vicky Flaig, MEd, RDN, Ronald McDonald House Charities
Let's explore alternative ways to staff your food service department through unconventional kitchen schedules and utlizing food service employees as a resource for programming.  A dive into partnering with local educational partners.
Is "HEALTHY" a Loaded Word?
Kathy Capron, Common Threads Farm
Why do foods get labeled "good for you" or "bad for you" and who gets to decide that?  Join Kathy Capron to learn about the growing idea of helping kids learn about nourishment for their bodies in some different ways.  
Recipe for Food Cost Success
Vicky Flaig, MEd, RDN, Ronald McDonald House Charities
Think about this….the most expensive meal is the one that does not get eaten.  Let's share pro tips on menu planning and budgeting for your summer food service program, as well as the importance of food costs and inventory control.