ACA Site and Facility Managers Innovation Showcase
Date
September 14, 2022
9:00 am – 1:00 pm PT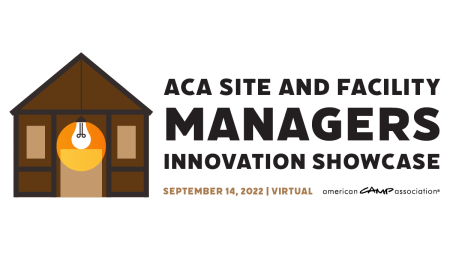 Cost
$25 members, $50 non-members
CECs
2.75
The ACA Site and Facility Managers Innovation Showcase will feature presentations on the newest tools, best time saving processes, smartest budget relieving tricks and great improvements that site managers are adding to their camps.  We will hear from facility experts from around the country and learn about great new products and services from the camp industry's favorite business affiliates.  There will be ample time to get your questions answered and to have conversations around best practices and solutions.  Attend this virtual event and leave with a ton of new ideas!
Building Relationships to Benefit Your Facility
Changing Stalls without a New Building
Digital Forms: The benefits of using digital facility forms to market your summer camp to potential kitchen employees
Contracts and Contractors
10 Cheap Ideas in 5 Minutes
Hydrobike Water Sampler
Creative Partnerships in Camp Facility Improvements
First Impressions Matter
Ropes Courses from Old to New on a Budget
Green Camp Needs Assessment
Tearing Down Historic Barns to be More Effective
Balancing Revenue with Mission...Finding Capital$$$$
Burns and Beavers
Meet the Ox
Top 10 Lessons Learned Implementing a Large Capital Improvement Project
Event Sponsorship Opportunities
Sponsoring an ACA event will extend your brand identity and marketing capabilities.  For questions regarding sponsorship opportunities, contact Kim Bruno.