ACA Western Camps Virtual Conference
Date
December 7, 2022
12:00 am – 11:59 pm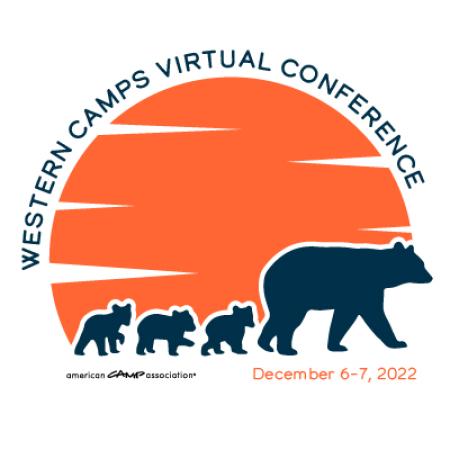 Cost
See registration costs below
CECs
7.00
Join us for the ACA Western Camps Virtual Conference on December 6-7, 2022.  This two-day online conference is an affordable and convenient way to connect with other camp professionals and learn about the timeliest information around the challenges impacting the camp industry.  Highlights include keynotes and breakout sessions related to camp business operations and youth development. Through lectures, facilitated discussions, lightning talks, and panel presentations, our robust slate of speakers and presentations will share practical solutions and lessons learned from last summer to help you prepare for next summer.  Registered attendees will have access to all the recorded sessions for a full month following the conference.   
Early Bird registration is available through November 8, 2022.
Registration includes virtual program and recordings of sessions which will be available for 30 days following the event. 
Registration also covers complimentary registration to the Wildfire Symposium on December 8.  To take advantage of this offer, contact Betsy Thamert bthamert@ACAcamps.org once you have registered for the Western Camps Virtual Conference.
Not an ACA Member? Join today for FREE and get the best rates for this event! 
| Type | Early-Bird | Regular |
| --- | --- | --- |
| Individual 1st person-member | $85 | $105 |
| Individual 1st person-non-member | $170 | $210 |
| Emerging professionals and students-member/non-member | $30 | $30 |
Opening Keynote — Dave Schramm

Known as "Dr. Dave" on campus and across the country, Dave Schramm is an associate professor and family life extension specialist at Utah State University in the department of Human Development and Family Studies. From British Columbia to Beijing, China, and from St. Louis to San Diego, Dr. Dave has given over 500 presentations, classes, and workshops to a variety of audiences, including the United Nations and a TEDx talk in Florida. He married his high school sweetheart Jamie, they have four children, he loves peanut M&Ms, and lives in North Logan, Utah.
Happy Hacks for Becoming Better After the Bitter
Since 2020 our lives have been bombarded with negativity, stress, and countless threats to our emotional well-being, work, and closest relationships. Unfortunately, this negativity sticks in our brain like velcro and easily seeps into both our personal and professional lives. Perhaps there are lessons we can learn as we look back and then move forward in positive ways. Starting with the three needs as a foundation, Dr. Dave uses stories and humor as he provides four principles for becoming better after experiencing the bitter, including some simple science-backed "happy hacks" to boost both our positivity and productivity as well as our mood and attitude at home and at work—starting today.
Tuesday Afternoon Keynote — Julie Strom

Julie is an attorney with Liebert Cassidy Whitmore and specializes in matters related to employment, labor law, and education.  She is a popular presenter who is known for the relevant content she shares as well as her sense of humor.  Julie has experience on a wide range of topics, including enrollment agreements, employment contracts, Board and governance matters, mandated reporting, terminations, and severance agreements.
Legal Roundup 2022
This session will review the major changes to the law that camps need to be aware of as 2023 begins.  This includes matters relating to employers, campers, and facilities.  We will also take some time for a refresher on important wage and hour matters.  Finally, we will discuss the timely and critical issue of diversity in the employment context, focusing on how to increase diversity through good hiring practices.                                                                                
Wednesday Morning Keynote — Eric Swenson

Workforce strategist, author, and speaker, Eric Swenson is a leading expert on leadership and the workforce.  His work has led to improved performance, stronger employee engagement and greater customer satisfaction for businesses throughout North America.  He has authored two books, "Managing People in the 21st Century," and "The 5 A's of Great Employees," which argues that experience and education are far less important in today's workforce than intangible attributes.  His newest book, "Weaknesses," will be published in 2023.
Secrets to Hiring & Retaining Great Employees (Even in today's job market)
We're living in a world where there are twice as many jobs available than there are people looking for a job. People are still quitting in unprecedented numbers – nearly 35 million so far this year. And it's even worse for employers who need 'frontline' employees: Wages are going through the roof – nearly 11% in the past twelve months.
So in this job market: what can be done to find and keep great employees?
Eric Swenson has successfully worked with hundreds of businesses and non-profits to re-design the way they approach their workforce – from interviewing techniques to innovative concepts needed to compete for talent in today's workplace. Join him and discover the new secrets of how to hire, manage and retain great employees.
All times are Pacific Time
December 6, 2022
9:30 a.m. -- 10:45 a.m.--Tuesday General Session and Morning Keynote-Dave Schramm
11:00 a.m. -- 12:00 p.m.--Breakout Session 1 (3 breakouts)
1:00 p.m. -- 2:00 p.m.--Breakout Session 2 (3 breakouts)
3:00 p.m. -- 4:00 p.m.--Tuesday Afternoon Keynote-Julie Strom
December 7, 2022
9:30 a.m. -- 10:45 a.m.--Wednesday General Session and Keynote-Eric Swenson                      
11:00 a.m. -- 12:00 p.m.--Breakout Session 3 (3 breakouts)
12:30 p.m. -- 1:30 p.m.--Breakout Session 4 (3 breakouts)
1:45 p.m. -- 2:45 p.m.--General Session
2:45 p.m. to 3:00 p.m.--Closing Remarks
3:15 p.m. to 3:45 p.m.--Affinity Group Conversations
Event Sponsorship Opportunities
Sponsoring an ACA event will extend your brand identity and marketing capabilities.  For questions regarding sponsorship opportunities, contact Kim Bruno.