Funding Camp Sustainability
Date
March 1, 2023
1:00 pm – 2:00 pm ET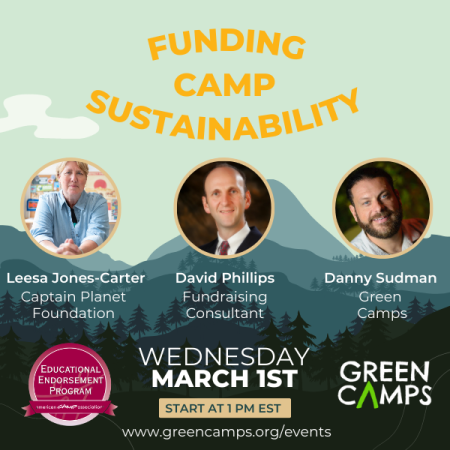 Cost
Free.  Zoom registration required.
A recent research study from Green Camps, The Motivators and Barriers to Camp Sustainability, highlighted several of the biggest barriers camps reported when it comes to "going green." By far the most consistent is the financial restraints to fund sustainable initiatives. Thus, we've decided to host a webinar on "Funding Camp Sustainability."
In conjunction with this webinar, we will create a resource guide with sample grant templates, a list of foundations that fund this type of work, along with other fundraising tools to help advance your sustainability goals.
Diversity, Equity, Inclusion, and Belonging (DEIB) is at the forefront of conversation in our society, and we see this webinar as an opportunity to better understand its correlation and causation to the topic of sustainability.
To help build the case to fund camp sustainability you'll also have the option to complete a free green needs assessment. We will highlight the collected data during the webinar to reinforce the specific needs and opportunities to fund meaningful and long-lasting action to model sustainability for campers and staff.