Understanding and Preventing Camper to Camper Abuse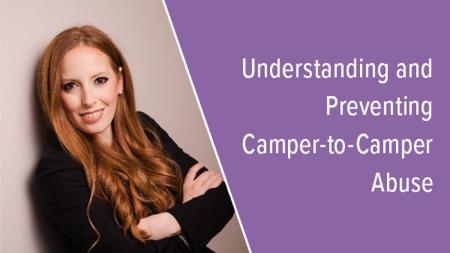 Type of Course
Recorded Webinar
Cost
$40 Member; $80 Nonmember
CECs
1.00
Dealing with an allegation of abuse in camp is a harrowing experience: discovering the allegation involves camper to camper conduct complicates matters even more. This session will walk participants through common camper on camper abuse scenarios, provide a foundation to understand child to child abuse and inappropriate conduct, and explore to create a roadmap for prevention and response. 
*Please note that this course will only be available in our online learning center for view until 12/9/2023
Presenter:
Rahel Bayar, CEO of The Bayar Group, is a former sex crimes and child abuse prosecutor who has worked in the field of sexual misconduct and abuse prevention for over a decade. She built her career on creating safe spaces and facilitating change in workplaces globally. Prior to founding The Bayar Group, Rahel was a Managing Director in the Sexual Misconduct Consulting & Investigations division of a global security and consulting firm, and an Assistant District Attorney in both the Child Abuse/Sex Crimes and Domestic Violence Bureaus at the Bronx District Attorney's office. As a prosecutor, Rahel was responsible for the prosecution and investigation of hundreds of sex crimes, child abuse, and domestic violence cases. As a consultant, Rahel developed and delivered customized interactive workshops, lectures and trainings for K-12 schools, camps, sports organizations, media outlets, financial firms, law firms, global youth organizations, faith-based organizations and nonprofits across North America. She is a sought after and widely renowned speaker for her engaging workshops on the topics of sexual misconduct, abuse prevention & detection, safe social media and electronic communication practices, boundary guidelines, and consent. Over the past decade, Rahel has conducted many highly sensitive and high-profile investigations into allegations of sexual misconduct, harassment, and boundary crossing behavior. She has leveraged her investigatory skills and experience as a trained forensic interviewer to ensure respect, neutrality, and a trauma-informed process. Rahel serves on multiple faith-based child protection and advisory committees. She is the author of a curriculum on teaching abuse prevention in specific faith-based communities, has been featured in the media, authored numerous articles, and was recognized by The Jewish Week 36 Under 36 in 2017 for her efforts towards preventing sexual abuse, particularly against children. Rahel is a Phi Beta Kappa graduate of Rutgers University and received her Juris Doctorate from Seton Hall University School of Law.