Outschool gives you the tools and services you need to launch your online camp fast. Plus, we have a built-in community of 500,000+ families who are excited to explore what your camp has to offer.
With Outschool's marketplace for live online learning, summer camps are now offering classes as a way to engage campers, build community, and make connections this summer.  
In 2 weeks or less, you can launch your online camp through Outschool's safe and secure platform. You'll offer your community an opportunity to connect and engage, even if they can't be together in person.  
While Outschool was originally designed as a marketplace for teachers, we have updated the platform to meet the needs of camps and organizations.
Other established camps and organizations have already launched their online offering through Outschool:

What does it mean to be a Camp on Outschool?
Being a camp on Outschool provides you with an easy-to-use and safe platform to deliver your content virtually.  It enables you to support your current campers, while also accessing new learners.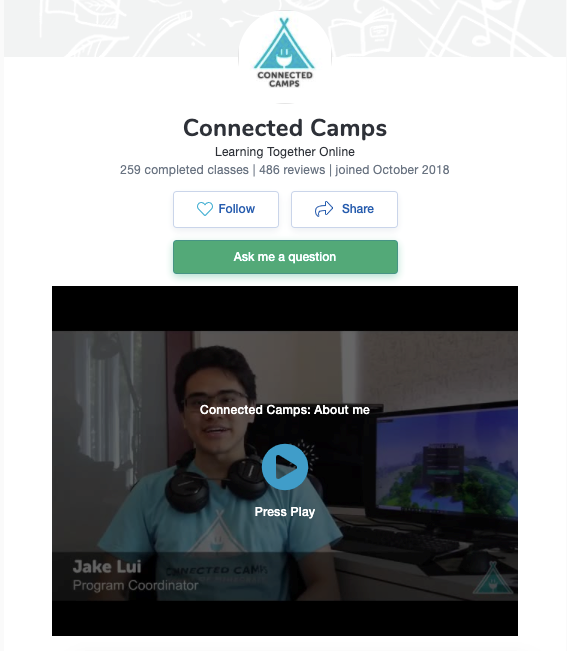 Your camp gets a beautiful homepage on Outschool where you can connect with potential campers' and share your message with the Outschool community.
Camps on Outschool each get their own profile page to list their classes, can be found via search and discovery, and are featured on our blog and in weekly email digests and on Facebook.  As an organization, not only can your current families find you - but so can families all over the world.  Outschool has:
Wide reach: Over 1 million registered parents and ~500k weekly site visitors
Rapid growth: Over 10,000 new classes and 50k new buyers in last 30 days alone
Competitive earnings: Median hourly earnings of $60+ per class
Global impact: Learners from over 200+ countries and $1MM charitable fund
As a camp, you have control over the topics you and your staff teach, the schedule, the number of learners in each class, and the pricing for your classes.  
We know you are facing challenges this summer and we are here to be your partner to keep the spirit of your camp alive and help you stay connected with your campers. We hope you will join us as part of the Outschool community!