I had the most delightful, inspiring experience recently.
I was invited to be a guest judge at the "Mountaineer Cook-Off" at Mount Laguna. "Mountaineers" is our teen program at Marston – they spend only their first and last nights at camp. The remainder they sleep under the stars, mountain bike, hike, rock climb, and cook all meals over an open fire.
The last mountain bike ride group pulled in to the campsite as I arrived. The three teams were already cooking, preparing appetizers, a main course, and dessert for the celebrity judges. Judgments were made on presentation, taste, and creativity. I soon found myself gorging on stuffed mushrooms, spicy Cajun salad, Shepherd's Pie, grilled meatballs and onions, and pumpkin cake with marshmallows and chocolate kisses. In the end, the Crazy Cookers edged out the Spices and LIT Crew by scores of 294 to 214/214 tie.
But to look around and see these 13-, 14-, and 15-year-olds, grungy and dirty from their time camping, cooperating and playing together was a moment of true inspiration.  I'd spent much of the day in some stress-loaded meetings at corporate — what a joy it was to mellow with these young people that night.
A few boys pitched a baseball.  With no bat, they found a stick.
Dishwashing was done at an open spigot.
Volleyball games happened with a fallen log for a net.
There was not a cell phone in sight.  All interactions were personal and sincere.
Night fell, the temperature dropped, and these wonderful, polite, welcoming teens bid me farewell as I got back into my car, returning to the real world.
There is still good in this world, and I'm glad we're all part of it.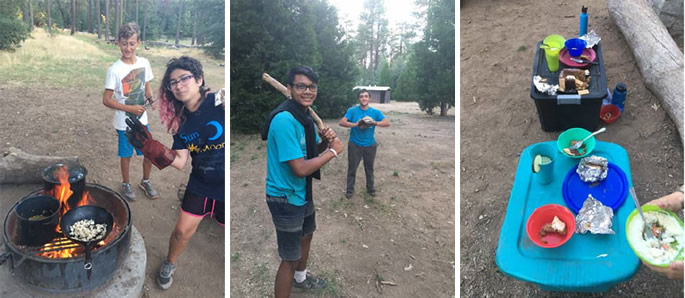 Tom Madeyski serves as the Regional Vice President of Camping for the YMCA of San Diego County, overseeing Camps Marston, Raintree Ranch, and Surf.  He grew up at YMCA Camp Fitch in Pennsylvania and worked 10 years at YMCA Camp Jewell in Connecticut. His passion for getting kids outdoors with meaningful experiences is stronger than ever.  "Camp gives kids a world of good!"
Reprinted with permission.
Photos courtesy of YMCA Camp Marston in Julian, California.