Hello Camp Evaluators! In my camp director days, February was an auspicious month. The lull of the holidays is over, but summer still feels like a long way off. March, for me, was pedal-to-the-metal time, which made February a strange combination of anticipation and calm: like a racer with their toe on the starting line waiting for the starting gun to go off.
Whether it's the moments before a race or the moments before the camp season takes off, this state of anticipation is an interesting time because it is when our minds are most alert and ready to take in new information. It is no coincidence, then, that ACA's National Conference takes place in this exact window every year. For camp people, February is an optimal time for learning, connection, and growth…whether you will be in Albuquerque or not. So, the purpose of this post is to suggest some ways you can optimize your February by expanding your capacity for research and evaluation.
Join a Community of Practice
The most frequent response I hear when training camps to evaluate their programs is "Isn't there a researcher that could do this for us?" When I hear this question, I think of my years as a doctoral student and then a pre-tenured professor and how often I thought "If only I could find a camp to evaluate for my research…"
Like you, ACA's Raise the Bar, a community of practice dedicated to improving camp programs through evidence-based decision making, saw the need to connect camps and researchers. Their solution? Speed dating! At 7 a.m.! Last year's Speed Data-ing Café was such a success that they are doing it again, this time under the title Find Your Perfect Data: A Meetup for Camps Who Want Good Outcomes and Researchers Who Just Want Some Data. Join Raise the Bar on Wednesday, February 22 (yes, at 7 a.m.), for a fun, informal exercise in evaluation matchmaking.
Not planning to attend conference? Then consider joining Raise the Bar — it's free and low-to-no commitment — to connect with camp professionals and researchers via online hangouts throughout the year.
Explore Camp Research
Camp research is not new: some of the industry's earliest pioneers investigated the outcomes of camp experiences and used their findings to advocate for camp to parents, funders, and policy-makers. What is new, and very exciting, is the steady increase in volume in camp-related research, and ACA's Research Symposium is your one-stop-shop for that research each year.
If you are in Albuquerque, stop by any one of the four Research Forums on Wednesday, February 22, each of which includes four short research presentations all related to a single theme. Each presentation is followed by ample time for questions, which is when attendees typically discuss how the research can be used in the camp setting.
Or, check out research year-by-year in the Research Books of Abstracts, available for free on ACA's website. Sound dull? Perhaps. But there is no other place where you can find camp-specific research presented in such bite-size pieces. The 2017 Book of Abstracts, for example, has studies on the effects of over-parenting on the camp experience, training staff to foster friendship skills, the benefits of working at camp, and developing college readiness skills at camp (and many others). Remember, your brain is most receptive to new information right now, so give it a shot.
Make a Plan to Measure Outcomes
Measuring camper outcomes is one of the most common ways camps evaluate their programs (although there are others, like assessing program quality), which is why it is a popular topic at National Conference. New to outcomes? Join us for Measuring Outcomes 101: Lessons From the Field Thursday, February 23 at 10:30 a.m. The session will feature back-to-the basics steps for measuring outcomes, as well as a panel of camp professionals who share their tips and tricks from measuring outcomes at their camps. ACA also has several online courses dedicated to measuring outcomes, such as Tips and Tricks for Surveying Campers and Beyond the Survey: Creative Approaches to Assessing Camper Outcomes. Measuring outcomes is tricky, so regardless of where you are at, think about one small, new thing you can try this year to start measuring outcomes or to expand what you are already doing.
Whether you are attending ACA's National Conference or not, I encourage you to think of one small way you can expand your capacity for evaluation during the month of February. Remember, evaluation is never easy, nor it is ever perfect. Think about February as your opportunity to learn something and make a plan to try one new thing in your upcoming camp season. These are just a few resources you might check out this month. The race is starting soon, what you are you doing to maximize the February window of learning?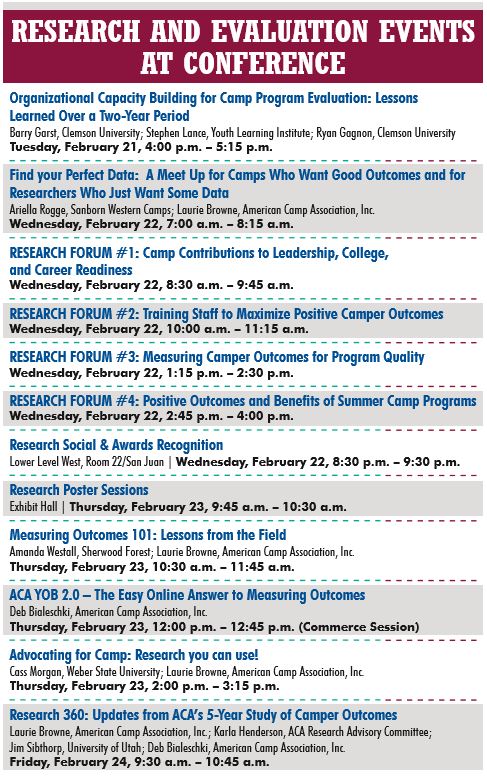 Photo courtesy of Pali Adventures, Running Springs, CA.