Keynote Speaker 
Dr. Amy Climer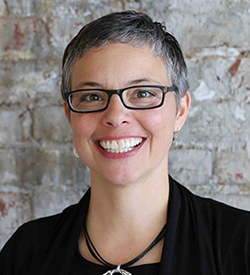 Dr. Amy Climer teaches teams to be creative and innovative. She is a speaker, trainer, and coach in innovation, team development, and leadership. Through her company Climer Consulting she teaches research-based strategies, tools, and techniques teams can use to innovate on demand. Amy holds a Ph.D. in Leadership and Change from Antioch University and a Master's degree in Outdoor Education from the University of New Hampshire. She is trained or certified in Creative Problem Solving, Immunity to Change, and the FourSight Thinking System.
She developed the Deliberate Creative™ Teams Scale to help teams understand how to increase their creativity. Her TEDx talk The Power of Deliberate Creative Teams explains her research and philosophies on innovation. Amy is the host of The Deliberate Creative™ Podcast, where she shares practical advice and strategies to help leaders build innovative teams. She is the designer of Climer Cards, a creativity and teambuilding tool used by thousands to deepen team conversations and generate ideas. In 2016, she won the Karl Rhonke Creativity Award from the Association for Experiential Education. You can learn more about Amy and her work at climerconsulting.com.
KEYNOTE
Deliberate Creativity: How to Innovate on Demand
Creativity is not a special talent that some of us are born with. We all have the capacity to be creative. However, most people do not understand how creativity really works or how to tap into their own creativity. In this keynote, learn the three elements you need to develop your creativity: your mindset, skillset, and toolset. Deliberate creatives know that being creative in an active practice that develops over time. Help your camp reach new levels in 2019 by becoming a deliberate creative and learning to innovate on demand.  The keynote will be immediately followed by a Creativity Hackathon so you can put what you just learned into action.
WORKSHOP
Creativity Hackathon: Finding the Gift in Every Problem
A hackathon is an event where people come together to solve problems. This fast-paced, mini hackathon builds on Amy's keynote and you get to put your creativity into action. You will learn and use a research-based process called Creative Problem Solving to focus on a real problem you have at your camp.  This same process has been used by other organizations to solve problems that have saved or made millions of dollars. During the hackathon you will work with other camp professionals to get creative, experience breakthrough thinking, and find the gift you need. You will leave with dozens of new ideas for the problem you work on, plus the hundreds of additional ideas generated throughout the room. This will be a powerful session that could elevate your camp for 2019!
Closing Keynote Speaker
Lee Biear, 829 Studios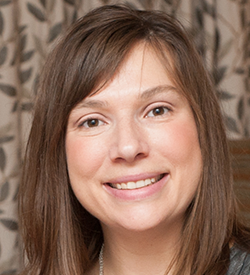 Lee Albrecht Biear, MPH, is an experienced public health professional and marketing outreach advocate for US federal government and private sector organizations. She personally devised and led marketing efforts of new products and services for commercial and federal organizations, including the US Environmental Protection Agency.
Lee is a proud and passionate advocate of the camp experience - 365 days of the year.  As a former camp counselor and program director, she's seen first-hand how camp helps kids develop self-confidence, lifelong friendships, and exceptional success as adults.  Her children Maddie (7), Morgan (5), Miles (3) spend every summer living and loving the camp experience.
She currently directs marketing for a family-owned Northern Wisconsin summer camp and advises a larger, diverse set of camps in her role at 829 Studios.  She helps camps develop effective value propositions for their unique program and promote these effectively in marketing, website presence, social media, and alumni reach-outs.   Lee brings successful marketing/ technology best practices that drive personalized connection, early enrollment, and camp awareness with current families and future  prospects.  She delivers creative and fun methods to engage camping families quickly - without extensive time, staff, budget, or technology expertise requirements.
Lee is a popular speaker at major conferences, including American Camp Association (ACA) Tri-States and ACA National.  She holds a Bachelor Degree in Public Health from Wisconsin Eau-Claire and a Masters Degree in Public Health from Tulane University.
If Mr. Rogers Went To Camp
"Tell me the facts and I'll learn. Tell me the truth and I'll believe. But tell me a story and it will live in heart forever." – Native American Proverb
Mr. Rogers is revered as a legend in storytelling, education, entertainment, and childhood development.  For more than 30 years, he took young minds to places they had never been before and made them feel safe, excited, and included. We are going to relate Mr. Rogers strategies for attracting life-long followers and how these can be applied in your marketing outreach. After attending this session, you will walk away with a playbook for creating a fun and unforgettable brand for your unique camp program. 
Luncheon Speaker
Henry DeHart, ACA COO
American Camp Association Update
Henry DeHart has had a lifetime of involvement in overnight camping, which had its start when his father was a camper at Camp Sea Gull as a child. He started off as a camper at Sea Gull and grew through the staff ranks, eventually becoming the program director and then executive director. In all he has worked, in some capacity, in overnight camping for more than 25 years. DeHart has most recently served as the executive vice president, camping services, for the YMCA of the Triangle. In this role he was responsible for the three overnight camps of the Association — YMCA Camp Sea Gull, YMCA Camp Seafarer, and YMCA Camp Kanata.
During this time, DeHart has served on the Y-USA Overnight Camp Cabinet, the Y Global Camping Conference Planning Committee, and the Government Affairs Advisory Committee for Y-USA. In addition, he held a position on the Board of Directors of the NC Youth Camp Association and served as the chair of their Legislative Affairs Committee. DeHart is a longtime ACA accreditation visitor and has led a number of education sessions at both regional and national ACA conferences.
A graduate of Emory University, DeHart worked in the marketing industry as a senior account executive and a strategic marketing consultant before joining the staff of the YMCA of the Triangle. A native of Greenville, SC, DeHart now lives in Raleigh, NC, with his wife, Ana, and his two third-generation campers.