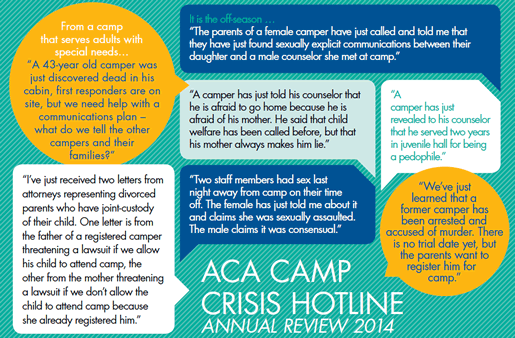 These are just some of the actual calls received this year by the American Camp Association (ACA) Camp Crisis Hotline. Since 1985, ACA has been providing crisis support to camps through a confidential Camp Crisis Hotline. Available 24 hours a day, every day of the year, camps contact the Hotline to receive support, to discuss options, and sometimes just to have someone to talk with as a third–party. While Hotline team members cannot provide legal or medical advice, we can connect camps with the resources they need and help them think through all of their options. Annually, based on the analysis of the calls received, ACA prepares an overview of the trends, lessons learned and case studies from the previous year to assist other camps in being better prepared should a similar crisis occur at their camp. The most frequently referenced resources used by the Hotline team can be found online at www.acacamps.org/camp-crisis-hotline.
Top Trends
Continuing increase in camps having difficulty finding healthcare staff that understands the implications of providing healthcare in a camp setting, including familiarity with childhood illnesses and common infestations.
Growing need for help in developing communication strategies in the event of unexpected situations (ranging from minor infestations, such as lice – to real tragedy).
A rise in the number of trans, transgender, and gender–variant individuals who are interested in working at camp or becoming a camper – and camps searching for help in understanding pertinent issues such as privacy.
Increase in questions and issues regarding the reproductive health of female campers, and the implications of each state's age of consent laws.
A surge in calls from the parents of young-adult staff – and the parent attempting to insert themselves into the middle of the employment issues of their children.
Growing challenges for camps in balancing social media to promote their community while developing enforceable policies that protect the camp and its campers and staff.

For the sixth year in a row, the top category of calls was related to health and medical issues. While the ACA Hotline team members are not medical or legal experts – and thus cannot provide medical or legal advice – we do have the resources and experience to direct callers quickly to the information they need, or to other experts who can assist in the crisis.
Calls in this category range from an immediate emergency (such as the suspected accidental death of a camper) to the outbreak of common childhood illnesses (for example, chicken pox), to common infestations, such as bed bugs and lice. The common factor we have found in the majority of these calls is that many camps do not have healthcare staff that is familiar with common health issues in a camp setting. Sometimes the questions we receive are regarding the laws related to healthcare at camp (e.g., who can distribute medications, is my license accepted in this state, etc.). In other cases, camp administrators simply want to talk about the steps they have already taken, and want to benefit from talking with a third–party that can help them think about other questions or steps they might not have considered.
Lessons Learned – Health and Medical Issues
1. Camps need healthcare and medical staff that are familiar with the most common childhood illnesses, infestations, and injuries.
Many camps say that their most challenging personnel issue is to find healthcare staff that has experience in the camp setting. They might identify a candidate who is an R.N., but that person may have no experience working with children or a camp setting. If a camp's only option is to hire staff that does not have camp healthcare experience, then it is critical that they be provided with appropriate training prior to the camp season. The Association of Camp Nurses (www.ACN.org) provides excellent resources and training for camp healthcare staff. In addition, consider having your healthcare staff review ACA's Hotline resource pages on health issues and participate in health–related online courses and webinars through ACA's Professional Development Center. We have detailed resources and training modules on some of the most common health issues encountered at camp and in other youth settings.
2. It is important that ALL of your staff understand who can manage, administer, and distribute medication.
As more campers and staff arrive at camp with prescription medication, and more camps want to provide "out of camp" adventure experiences (such as overnights away from camp), the issues related to the distribution of medication become more complex. The answers to the questions regarding who can manage, administer, and distribute medication vary by state. An excellent resource to help you understand the issues and find the answers you need is Medication Management: 13 Common Questions from Camps — And Their Answers. Also, see Case Study Three for more on this topic.
3. Identifying the signs of common illnesses and infestations is everyone's job.
Counseling staff is often the closest to campers and can pick up on the early warning signs of illness or the infestation of pests, such as lice and bedbugs. While no replacement for your healthcare staff, front-line staff plays an important role in preventing the spread of illnesses and infestations. Consider having your entire staff take the ACA online course, A Counselor's Role in Healthcare.
4. There are special legal considerations regarding the reproductive health of minor–aged campers. Consider the following scenarios:
A camper informs the camp nurse that she thinks she might be pregnant and asks the camp nurse to buy her a pregnancy test kit or administer a pregnancy test. Should the camp nurse buy and/or administer the test to a minor? Should the camp inform the parents?
A camper obtains a pregnancy test in the mail while at camp. She uses it, and informs a camp counselor that it came back positive. Should the camp inform the parents? Should the child remain at camp?
A camper reveals to the camp nurse that she is pregnant and hasn't told her parents. Should the nurse report the condition to the parents?
A camper announces to the camp nurse that she had an abortion two days before arriving at camp. She has some medical requirements that the camp cannot meet and the camp wants to send her home (or to a hospital) for proper care. Should the camp tell the parents of the abortion?
These questions can only be answered if you understand the laws in your state regarding minor consent. An excellent resource is She Thinks She's Pregnant – What Do We Do. This article also includes a link to the most current information about the minor consent laws in each state. 
5. The prevention of and spread of disease starts before anyone even enters your camp.
Camps should advise parents to not send sick children to camp. ACA has detailed eight critical points that parents need to know. Download and share the parent flyer, A Healthy Camp Starts at Home. Camps should also perform detailed health screenings on all incoming campers and should initiate stringent hand– washing and camp sanitation procedures.
6. Lice happen. Decide how you will deal with it before you find that first nit.
Calls about lice infestation were the single most popular healthcare call we received. Most often, the questions camps have are regarding whether a person who has been infested with lice should be removed from the camp community until the lice are gone. There is no right or wrong answer to this – experts disagree on the answer. Both the Centers for Disease Control and Prevention (CDC) and the American Academy of Pediatrics (AAP) recommend treatment and prevention of further infestation, then allowing those afflicted to remain in group settings. Other organizations, such and the National Pediculous Association (NPA), recommend temporarily removing those afflicted from the group setting until all signs of nits and lice are gone. Determine your camp's policy before your camp season so you will be prepared should lice and/or nits be detected. 
7. If a tragic accident should occur at your camp, cooperate with the authorities and utilize an excellent crisis communications plan.
This situation is the worst kind of crisis any camp – any parent – and anyone in the camp community can imagine… the accidental death of a camper or a staff person while at camp. It is critical that your risk management plan not only include risk management strategies, but communication strategies as well should the worst happen. Often a call to the Hotline is more about communication after a tragedy because the authorities are already handling the aftermath of the accident. Communicating effectively during a crisis is critical. To help all camps be prepared in the event of a crisis, ACA has developed a Crisis Communications Toolkit to help guide you in your communications with the media, family members, and the community.
8. Create a health/medical support system.
Before your camp season begins, identify health and medical resources you can call at a moment's notice to assist you in whatever challenges come your way. This plan includes not just your on–site healthcare staff, but the list of contacts you would phone in the event of an emergency. (e.g., grief counselors, mental health professionals, dermatologists, dentists, female health specialists, etc.)
Additional Questions to Discuss with Your Healthcare/Medical Staff:
How would you accommodate a camper or staff person who has tested HIV- positive? (See Case Study Five for more discussion.)
What would you do if you suspect an outbreak of bed bugs?
What should you do if you suspect that a camper is self–mutilating?
What do you do if the medical directives regarding a specific international camper are from a physician who is not licensed to practice in the United States?

Calls to the Hotline regarding camper behavior (not including allegations of abuse – which are covered elsewhere in this article) rose from 10% to 14% of the total calls. While in past years, most of the calls in this category were related to inappropriate behavior in general, this year we experienced a very wide variety of calls including: allegations that a camper is a convicted sex offender and served time in "juvenile hall"; finding out that an international camper who has arrived is actually too old for your program; and campers allegedly threatening suicide.
Lessons Learned – Camper Behavior Issues
1. Camper's (and staff) belongings can be searched if you suspect illegal or unsafe activity.
It is a frequent question to the Hotline – "Can we search a camper's belongings?" Generally, the answer is "yes" – with a few exceptions. ACA has asked legal counsel to update our resource on the issue and the most current information can be found in the new article Understanding a Camp's Right to Search by Charles R. Gregg and Catherine Hansen-Stamp.
2. Within the limits of law, you can determine the camper enrollment qualifications for your camp.
While you must, of course, adhere to all local, state, and federal laws (such as the Americans with Disabilities Act), you can set your own rules regarding the qualifications and requirements to become a camper at your camp. For example, you might set age limits, you might decide to exclude convicted violent juvenile offenders, you might require a certain level of ability (while abiding by ADA laws), etc. As with all legal matters, be sure to enlist the services of legal counsel.
3. Stop bullying behaviors before they can start. Establish a positive camp environment.
Feeling safe is critical to a child's learning and mental health. Promote positive behaviors such as respect, responsibility and kindness. Prevent negative behaviors such a bullying and harassment. Provide easily understood rules of conduct and fair disciplinary practices. Or better yet, have the kids involved in creating these "code of living" rules. Teach campers to work together to stand up to bullying behaviors, encourage them to reach out to lonely or excluded peers, celebrate acts of kindness, and reinforce the availability of adult support. Train staff to recognize bullying behavior, and do not allow staff to manifest bullying behaviors with one another either. Campers imitate staff behaviors, so be good role models! (For more on the issue of bullying, read the section of this article on allegations of camper–to–camper abuse.)
4. Intentional and well-enforced supervision policies are key in decreasing camper behavior issues.
Ensure that your procedures and staff training are designed not only to protect the safety of campers but also to identify situations where campers could be tempted to behave inappropriately.
5. Communicate your camper behavior policies and their consequences with families prior to the camp season.
For example, if your camp has a policy that campers cannot have cell phones while at camp, be sure campers and parents understand what specific consequence you will administer if a cell phone is found.
6. Consistency in enforcing the consequences of actions is critical!
If your policy calls for campers to be sent home if "XX" behavior occurs, do it! Consistently. If you don't intend to do it, then rethink your policies. As painful as it might be for all involved, doing what you say you will do is essential.
7. Educate staff on the indicators and symptoms of mental health problems.
Information breaks down the stigma surrounding mental health issues and enables people to recognize when to seek help. A mental health network can provide useful information and alert you to symptoms of problems such as depression or suicide. A great place to start for information is www.acacamps.org/knowledge/health/mental-health.
Additional Questions to Discuss with Your Staff About Camper Behavior:
What would you do if the "camper rumor mill" appears to be running rampant and alleging that a particular camper is pregnant?
What would you do if a camper showed inappropriate affection toward you?
What would you do if you suspect a camper has a cell phone (banned at your camp) and is using it to take inappropriate pictures? (See Case Study One for more on this issue.)
What would you do if you discovered an international camper, who has arrived with a group, to be overage for your program?

Even though this year we saw a significant drop in personnel related calls (from 22% in the previous year), we experienced a new breadth in the types of calls received. Many related to disgruntled staff behaving inappropriately, and an additional group of calls were related to the criminal past of staff applicants.
Lessons Learned – Personnel/Staff Issues
1. You must understand the criminal past of any staff or volunteer applicant, and you then must make decisions about selecting a candidate based on your camp's policies.
Performing a criminal background check is not only a mandatory standard for all ACA-accredited camps – it's the responsible thing to do. Parents have the right to know who has access to their children. Since criminal background checking in America has a variety of methods and a huge range of what data is actually included in a particular check – it is imperative that you understand the facts about the checks you do run. Subsequently, it is equally important for you to set thresholds of what types of criminal backgrounds would be acceptable for someone to have in their past in order to work at your camp. It's a complex issue – but there is no more important issue for a camp. ACA has two excellent resources to help you. One to understand the checks, and the other to help you set your thresholds.
2. Social media can provide positive support for your camp, but can also be fraught with challenges.
You can set policies for your staff regarding their interaction with campers on social media and what you will allow them to post regarding camp – but the issues and potential legal risks are broad. ACA engaged legal counsel to provide advice to camps in the article Camp Staff Use of Electronic Devices and Social Media: Some Issues and Solutions.  
3. Understand the employment protection afforded in the Americans with Disabilities Act (ADA).
ADA laws provide protection from discrimination in hiring and access for people with a broad-spectrum of physical challenges. Craft your job descriptions with the assistance of your attorney and get legal advice before beginning your hiring process. If you have question regarding the HIV status of applicants, see Case Study Five.
4. If an employee or potential employee shares with you that they are trans, transgender, gender– variant, gender non-conforming, or in the process of reassigning their gender, understand all the issues related to their employment and privacy.
ACA continues to see a dramatic rise in the number of these types of calls. Camps want to know everything from "how do we accommodate transgender individuals" to "are they protected by law and thus are we required to accommodate them?" We've also had this same type of call about campers and potential campers. There are no definitive answers, but laws do vary by state so be sure to consult with your attorney. Excellent resources are listed at the end of this section. We highly recommend the online-recorded webinar, Talking Transgender at Camp.
5. Regardless of state laws about marijuana use, it is still illegal according to Federal law.
Medical marijuana is considered a "Schedule I" controlled substance under federal law. As an employer, generally you can refuse to hire, terminate an employee, or refuse to allow a camper to attend who is currently using marijuana, whether for medical reasons or otherwise. A camp specific resource can be found online.
6. Have a back–up plan for staff coverage in an emergency or unexpected loss of staff. Supervision ratios are critical to ensuring the safety of your campers.
In the event that you need to terminate staff because of an egregious situation, you do not want to be stuck between considering not firing someone because of your inability to cover supervision ratios for your campers or firing and risking the safety of campers. Or consider what you would do if you suddenly lost a key staff member/members — especially someone in a critical role such as your nurse or cook. Before the season begins, identify short-term options that you can turn to for coverage in an emergency. Consider how properly trained volunteers might help you if you suddenly find yourself short–staffed.
7. Enforce your personnel policies.
It's not enough to simply have personnel policies — you must enforce them, as well. Establish a clear understanding of what the consequences are (reprimand, suspension, dismissal, and so on) for the violation of the policies. If you don't enforce your own policies, you leave yourself open to all kinds of risks — including lawsuits — especially if you do not enforce consistently (treating one staff member different than another when they have both ignored one of your policies). And, as noted above, consider staff coverage if you need to fire someone.
8. Enlist the services of an employment attorney.
Identify this person before you begin your hiring cycle. An attorney with experience in labor laws, contracts, and employment issues that you can contact for help at any time is an invaluable resource for any camp.
Additional Questions to Discuss with Staff Regarding Personnel Issues:
Are you adhering to all of the labor laws required of you? Do you know what they are and the differences depending on the ages of staff and the length of their employment with you?
If you are utilizing international staff and a placement agency, do you know what kind of criminal background check is being conducted on them?
How will you ensure that staff is not developing inappropriate social media relationships with your campers?
What are your staff sexual harassment policies? What are your policies regarding relationships between staff?
What do you do if the parent of a young-adult staff member calls you to complain that their child is not being treated fairly?

It has been our experience that children who are the victims of abuse or neglect at home (or some other place outside of camp), once experiencing the safe environment of camp, can sometimes – for the first time – reveal their abusive situation to a caring adult at camp. When this occurs, camp directors have many questions about what to do, whom to call, etc.
Lessons Learned – Allegations of Abuse at Home
1. Contact the authorities immediately if a child reveals an allegation of abuse.
Camp directors, as people who serve "in loco parentis", are mandated to report allegations of child abuse or neglect. It is critical that you contact the authorities immediately so those professionals who are trained on these issues can begin their processes immediately. While it is tempting to start your own "investigation" prior to contacting the authorities – especially if you think it is possible that the child is "making it up" – resist that temptation. The camp should rely on the legal authorities to step in and take over the matter. Mandated reporting is the law, and you can be arrested for failure to contact the authorities. ACA is aware of at least one situation where a camp director was indeed arrested and prosecuted for failure to make the call. If we have learned anything from the recent tragic cases of ongoing child abuse by those adults in trusted positions, it is that we cannot stand by when there is any allegation that a child is being harmed.
2. One in four girls and one in six boys are the victim of abuse before they reach age 18.
Thus, many children (and staff) may be arriving at your camp already the victim of abuse. The U.S. Department of Health and Human Services has excellent resources to help you recognize the signs of abuse. Become knowledgeable. Online resources can be found at www.acacamps.org/child-healthsafety/child-abuse.
3. Keep the phone number of your local child abuse reporting authority easily accessible.
Often the call to the Hotline is simply to ask for help in finding the correct phone number. The Hotline team is always ready to help and provide the correct number but be prepared and have the number ready. If you don't know whom to call (generally you call the locality where the abuse is alleged to have occurred), don't hesitate in calling your own local authority and asking for direction.
4. Documentation is critical.
As with any important issue at camp, documenting everything is key to ensuring that the authorities have what they need to proceed with their investigation. Remember, your job is not to investigate but to record the details of what was said by the child, who they said it to, etc.
Additional Questions to Discuss with Your Staff About Allegations of Abuse:
A camper just shared stories with a counselor about how he is fearful of his mother. The camper has described "bad dreams" about his mother harming him and said that "she choked me once." What should the counselor do?
A day camper is complaining about her head hurting. When asked more about it prior to taking the camper to the nurse, the camper said that her head hurt because her brother came into her bed last night and they were "playing games" that are "only the kind you play in bed." What should the counselor do?

As with allegations of abuse at home, allegations of camper-to-camper abuse must be reported to the proper authorities, who will then investigate the matter. Sometimes callers to the Hotline want advice on whether a specific situation "is abuse or not?" The ACA Hotline team cannot make that determination. Making the call to the authorities is the only way to ensure that you are handling any allegation properly.
Lessons Learned – Allegations of Camper-to-Camper Abuse
1. Attentive, active and involved staff supervision is the key to keeping campers from harming each other.
In most of the situations explained by callers, the allegation of camper-tocamper abuse came in those brief moments in time when staff was not directly engaged with campers – shower time, trips to the restroom, changing for the pool, the time between program and mealtime, just prior to bedtime, etc. It is imperative that your staff be trained to be even more watchful during these vulnerable times. If your camp does not have staff sleeping in the same room with campers, you must consider what you are doing to prevent inappropriate behavior in the middle of the night.
2. Don't hesitate – you MUST contact authorities if there is an allegation of campers abusing one another.
Make the call to authorities if you suspect that a child is the victim of abuse. The age of campers should not be a reason NOT to call. It is the right thing to do and it is the law.
3. One person's description of bullying is another person's description of abuse.
Camps and other youth-serving organizations find this to be a challenging issue – that is – what is "bullying" and what is "abuse"? Experts disagree. For an excellent overview of the issues, read this resource. 
4. For your camp, make bullying prevention a priority from the first day of camp and let all campers and staff know that bullying behaviors are unacceptable.
All campers need both physical and emotional safety in order to thrive. Set bunk rules with explicit examples of acceptable and unacceptable behaviors. Post these rules in the cabins and talk about the issues.
Additional Questions to Discuss with Your Staff About Allegations of Camper-to-Camper Abuse:
What would you do if the family of a camper from last summer contacts you with the allegation that another camper abused their child while at camp?
A male special needs camper alleges that on a camp bus ride, a female special needs camper asked him to touch her in inappropriate ways. The male camper says that he did so, but now feels very uncomfortable about it. What do you do?
Rumors are running rampant that two minor-aged campers engaged in sexual intercourse last night. What do you do?
Your camp uses a buddy-system and campers must find their buddy in order to go somewhere (such as the restroom in the middle of the night). What are you doing to ensure that those campers cannot abuse one another?

While only three percent of calls to the Hotline were regarding parent behavior, they continue to be some of the most difficult issues for camps. As camp professionals, we know we partner with parents, but sometimes it appears that parents are not amenable to the partnership. In one example, divorced parents with shared custody of their child attempted to place the camp in the middle of a bitter dispute. One parent demanded that their child be allowed to attend camp or else they would sue the camp, the other parent also threatened to sue – this time if the camp accepted the camper. See Case Study Seven for more discussion of this issue.
The Hotline team continues to field calls from camps where parents are refusing to pick up their child early from camp due to either a medical issue or being expelled from camp due to a behavior issue. See Case Study Six for more discussion of this issue.
Lessons Learned – Parent Behavior
1. Don't ignore parents once they drop off their children at camp.
While camps can become frustrated with a parent they believe is being a "helicopter parent" or overly demanding, it's best not to disregard parent complaints. Consider having staff designated and trained as parent liaisons. Having someone who is excellent at calming nerves and instilling confidence is worth their weight in gold.
2. Prior to your season, ensure that all of your camp families have a copy of your camp policies – and understand them.
These policies should include things such as your business practices (e.g., refund policies), camper behavior policies (and consequences), and policies about emergency communications (e.g., contacting families in the event of a weather emergency, etc.).
3. Require at least one emergency contact that is not the parent of the camper.
As mentioned above, we have seen continuing growth in the number of calls from camps regarding parents who refuse to pick up their child early from camp when the camp has determined that they must expel the child. The reasons for expulsion range from threatening behavior to serious medical conditions. As shocking as it seems to the camp, there are parents who simply want the camp to handle everything until the scheduled end of camp. If the camp is unable to get a parent or other emergency contact to take custody of the child in cases of threatening behavior, sometimes the camp's only recourse is to call the authorities to take custody. These extreme situations are rare but real. Be sure that your camp families understand your expectations and the parameters that might force you to determine that a child must be sent home — including any medical situations. (For example, if you have a "no nits" policy about lice that deems that if a child has lice, they will be sent home — be sure your families are aware of your policy.)
4. Not every camp is right for every child — but there is a camp for every child.
Be clear with families — prior to registration — about the culture and practices of your camp. Allow parents to make informed choices about whether their child is suited to your camp or a different camp. Consider ACA's Find A Camp as a tool for directing parents to a camp that might be better suited to their child's needs.
5. Communication is the key to success.
An informed parent is a partner. An uninformed parent can become an adversary — with their children caught in the middle.
Additional Questions to Discuss with Staff – Parent Behavior:
If a parent refuses to pick up their child early from camp - the child having been expelled for repeated rule violations - what do you do?
What if a parent tells you on drop-off day that they cannot abide by the end-of-session pickup time frame? See Case Study Six for more on this issue.
What do you do if you find that a package that a parent has sent their child contains items that are not allowed at your camp (e.g., a cell phone)?

In 2013, this category of calls emerged for the first time as a stand-alone category. While calls about business issues decreased significantly in 2014, three percent of the calls were still about issues regarding the business of running camp. One camp had an unannounced contact from the Department of Labor, which was investigating a claim that the camp was violating child labor laws. (See Case Study Four for more on this issue.) Other camps had questions about taxes, wages, insurance, and workers compensation.
Lessons Learned – Business Issues
1. As with any business, you must understand the laws relevant to your operation.
Seasonal workers, year-round employees, taxes, wages, child labor laws … these are all complex business issues. Retain the services of trained legal experts to help you understand the requirements and assure compliance with all local, state, and federal laws and regulations.
2. If you utilize international staff, understand your obligations to the U.S. Department of State Cultural Exchange Program.
By committing to infuse cultural exchange into your program, and welcoming international staff to your camp, you've accepted the obligations required under law. It is critical that you understand those requirements.
Additional Questions to Discuss with Staff – Business Issues
Do you fully understand the coverages afforded your camp by your various insurance policies?
Do you have legal advice ready–in–waiting should a legal issue emerge during the season?
Who is ensuring that the camp is compliant with all relevant laws and regulations?

As with the other allegations of abuse noted in this article, it is imperative that you phone the authorities as soon as an allegation of abuse arises. Whether you believe the allegation to be true is immaterial – you need to make the call as soon as possible so that trained professionals can swiftly investigate the allegation.
Lessons Learned – Allegations of Staff-to-Camper Abuse
1. If an allegation is made that any child has been a victim of abuse, you must contact the authorities.
Don't hesitate. Your swift action not only shows your commitment to protecting the children in your care, but immediately starts a process whereby unfounded allegations can be identified and legitimate allegations can be investigated by the trained authorities.
2. One staff person should never be alone (out of the sight of others) with a camper.
Period. If nursing/healthcare staff is concerned about the privacy of a camper when they are being medically examined, be sure you have established procedures that still avoid a situation where a staff person could abuse a child.
3. Teach your staff to be ever vigilant and question what they see.
It takes just one person to step up and question when they see something not right about the way an adult is interacting with a child. You may be the one who is able to free a child from serial abuse. Always have the best interest of the child in mind!
4. Establish clear policies about appropriate physical interaction between staff and campers.
Be very clear where you draw the line. Does your camp allow hugging, back–patting, lap–sitting, etc.? If so be sure that your staff understands what is appropriate and what is not. Use role–playing in staff training to crystalize your policies.
5. Staff training and supervision policies must support the above.
Is your staff-to- camper ratio high enough to ensure that one staff person cannot be alone with a camper, especially in vulnerable times such as the middle of the night when a camper needs to use the restroom? Develop policies and procedures that support staff in avoiding one–on–one situations and practice strategies for avoiding these types of scenarios.
Additional Questions to Discuss with Your Staff About Allegations of Staff-to-Camper Abuse:
If your camp serves campers with special needs that require personal care (e.g., bathing, using the toilet) how are you training staff and monitoring interaction to eliminate the risk of abuse?
If a camper is showing you inappropriate affection, how do you handle it?
If you return to your cabin and witness another staff member alone with a camper, what do you do?
If a camper wants to develop a social media relationship with you, what do you do?

The remainder of the calls included a myriad of issues. These ranged from things such as a suspicion that an employee was embezzling from the camp, to questions about waiving immunization requirements, to dealing with weather emergencies. All of ACA's most frequently used resources can be found online at www.acacamps.org/camp-crisis-hotline.