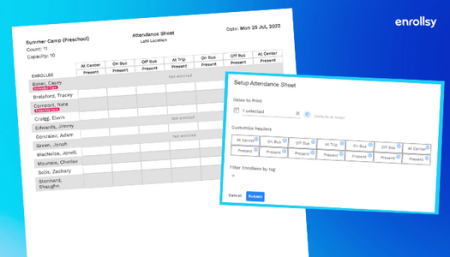 Are you still using outdated spreadsheets to print attendance sheets for your camp? Enrollsy's customization features allow you to personalize your attendance sheets in a way that fits you:
Remove and add headers
Add and remove columns
Edit header labels
Increase and decrease the width of columns to fit your information
Choose dates from a calendar widget
You can also create tags and filter your students by these tags. For example, only want to see a printout of students who have turned in a form? Create a tag and filter out just those students!
Print out your attendance sheet and voila! You have a simple sheet that makes attendance-taking effortless!
Schedule a demo today to learn more about all of Enrollsy's customizations and the ways you can use them for your camp.
---
Periodically, the American Camp Association (ACA) makes timely and relevant information about products and services available to its members so they can make informed decisions for their camps. However, the ACA does not endorse products, services, or companies.