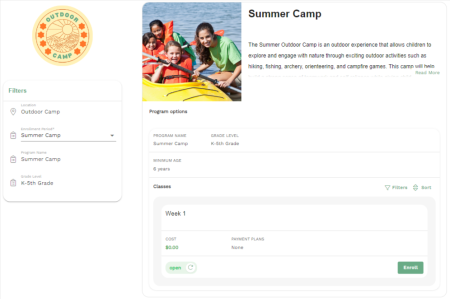 You're running a busy camp and don't have time to constantly update your website with the latest information on classes and schedules. But what if there was a way for parents to browse through your camps in real time? With Enrollsy software, this is possible!
Enrollsy's "Browse" feature is a huge benefit for directors. It saves them time by allowing them to easily view and update information on classes and schedules and see how many spots are left in real-time. Additionally, this feature ensures that parents always have access to the most up-to-date information about camp offerings and don't miss out on any opportunities due to outdated or incorrect info.
So take advantage of this great feature and ensure your camp uses it too! Schedule a demo today.
---
Periodically, the American Camp Association (ACA) makes timely and relevant information about products and services available to its members so they can make informed decisions for their camps. However, the ACA does not endorse products, services, or companies.