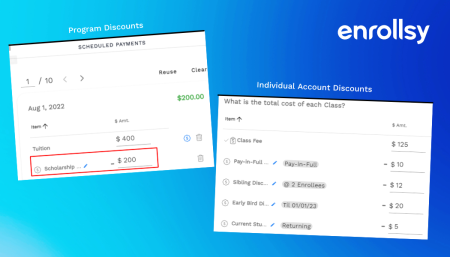 Do you offer early bird or sibling discounts for your campers? Is this simple benefit made especially difficult during registration? Enrollsy makes offering discounts easy and automated, meaning you don't have to worry about them!
Create customized discounts for your camp programs or for individuals. Add the following discounts to your camp, and they are automatically taken off at enrollment:
Sibling discount
Early bird discount
Returning camper discount
Pay-in-full discount
Payment plan discount
Enrollsy also allows you to post discounts to individual payment plans with just a click!
Schedule a demo today to learn more about Enrollsy's discounts and how you can use them for your camp.
---
Periodically, the American Camp Association (ACA) makes timely and relevant information about products and services available to its members so they can make informed decisions for their camps. However, the ACA does not endorse products, services, or companies.