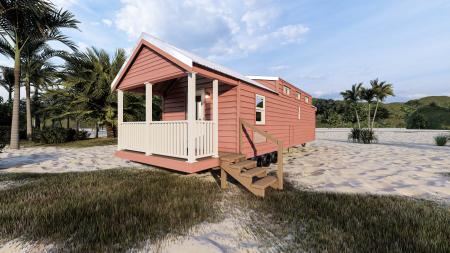 Introducing Vacavia Cottages & Cabins' Savannah Flats model, a versatile and budget-friendly accommodation option that's perfect for families. With a thoughtfully designed layout available in a cottage or cabin motif, the Savannah Flats offer comfort and convenience for up to five people.
Inside, you'll find a full bathroom, a spacious master bedroom with a full-sized bed, and either a bunk bed for the kids or a versatile desk for remote work or study. Our standard features provide durability and energy efficiency to ensure a comfortable living experience. From the steel I-beam chassis and top-notch insulation to the wood-grain vinyl flooring and Low-E vinyl windows, every detail is meticulously crafted for the satisfaction of your guests.
But we don't stop there; we offer a range of available options, including solid surface countertops, wood-framed bunk beds, luxury bedroom furniture packages, and even an 8-foot porch for those who crave outdoor living. The Savannah Flats park model home is truly customizable to fit your investment preferences. Our product specialists are here to help at vacavia.com.