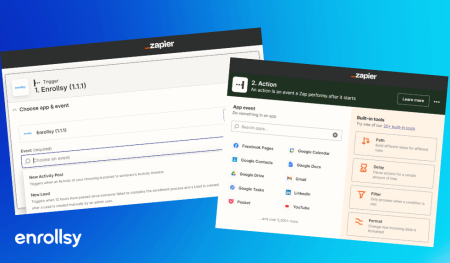 Running a camp involves a lot of paperwork: registration forms, emergency contact information, parental releases and consents, rules and procedures, drop-off and pick-up policies, disciplinary procedures, and much more.
What if you could have most, if not all, of the above paperwork in digital form AND automate tasks? What if you no longer had to sit for hours writing and sending emails, manually entering data, etc.?
Enrollsy has integrated with a powerful automation platform called Zapier® to make all of the above (and much more!) possible. With Zapier, Enrollsy clients can automate email campaigns, create or add to documents/spreadsheets, create social media posts, and so much more.