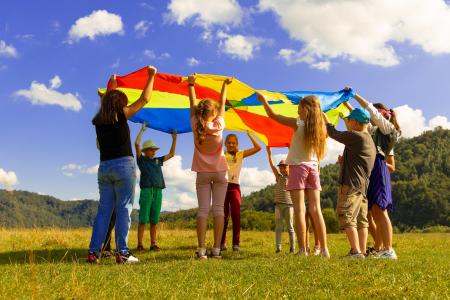 The Future of Gift Cards
You have probably received either a physical or digital gift card for something at some point in the last year. Digital gift card sales are projected to grow at least 23% within the next three years, 2.5x faster than physical gift cards.
You can join this digital gift card revolution with Enrollsy's digital gift card feature. Digital gift cards can be used to increase camp participation, show appreciation, or offer incentives. Here's how!
Camp Participation
Increase participation in your camp by allowing your campers and their family and friends to purchase gift cards from your company website or social media page.
You or your customer can purchase digital gift cards in any amount via a custom link on your website or via Enrollsy's customer app. They can be used to enroll in a program, covering any fees associated with that program. Learn more about how to purchase a Gift Card
Sign up with Enrollsy to send a gift card!
Camper Appreciation
You can also use digital gift cards to appreciate your campers. Show your students how much you value them by sending them a gift card for birthdays, prizes, fundraisers, etc.
Have a student who won a camp contest? Send him a digital gift card for $10 as a prize. What about appreciating a camper with a digital Gift Card for free registration on a program?
Enrollsy makes it super easy for you to create gift cards in the Enrollsy app. All you need is the customer's name and email address! Enrollsy keeps a list of these gift cards. You can also view any redeemed and unredeemed gift cards. Learn more about how to create gift cards as an Admin. 
Camper Incentives
An incentive is something that adds value to a service or product. Everyone, including your campers, needs a little motivation every once in a while. 
You can promote a variety of desired customer behavior by offering your customers additional benefits, such as discounts, loyalty programs, or….digital gift cards.
Enrollsy makes it so easy for you to send digital gift cards and customers to receive them – it's all done through Enrollsy and email. With a few key presses, you can send your valued customers a digital gift card! Find out more about our gift card feature.
Conclusion
Digital gift card sales keep rising every year, so now is the time to start offering gift cards to your loyal customers (and potential ones), as well as your valued campers! Digital gift cards from Enrollsy can be used to increase camper participation, show appreciation, and as incentives.
To get started with gift cards today, become an Enrollsy customer today. How do you do that? It's easy! Just schedule a free demo, and we'll answer all your questions!