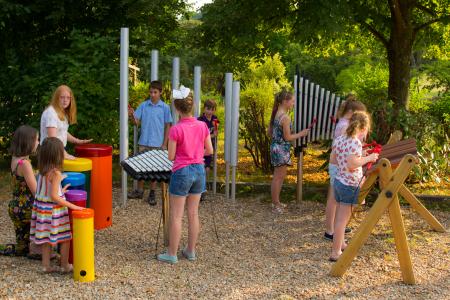 Percussion Play's Quintet Ensemble of accessible outdoor musical instruments offers a well-rounded range of tones and resonance. Suitable for up to 10-12 players at any time, anyone can take the stage and play improvised music with no tuition or acknowledged musical ability. This is a pentatonic collection, which means there are no wrong notes and the sounds produced blend effortlessly into beautiful music. 
About Percussion Play
Percussion Play is committed to making musical expression accessible to everyone, everywhere.  From xylophones, chimes, and drums to giant floor pianos, our range of beautiful outdoor musical are being enjoyed in camps across the USA, helping to create inclusive environments for everyone to play, learn and most importantly, bring about friendships and fun!  Each instrument is simple to install and maintain, making it easy for camps to create inclusive music parks that provide a space to support children's self-confidence, social development, and growth.   
The accessible outdoor musical instruments allow children to create unique and exciting music each day – with or without staff help. All ages and abilities can discover and develop musical skills and techniques and get creative whenever they want, inspired by beautiful surroundings and the great outdoors. Campers will learn from each other by listening and joining in, coordinating their musical efforts, increasing empathy and trust, maximizing peer-to-peer socializing opportunities, and strengthening social bonds. Their permanence allows open-ended play opportunities for players to revisit and tweak their musical compositions throughout the summer and provide an emotional outlet to communicate or express feelings. To see how outdoor musical instruments can transform your camp and help contribute to simple unplugged camp memories, visit percussionplay.com.