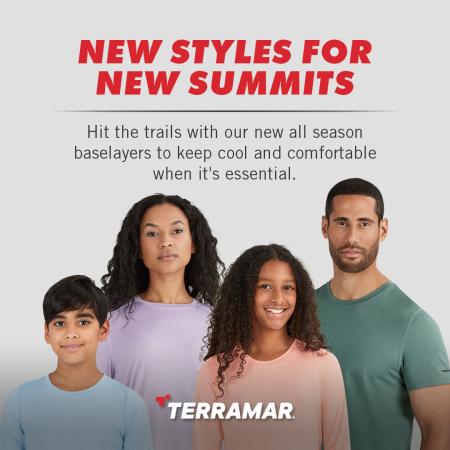 Engineered for high intensity year-round activities, ventilator is a unique two-sided fabric with horizontal venting channels which pushes excess heat and moisture to the surface allowing for quick cooling evaporation while provided sun protection. This fabric is made from recycled polyester and has plant-based odor control.
About Terramar Sports
Since 1971, Terramar Sports has provided all climate layering gear to keep people safe and protect them from the elements. Terramar has perfected the science of keeping people dry and comfortable while enabling peak performance through innovative base layers. As a fabric-first brand, Terramar's goal is to bring new fabric technologies to market to help people be more comfortable as they enjoy all aspects of the outdoors. Terramar is a proud family brand and a passionate ally to all adventurers; anyone, with any level of skill and ambition that is inspired to experience more of life outside. For more information please visit terramarsports.com. For pro deals please email websitehelp@terramarsports.com.
---
Periodically, the American Camp Association (ACA) makes timely and relevant information about products and services available to its members so they can make informed decisions for their camps. However, the ACA does not endorse products, services, or companies.