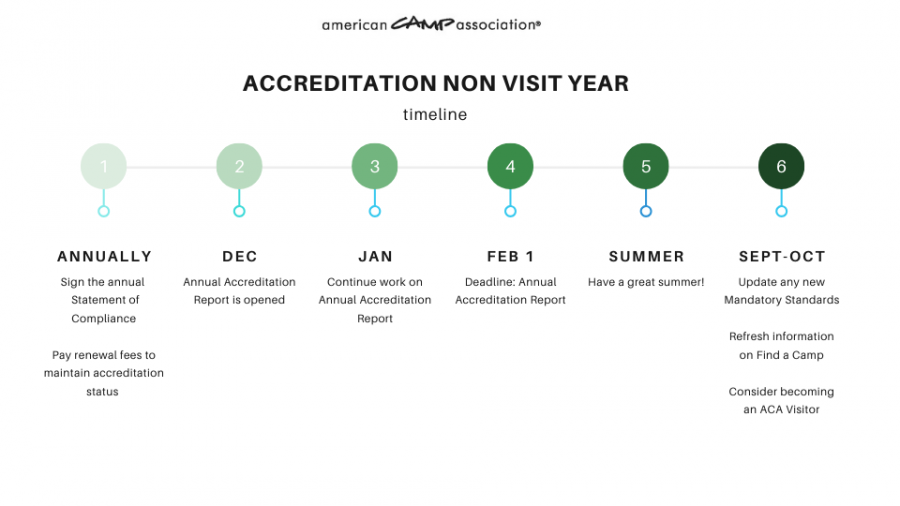 Is your Accreditation Process Guide v.2019 up to date?
If your camp is going through a visit this year, be sure you have the most up to date APG to work through your preparation. ACA provides each camp an updated APG in the year of their visit. These were shipped directly to camps in November 2019. If you received an APG prior to this period, please make sure it is up to date with the Accreditation Process Guide (APG) v.2019 Pull-and-Replace Pages - November 2019 NEW.
If your visit date is beyond 2020, you will continue to use the Accreditation Process Guide v.2012 until further notice. Be sure that you are in compliance with the new mandatory standards.
Virtual Office Hours for Accreditation
Working on preparing for your upcoming visit? Join us for virtual office hours each month to help you walk through some of the specifics of your accreditation preparation. Learn about resources available from ACA, dig deeper into each section of standards, get an organizing tip of the month, and more. Each session will include an opportunity for open discussion, questions and coaching with western region Standards Instructors and ACA Staff.
More Information & Registration
Accreditation Process Workshop
Audience: This workshop is designed for camp representatives who are preparing for accreditation visits in 2020 and beyond. The course is appropriate for those who are new to the accreditation process AND those who have been part of an accreditation visit or completed standards training in the past. Every camp being visited must have at least one person who completes the workshop on behalf of the camp; that person must actively assist in preparation for the accreditation visit, be on site a significant amount of time during the camp season, and participate fully in the on-site accreditation visit.
Workshop Objectives: Participants leave feeling excited, engaged, and ready to prepare for an accreditation visit. They know where to find and how to use information, resources, and technology provided by ACA. They can navigate the Accreditation Process Guide, 2019 Edition to understand compliance and applicability of standards, including all revisions to the standards and the accreditation process, and they can articulate the steps in the visit timeline and the responsibilities of the camp and the visitors.
Accreditation Process Guide, 2019 Edition: The printed version will be shipped to current fee-paying camps being visited in 2020 (1 per camp), beginning in the fall. All other camps paying accreditation fees have access to an electronic version of the standards online via the ACA website. Non-fee-paying camps and camps wanting additional printed copies can purchase these through the bookstore. 
Can't find a workshop? Contact Tori Barnes
Accreditation Portal
The Accreditation Portal is where the primary contact and standards contact of a camp account can find a number of tools to help you in both your visit and non visit years.
Accreditation Volunteers
Thank you for your dedication to the accreditation program! From reviewing Annual Accreditation Reports to conducting on-site visits, we appreciate all that you do for ACA! If you are not a visitor but are interested in taking part in this impactful experience, we invite you to learn more about becoming a visitor.
Questions? Contact:
Tori Barnes, Standards Manager | 765-349-3527
 
Traci Kipnes, Standards Chair - ACA, Southwest
Considering accreditation for the first time? Contact:
Jami Foster, Membership Manager | 765-349-3519