Too many summer camps still receive paper registration forms in the mail along with a check. The process is cumbersome to camp administrators, and even worse for busy parents.
But because of accessible technology, the times are changing. Creating a terrific online registration form is easier and less expensive than ever before.
There is a lot of full-suite camp registration management software available, but it comes with a hefty price tag, upwards of $90 a month per admin. You can use online form-building software at a small fraction of the cost and still create powerful camp registration forms.
A great online registration form should ultimately serve two purposes: to create a better experience for the parents filling it out and to deliver you better camper information.
Here are a few tips to make sure your forms are performing to their maximum potential.
Optimize for Mobile
A well-designed registration form should be easy to fill out on a mobile device.
Busy parents aren't always going to be in front of their desktop computers. By optimizing your camp registration form for mobile, they'll be able to respond on the go.
Another pro tip: Make sure your website is mobile-optimized, whether your form is embedded on it or not.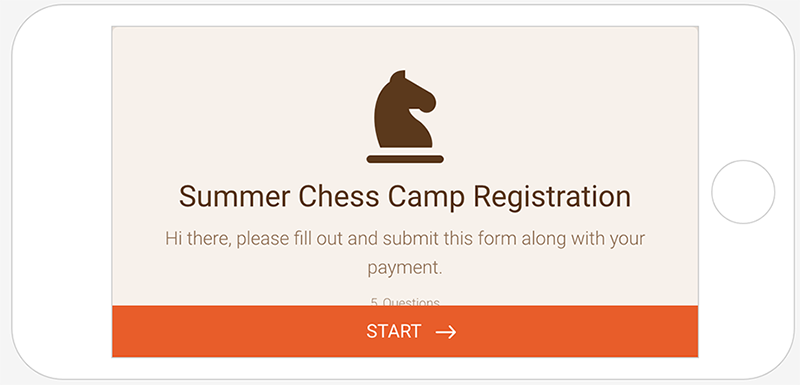 Customize Branding
A professional look with your logo, images, and branding that matches your camp's colors and fonts won't just improve your form's aesthetics; it will improves its effectiveness.
A well-branded registration form is trustworthy, which is even more important when it's being filled out by parents.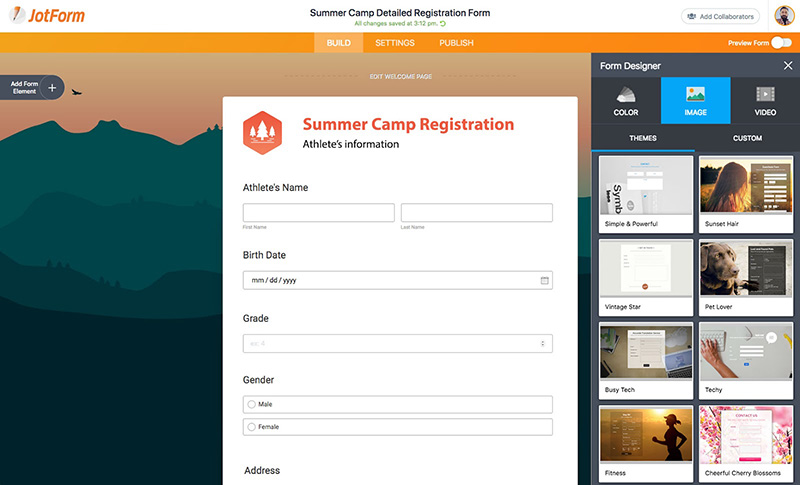 Collect Electronic Signatures
An important part of the registration process for many camps is collecting parent signatures. Luckily, this is an easy addition to your online registration form if you're using the right software. Best of all, the electronic signature carries the same legal weight as a handwritten signature. And it's easier to keep collected signatures organized in electronic format.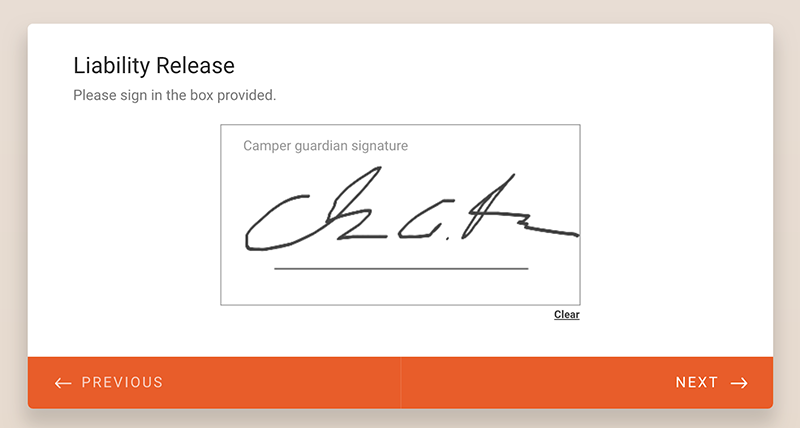 Don't Ask Too Much
There's a fine balance to strike on the type and number of questions you should include on your registration form. On one hand, asking for all of the information you need on a single form reduces the need to ask for follow-up information. But on the other hand, asking too many questions can be off-putting and discourage form completion.
Generally speaking, every additional question you ask a parent to fill out on the form increases the chance of them not completing it. So try separating the information that you need to have from the information you'd simply like to have about incoming campers.
That said, here are some things that are helpful to include up front:
Medical information, including allergies (consider HIPAA compliance as well)
Clothing sizes
Parent contact information
Accept Payments
Accepting payment at the time of camper registration eliminates future back-and-forth emails trying to get the money you need later on. Major payment companies like Square and PayPal partner with select online form providers, allowing the smooth transfer of money through any registration form.
This also makes it easy for the parents, who'd often prefer to take care of everything at once in the registration process rather than be billed down the road.
Plus, you have the option of generating discount codes using online forms. Pride is a major reason parents don't take advantage of opportunities like camp scholarships, so allowing codes upfront removes a barrier for payments.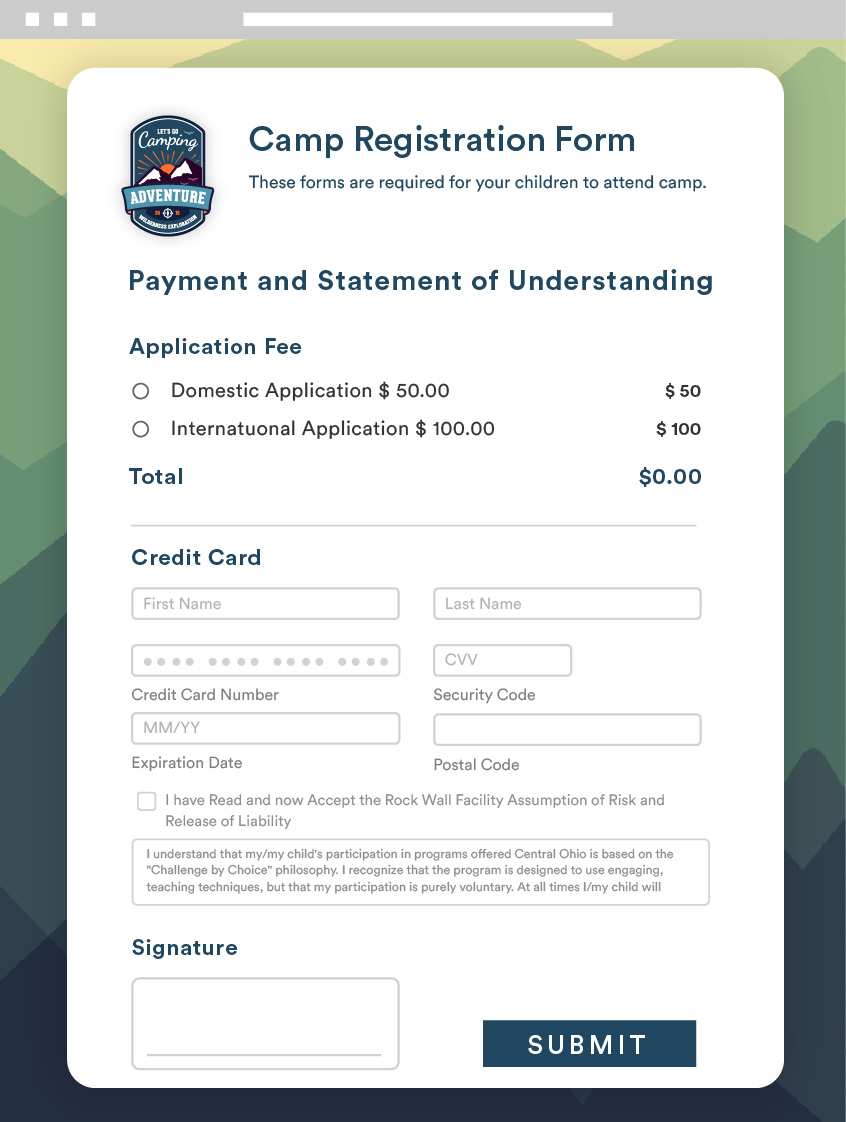 Enable Automation
It's nice to have a simplified way to collect all of the camper information you need. But what should you do with that information?
Enter automation. Using your registration form to springboard your automation workflow can save you and your staff from manually entering data, sending emails, creating documents, and much more.
The benefit of using online form software is that many of these features come built in. When a parent submits camper information through a form, this can automatically trigger a confirmation email, populate an email marketing mailing list or spreadsheet, and even automatically generate a polished PDF.
Online forms aren't new, but the ease with which you can create them is. By using software like JotForm, you can create powerful, branded summer camp registration forms that parents will have no problem filling out.
It doesn't matter if you're well established or if you're starting a summer camp for the first time, a great registration form can simultaneously improve your enrollment numbers and your staff's efficiency.