Imagine if kids everywhere could discover what life is like for their peers across the globe…
Empatico, incubated by The KIND Foundation, is a free tool for camps and educators to do just that!
Educators and camp leaders do this through a combination of live video and activities designed to foster meaningful connections that spark curiosity, kindness, and empathy among children ages 6-11. Empatico provides all the tools camp leaders need in one place: a partner group, research-based activity plans, and built-in video, messaging, and scheduling tools. Empatico is committed to connecting 1 million children to one another by 2020, and was named a Fast Company 2018 World Changing Idea and a top edtech tool in 2019.
For some inspiration on why and how to use Empatico at your camp, learn from Kim Aycock's experience leading an Empatico exchange between campers at Camp Woodland (WI) and her partner camp, Camp Ursula, in Mexico.
Technology at Camp?
It's the big question that comes up as most camps work hard to help kids unplug and enjoy real "face time" away from screens and devices. While connections are made virtually, Empatico provides a space to practice important social-emotional learning skills that are being taught at camp. For all camps using Empatico, kids learn what is needed to foster empathy and kindness in connections outside of camp (at home or school) and to see technology being used for good. For those attending camp in their local area, Empatico provides a way to have a global experience without leaving "home."
Hit the "Easy" Button
Let's face it — camp is busy! Empatico's platform makes it easy to schedule an exchange and communicate with a partner camp. Camp-specific Empatico activities provide all the resources a camp group leader needs to prepare their campers, have a virtual exchange, and guide post-exchange reflection circles.
The Before-During-After of an Empatico Exchange
There are face-to-face interactions and connections in the planning for each camp that leads up to the actual exchange online. In the group I worked with last summer, we brainstormed a list of questions that they would like to ask their partner camp in Mexico. They were curious about what kinds of activities our partner camp could do, what the weather was like, favorite foods, and camp traditions. We looked at the map to see how far away the camp was from our Wisconsin location.
The campers were extremely excited to meet their partner camp when the day came for the exchange to take place. There were a lot of smiles and laughter as we saw the world through another camp's eyes. The campers took turns answering questions and sharing stories. That in itself shows kindness as there was collaborative leadership and not any one person taking charge. We also did a virtual song "swap." My group took into consideration the potential language barrier and chose a "repeat after me" song that had motions — I could already see their perspective-taking skills in action. It was the highlight of the exchange!
During the time we spent unpacking the experience, it was evident that the campers "got it" as they reflected about what they learned from their counterparts over 2500 miles away. Whether camps are across town, or on the opposite side of the state, country or world, the opportunity to expand one's view of others is made by making connections using Empatico. It is my hope that others realize the enormous value in inter-camp exchanges and take advantage of this mission-aligned platform for making our world smaller and kinder, the very thing camps strive to do every single day.  
Spark Empathy Grants
To help make this possible for your campers and eliminate any roadblocks to the process, Empatico will provide grants of up to $5,000 to each camp, academic summer program, or network of summer camps in order to amplify their efforts to spread empathy and kindness. Empatico is looking for grantees to share in their commitment to, and enthusiasm for, developing children's social and emotional learning through virtual exchanges with peers across the U.S. and around the world.

Raise your hand if you want to apply for the Spark Empathy Grant!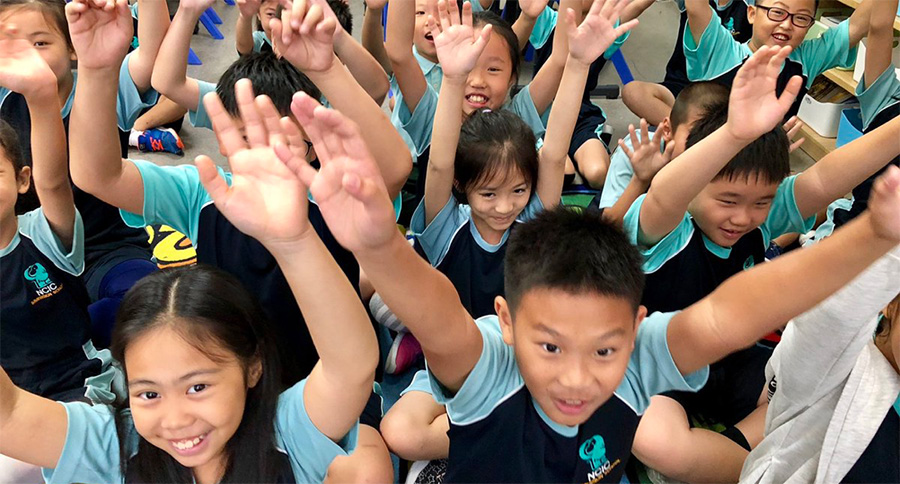 What do you get?
Up to $5,000 (or more depending on the number of Empatico accounts opened and used throughout the summer) in grant funding to help implement Empatico
Dedicated support from an Empatico team member
Amplification of grantees' stories through social media and other media outlets

Are you eligible?
All camps, summer academic programs, or networks of camps (both non-profit and for-profit) with 6-11 year old campers (grades K-5) who can implement the grant between May 2019 and September 2019 are eligible to apply. Grants are awarded based on the number of camp groups that partake in Empatico exchanges.

What can you use the grant funds for?
Spark Empathy Grants are flexible, customizable, and meant to address your camp's specific needs.
Examples include:
Technology needed to participate in Empatico (e.g. a wifi hotspot, tablet, webcamera, projector)
Stipends for individuals who are leading the implementation of the grant
Funding of community-level initiatives that promote empathy and kindness (e.g. funds to purchase materials for Camp Kindness Day-related projects)

What do grantees have to commit to?
If you receive the Spark Empathy Grant, you will be asked to:
Create an implementation plan and designate implementation and fiscal leads to assist with coordination and execution of the grant
Participate in an implementation meeting with the Empatico team prior to the start of your Summer 2019 Camp Session(s)
Facilitate at least 2 Empatico exchanges per participating camp group during the grant period
Let's Do This!
Apply for your Spark Empathy Grant by the end of May (We will reach out to you with our decision on a rolling basis): https://spark.adobe.com/page/GEiZMbFJsOYCt/
Apply now, then join us in a celebratory dance…if you can keep up.
If you are interested in applying, but have questions, please submit the quick form below. A member of the Empatico Team will be in touch soon.