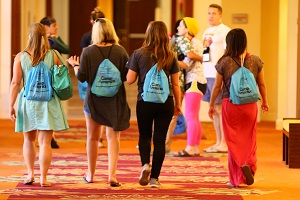 The Spring Leadership Conference (SLC) has become synonymous with quality education & professional development, unrivaled networking value and best of all - tons of fun! The SLC week is camp for camp leaders: come out to enjoy yourself - leave with a bunch of new contacts and a mind packed full with new information and tons of innovative ideas that you can implement right when you get back to camp! 
Conference Theme
 
2020 Vision
What is your vision for youth?  What is your vision for the future?  How will your work impact the lives of those you interact with?  At the start of this new decade we examine how to best serve our communities and nurture a positive future.  With topical keynotes and cutting edge educational sessions, the Spring Leadsership Conference provides experts and thought leaders the perfect platform to move us forward.
Conference Features
Wednesday Night Dinner included with registration
Several receptions and snack breaks as well as dinner on Wednesday night are included with your registration.  Participants are responsible for all other meals.  "Grab and Go" options for breakfast and lunch will be available.
Our Participants Aren't Just From Southern CA/HI Anymore...And We Like It!
We've been so pleased to have participants from all over the country at the SLC. We've rolled out the welcome mat to camp professionals from:
Arizona
Colorado 
Georgia
Idaho 
Maine 
Massachusetts
Nevada 
New Hampshire 
New Mexico
New York
Northern California
Oregon
Pennsylvania
Utah
Washington
Wyoming