After two years of information gathering, planning, and testing, in September 2018, ACA has introduced revsised standards for accreditation. Developed by the National Standards Commission, the revised accreditation process is designed to be more inclusive and applicable to a variety of groups, without sacrificing the intent, rigor, or integrity of the standards program.
Keys to the New Accreditation Model
Improved organization of the standards to eliminate redundancy
Continued emphasis on health, safety, and risk management for campers and staff
Improved technology to support camps
Considerations for camps on non-owned, non-accredited sites
Considerations for operators with multiple camps (e.g., YMCA and Girl Scouts)

What Does This Mean for My Camp?
The revised standards were made available in September 2018 and will be used for ACA accreditation visits in 2019 and beyond.
Currently, ACA-accredited camps that are not being visited in 2019 will continue to follow the standards in the Accreditation Process Guide, 2012 Edition. When the Annual Statement of Compliance is signed, the signer indicates the camp is in compliance with the standards used during their last visit as well as all applicable current mandatory standards. Keep your current standards book until your camp has its next scheduled visit.
While standards have been reorganized and combined to remove redundancy, camps currently in compliance with the standards should have no difficulty maintaining compliance through annual updates and reviews.
For camps not being visited in 2019, the Annual Accreditation Report will be due February 1, 2019.

Who ACA Accredits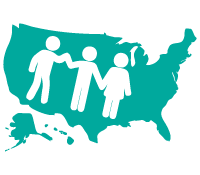 Updated criteria for who ACA accredits follows:
U.S.-based camps with at least one program that occurs in the United States or its territories.
Programs with a primary audience of campers five years and older. (NOTE: Many camps offer programs that serve some three- or four-year-old campers. If this is the camp's primary audience, accreditation or licensure through a different organization is most appropriate.)
Program sessions must be at least three days in length, with a specific purpose and goals.
Single-day programs and one-night/two-day programs are not considered for ACA accreditation.

The Home Stretch
September 2018: Accreditation Process Guide 2019 Edition and supporting resources available
Fall/Winter 2018/2019:  Training for camps being visited in 2019 and all current ACA visitors
Winter 2019: 2019 visitors assigned and 2019 Annual Accreditation Report due Feb. 1, 2019 (for currently accredited camps not being visited in 2019)
Summer 2019: Visits conducted using revised ACA standards (2019 version)
Please keep reading for additional information.