Update – February, 2018
Over the past 18 months, we have been providing you regular updates on the work of the ACA National Standards Commission (NSC) to implement the directive of the ACA board to develop a foundation of both accreditation standards and definitions that apply to all programs to be accredited, as well as develop modules for each program type (such as resident, day, campus-related programs, or others). 
The NSC has been moving forward with revisions to all aspects of the accreditation process with input from a wide variety of experts (internal and external), key volunteers, other organizations with accreditation models, assigned work groups, focus groups, and history.  Over the next several months, we will be sharing additional information and inviting members (and others) to provide input on the proposed model and standards.  Implementation of all changes will be for the 2019 season.
Accreditation will be relevant for both current and emerging audiences.
The standards will be organized into sections more intuitively (by responsibility and operational area).
The rigor and integrity remains – those are hallmarks of a valid accreditation program.
The process will be streamlined through consolidation and organization of standards. Improved technology will further enhance the experience.
In November 2017, we shared an initial draft version of the ACA standards and accepted comments through January 26, 2018. Based on comments made, additional revisions to some standards have been made.  The National Standards Commission has also reviewed the applicability of the current Site/Food Service Standards and the Health and Wellness Standards for specific audiences. 
Information below provides an overview of key proposed revisions; they include:
1. Reorganization of the Standards
The current sections of standards have been reorganized into sections based on who is most likely responsible for writing and distributing as well as the operational area being addressed. A key benefit of this reorganization is the reduction of standards as we delete duplicate standards and combine closely related standards. 
The proposed sections are:
ACA Core/Foundational Standards: Is a small set of standards that helps articulate the values of ACA. 
Administrative Standards: Includes policies and procedures for which key administrative staff would be responsible for writing and distributing. It includes some standards from almost all current sections of standards.
Facilities/Operations Standards: Includes standards related to food service, transportation, and so on.
Health and Wellness: This section will be revised to include additional standards to be scored by short-term programs.  
Staffing: This section will include staff qualifications, staff training, staff supervision, and rations.
Program Areas to include general program, specialized program, aquatics, and extended trips
2. Modes
"Modes" are used to determine applicability of standards. Revising the definitions and terminology in modes is happening to better fit both current and emerging programs. Redefined modes include:
Long term: Session is at least eight days in length AND/OR the camp offers more than one session of any length with, at minimum, the same key staff. Program is operated and staffed by the camp, and the supervision of individual campers is a camp responsibility.  Resident: Camp assumes responsibility of the campers 24 hours a day.  Day:  Campers go home at the end of the day with an occasional overnight.
Short term: One session, seven days or less with same campers and staff. Program is run and staffed primarily by the camp. The camp staff for these programs is sometimes supplemented by adults from a participating group. Resident: Camp assumes responsibility of the campers 24 hours a day.  Day:  Campers go home at the end of the day with an occasional overnight.
Camp serves rental groups: Involves other camps, groups, or programs that rent or lease the camp's facilities and perhaps some services, to operate their own camping programs or retreats.
3. Who ACA Accredits
Updated criteria for who ACA accredits follows:
US-based camps with at least one program that occurs on US soil.
Programs whose primary audience is campers five years of age and older.  NOTE:  We are aware that many day camps offer program that serve some three- to four-year-old campers.  If this is the primary audience, accreditation through a different organization is most appropriate.
Program sessions must be at least three days in length with a specific purpose and goals.
Single day programs and one-night/two-day programs are not considered in ACA accreditation.
4. The Accreditation Process
Revisions to the accreditation process include:
Streamlining the written documentation review process for operators with multiple camps
Will likely accept a health inspection in lieu of reviewing specific food service standards
Addressing challenges camps that use "public" facilities (schools, parks, universities, etc.) have related to some site standards
5. Technology
ACA has identified a new software on which to build the ACA web-based tool known as "My Accreditation/My Visit" for the future accreditation model.  A contract has recently been signed with the Armature Corp. We anticipate being able to use this product to collect the Annual Accreditation Report for the 2018 season. 
6. General
Reviewing the various levels of accreditation volunteers to better understand what specific training topics should to be addressed.
All training related to accreditation for both camps and accreditation volunteers is being reviewed and will be updated by late summer 2018. Training will begin in September 2018.
We continue to explore and have conversations with a variety of types of camps to determine our future model will be appropriate and relevant for emerging audiences (to include camps on campuses and medical needs camps).
Timeline
Fall 2017:  Share the draft version of what standards will be place in what sections with staff and key volunteers (LCOLs/Affiliate Boards, Standards Chairs, Visitors) and begin the solicitation of input from various groups (both internal and external).
Fall 2017: New Technology to be used for the ACA web-based tool My Accreditation/My Visit will be identified.
Fall/Winter 2017–18: Continued review of and refinement of "product" to include the administration of the actual visit process.
Winter 2018: Present final "draft" of standards for review/comment from internal and external audiences.
Winter 2018:  Development of training materials begins
Spring 2018: Final writing of actual standards
Spring 2018: Final changes to visit process confirmed
Summer 2018:  All components of the visit process, associated process, and training completed.  Standards Administration Manual revised as necessary to reflect changes
Late Summer 2018: ROLL-OUT of all aspects of new ACA accreditation (standards, process, etc.) for implementation during the 2019 season.
Fall 2018: Training begins and will be required for Standards Chairs, Trainers, Instructors, Visitors, and camps. 
We will continue to provide key updates over the next year as we look at the introduction, training, and implementation aspects of the ACA Accreditation process.  In the meantime, if you have any questions, you are welcome to contact Rhonda Mickelson at 765-349-3306 or rmickelson@ACAcamps.org.
Update – March, 2017 – Future Accreditation Model
Over the past six months, the ACA National Standards Commission has been working hard to address the first recommendation of the 2016 Accreditation Task Force which charged this group (along with support from others) to develop a foundation of standards and definition that apply to a broader audience now seeking ACA accreditation. 
Please keep reading for additional information.
Who Should ACA accredit — a starting spot for some definitions 
Resident camp — Program is operated and staffed by the camp and the supervision of individual campers is a camp responsibility. Campers stay overnight at least two nights and camp is responsible for campers 24 hours a day. This includes trip and travel camps.
Day camp — Sessions are operated and staffed by the camp and camper attends at least (timeframe to be determined. Potential time frame might state campers attend at least 3 of 5 days or campers attend at least 3 consecutive days). Camper goes home to parent or guardian each night, except for an occasional overnight.
Camp must be US-based camp and have at least one program that takes place in the US or territories (Note: ACA does NOT visit US based programs that occur outside US.)
Modes of Operation
Day camp. Camps operate on both owned and non-owned sites
Resident camp (will include current short-term residential program as well as trip/travel camps).  Camps operate on both owned and non-owned sites
Camps that rent to others
ACA will highlight and pro-actively share those standards that are applicable to all camps to be accredited by ACA. 
May include a few standards that do not focus on health, safety, and risk management
May or may not be mandatory standards
The model includes a re-alignment of standards looking at the topic and who's responsible.  The NSC believes this better allows for the elimination of redundant standards. The sections of Standards being considered are (actual placement of standards still in review):
Introductory Standards/Who We Are
Goals/Objective
Social and Youth Development
A standard related to inclusion and diversity
Staffing: Training, Qualifications, Supervision
All standards related to staff training currently located throughout the standards
Staff qualifications for various positions at camp
Supervision and observation (both campers and staff)
All standards related to ratios
Facilities
Site/Food Service
Transportation
Some standards from program and aquatics related to facilities   
Administration
Current Operation Management and some Human Resources (staff screening)
Standards from other areas which address policies & procedures (such as contact with local and emergency officials, transportation policies to be shared with parents, program eligibility requirements, etc.)
Program
General Program
Specialize Activities
Horses
Challenge
Aquatics
Trip/Travel
Health and Wellness - under review
The new model will include improvements to the administrative process to ameliorate a number of barriers that have been identified.  Some of these administrative challenges take place during visits, and specifically with operators of multiple camps. 
Timeline
March 2017 – Evaluate what learned in Focus Groups. Identify areas of accreditation to include in the pilot study.  Initiate several work groups related to the new model.
April/May 2017 – Identify camps and visitors to be involved in the pilot study and provide necessary training. Additional work related to the actual standards: placement in re-aligned sections, revision of standards, determination of need for additional standards, what standards to combine and/or delete, etc.
Summer 2017 – Pilot test various parts of both the revised standards and the identified administrative changes to the process.
Fall/Winter 2017 – Debrief from pilot visits, identify gaps, make recommendations. Invite input from both internal and external audiences on the proposed model (to include the standards)
Winter/Spring 2018 – Evaluate and refine standards for publishing, identify potential opportunities to "test" specific aspects of the process.
By August 2018 – Training revised/developed to reflect standards as presented. All systems in place (to include updates/revised technology
September 2018 – Begin training for 2019 Visits.
There will be opportunities throughout this process for input from members.  At any time, please feel free to contact Rhonda Mickelson, ACA Director of Standards (rmickelson@acacamps.org )with questions, thoughts, ideas AND/OR to volunteer to be a part of the process.  
Update — September 2016
After evaluation of the implementation of the Operational Change that occurred in nine of the twenty-three local areas in ACA in 2016, it was determined that all additional local areas would be included in Phase 2 of the implementation, which occurs in 2017.  This means that moving forward (2017 and beyond), all currently accredited camps will either have an on-site visit OR must complete the Annual Accreditation Report.  Information about what is required of your camp is being shared via email from your local staff and volunteers
Update - October 2015
In early September, ACA members were informed of a forthcoming change to the accreditation process. This change, rolled out over the next 3 years, would mean that eligible*, accredited camps would complete an Annual Accreditation Report in non-visit years and would shift over time to a five-year visit cycle. As ACA staff and volunteers continue to work on the implementation of this change, we would like to share the following information.
With the implementation of an Annual Accreditation Report (AAR), the American Camp Association is shifting from a focus only on the visit to a focus on continuous compliance with the standards. This shift will emphasize ongoing quality improvement throughout the entire accreditation cycle. In most years, camps will demonstrate their compliance with accreditation standards by submitting a narrative report (the AAR). At least every fifth year, they will demonstrate their full compliance through an on-site visit.
Local Offices Selected
To objectively advance the new accreditation cycle, a stratified random selection process was utilized. The regions selected for the 2016 Phase are listed below.
ACA Great Rivers. ACA Indiana, ACA New England, ACA New York New Jersey, ACA Northern California, ACA Southeastern, ACA Southwest, ACA St. Louis, ACA Virginias.
For Local Offices PARTICIPATING IN the 2016 Phase , What Does This Mean?
A percentage of the eligible camps currently scheduled for a visit in 2016 will have their accreditation visit moved to 2018 – based on a random selection. Over time this will allow approximately 20 percent of the camps in a given area to be visited each year vs. the current 33 percent.
All camps not scheduled for a visit in 2016 will be required to complete an Annual Accreditation Report. (Further information about this process will be sent to all camps by November 1.)
ACA staff will work with key volunteers, and camps originally scheduled for a visit in 2016 will be notified of their visit year by mid-October.
For Local Offices NOT PARTICIPATING IN the 2016 Phase, What Does This Mean?
Camps currently scheduled for an accreditation visit in 2016 are still scheduled for their accreditation visit in 2016.
No camps in your area will be required to complete the Annual Accreditation Report although ALL currently accredited camps must complete the Annual Statement of Compliance.
*Eligible camps are those that:
Have been accredited more than one cycle (i.e., since before 2013).
Have not been granted an extension in the past two years.
Did not fail their 2015 accreditation visit.
Have not been identified by the Local Council of Leaders/Affiliate Board of Directors as being required to have a visit (as outlined in the Standards Administration Manual).
Update — September 2015
At the August ACA Board of Directors meeting, a recommendation put forth by the National Standards Commission to adapt the accreditation process was unanimously approved. The recommendation reads as follows:
In non-visit years, all currently accredited camps will complete/submit an Annual Accreditation Report, which will include the Annual Statement of Compliance. This report will be reviewed by trained standards volunteers. 
After a camp has successfully completed two accreditation visits, it will move to a five-year visit cycle. (The first accreditation cycle will be three years, and subsequent accreditation cycles will be five years.) All current, eligible accredited camps will move to a five-year cycle.
With the approval of this recommendation, ACA staff, in conjunction with key volunteers and accreditation experts, have begun the process of determining how we will effectively and efficiently implement these changes. Please note the following:
The implementation of this change will occur in certain local and affiliate offices in a staged process. 
Volunteers and staff are working to determine which parts of the country will implement the change in 2016. This information will be coming soon with the full implementation of this process to all parts of the country occurring by 2018.
The change was met with unanimous support at the board level for the following reasons:
After careful review of this proposal by volunteers, outside agents, and key staff, it has been determined that the health and safety of our program participants will not diminish and can only be enhanced with this change.
This process adaptation will provide ACA with enhanced communications with camps in non-visit years through the annual report process.
This process adaptation will help to modernize accreditation following recommendation made by the Task Force on Accreditation and the best practices of the Council on Accreditation.
New programs to ACA will continue to go through the same process that we currently have in place. It is not until after they have passed their normal accreditation visit cycle twice (after the three-year process) that the camp would advance to this new process.   
Finally, it should be noted that it is the belief of each of us, the board of directors and the National Standards Commission that this change will provide ACA with many positive outcomes as we advance our accreditation process. We look forward to working alongside key volunteers over the next few years to implement this new process in the most effective way possible and to keep our membership abreast of the process as it continues to unfold.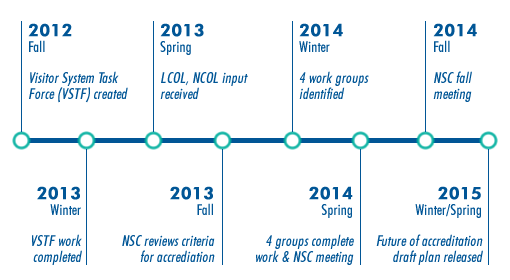 Late Fall 2014
We would like to provide you with an update on the Association's work on identifying a contemporary accreditation process. Last March, we shared that four work groups were convened and provided ACA and the National Standards Commission with several recommendations. The input was invaluable. All identified the need to look broadly and make sure all aspects of ACA's operations were considered (technology, volunteer recruitment, human resources, fees, and legal considerations). Selected recommendations have been implemented, while others require additional review. Steps taken to date include:
A report to be completed in non-visit years is being tested this year by approximately 60 – 80 camps (these camps have been identified by local leadership)
ACA continues to identify ways to recognize and recruit volunteers to serve in the role as accreditation visitor (additional presence on the website, promotion at the local level, etc.). Congratulations to the many areas who have hosted Associate Visitor Courses this fall and those who have them on the calendar for 2015!
Review and update of all training – for both camps and visitors at all levels
Identify ways to reach out to camps that have not felt they were a match for ACA to achieve growth and increased diversity.
NSC members recognize that changes they envision impact far more than the core program for which they have responsibility. While a change in the cycle of visits is still in exploration, the move cannot be solidified without understanding the full impact to the camp community and Association. To that end, work continues including an operational audit of the program as requested by the Board of Directors. The critical analysis of the operation included a gathering of thought leaders across the Association who met in Chicago, December 2 to participate in a generative discussion focused on our challenges and opportunities to ensure our accreditation enterprise is contemporary, relevant and thriving. Two NSC members participated including the Chair, Jude Bevan. Jim Murphy, MPM, CPSI, Director, Child and Youth Development Program Accreditation and Department of Defense Contracts from the Council on Accreditation provided an external perspective and shared trends in the accreditation industry. Additional steps will include a report to the Board in February and engagement of the NCOL in New Orleans. The operational audit will conclude in April with a set of recommendations presented to the Board of Directors.
The NSC has continued to identify ways to address the immediate visitor shortage experienced in some areas while maintaining the integrity of the accreditation system. Some steps include:
The opportunity for local leadership to grant a two year extension to camps that meet established criteria and agree to complete specific tasks including the submission of a "Non-Visit Year Accreditation Report"
Continued review and research of a proposed five-year visit cycle and the associated impacts to ACA's operations
Review what changes an accreditation cycle might have in states where ACA accreditation is recognized by state regulators.
Specific tasks related to visitor recruitment and training.
This process has been a great example of how "pulling the string one place moves it someplace else". While all of us wish things could move faster, we want to "get it right" and are taking the necessary steps to do the work. We will keep you updated as to next steps.
Looking Back — March 2014
Four work groups have been identified and are currently working to provide recommendations for the following areas:
Building our pool of accreditation volunteers — enhancement, retention, and recruitment.
Training, quality, and accountability of accreditation volunteers (specifically visitors).
Compliance and accountability during nonvisit years. (Determine and begin development of what is to be done to address accountability in nonvisit years.)
Increase the number and diversity of camps accredited. (What qualities should an accreditation model have that would attract diversity?)
From the Beginning
September 2012
A Visitor System Task Force (VSTF) was created and charged with these desired outcomes: 
Generate ideas for developing accreditation models that expand the camps/programs involved in ACA's Standards Program, including systems that recognize legitimate levels of professionalism. Identify how these models would affect the visitor system.
Define the components of a visitor system that preserves rigor and complements today's volunteer environment designed to accommodate an increasing number of camps and programs and adapt to new models for accreditation.
January 2013
The VSTF completed their work and made the following recommendation to the National Standards Commission (NSC). The NSC in turn made a commitment to test the recommendation. 
After a camp has successfully completed two accreditation visits, they can potentially move to a five-year visit cycle if the camp meets established criteria. All currently accredited camps would have the opportunity to move to a five-year visit cycle as long as the established criteria were met. A five-year visit cycle is common in the accreditation world.
Winter/Spring 2013
Input was invited and received from focus groups, LCOL, NCOL, key volunteers, and the field.
September 2013
The NSC reviewed the current criteria to be met in order for a camp to maintain accreditation and proposed additional criteria to be considered in the development of the future accreditation model.
TO BE MET by ALL CAMPS on an ANNUAL BASIS:
Remain current in ACA camp fees (currently required).
Submit the Annual Statement of Compliance (currently required).
Receive approval from the Local Council of Leaders / Board of Directors (currently required).
TO BE MET in NONVISIT YEARS by ALL CAMPS:
Complete a yet-to-be-developed Annual Questionnaire/Report (PROPOSED & NEW)
AT THE DISCRETION OF THE LOCAL LEADERSHIP, AN "OUT-OF-CYCLE VISIT" COULD OCCUR IF:
The camp has a new seasonal director (same as in current system).
The camp has added a mode of operation or has a significant change in programs offered (same as in current system).
If the camp has a new owner/operator (same as in current system).
For any other reason deemed necessary by the LCOL/Board (same as in current system).
The camp does not provide an ACA accreditation visitor (at minimum an associate visitor) OR have a current staff member complete eight hours of professional development specific to the ACA Standards Program (does not have to offered by ACA). (PROPOSED & NEW)
A key administer of the camp does not complete professional development on one of the thirteen core areas of ACA Professional Development (does not have to be offered by ACA). (PROPOSED & NEW)
The NSC approved a slight rewording of the proposal that is being considered:
After a camp has successfully completed two initial accreditation visits, the camp will move to a five-year visit cycle. All camps that have been accredited for two consecutive three-year cycles at the implementation of this program will automatically move to a five-year visit cycle.
Once on a five-year visit cycle, the camp remains on a five-year cycle, although, as in our current model, the local leadership will continue to have the discretion to require an out-of-cycle visit based on a variety of factors. Established criteria must be met each year in order for the camp to maintain accreditation.
Fall 2013
Accreditation processes of other organizations were reviewed and served as a resource for the NSC.
Additional criteria developed at the September 2013 NSC meeting was shared with local leadership, standards chairs, key accreditation visitors, and ACA staff. Once again, feedback was invited.
January 2014
All comments received to date were compiled, shared, and reviewed with the NSC. This information will help guide next steps taken.
Winter 2014
The NCOL discussed and provided additional input at the 2014 ACA National Conference.
Four work groups have been identified.
What's Next?
In addition to the identified steps below, we will be looking for opportunities to broaden the conversation to include related issues and opportunities. We anticipate the ACA National Board will provide a charge in that regard. We will update the timeline to include this piece once specifics are available.
End of March 2014
Work groups complete work and share their recommendations with the NSC.
April 2014
NSC spring meeting and next steps identified to be implemented over next eighteen months.
Share identified tasks with the appropriate groups (staff, work groups, volunteers, etc.).
Fall 2014
NSC fall meeting.
Visitor training and recruitment efforts in place.
Update to the field on the status of the future accreditation model.
Winter/Spring 2015
Future accreditation model is finalized.