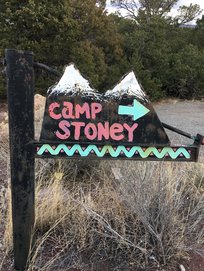 Bring your lunch and get a behind the scenes tour of Bishop's Ridge: Camp Stoney in Santa Fe, New Mexico. Learn about their program, meet some of the folks doing great work in the field, and enjoy a social learning break away from your office! This is a free event for members.
Come and meet some of your Local Council of Leaders too!
Paul Brouse, New Mexico representative
Traci Kipnes, standards chair
RSVP, contact Paul Brouse or Tori Barnes
Driving Directions: From Albuquerque

Take I-25 toward Santa Fe
Take exit 284 onto NM-466, Old Pecos Trail

0.4 miles. Turn left onto Old Pecos Trail

0.3 miles. Turn right onto Old Las Vegas Highway

1.1 miles. Turn left onto El Gancho Way

0.3 miles. At the end of the road turn right onto Old Santa Fe Trail. Follow the Camp Stoney signs and keep right at the mailboxes.

5.3 miles. The facility will be on your left. Look for the big Bishop's Ridge sign at the driveway entrance.