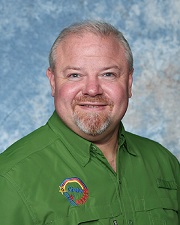 Dr. Brandon G. Briery is a Clinical Child & Pediatric Psychologist, published researcher, author, and international speaker. Involved in camps for children with special needs since 1992, he's been employed by Camp CAMP (Children's Association for Maximum Potential) since 2007. Brandon is an ACA Standards Instructor & Visitor, ACA Texoma LCOL Professional Development Chair, and Board Secretary for the Children's Oncology Camping Association-International. He also spins some mean tunes as CAMP DJ.
Opening Keynote-- Ripples in the Pond:   Building an Intentional Community at Camp and a Better World Beyond--Brandon Briery
While many camps celebrate nature, "camp" is a unique environment that doesn't naturally exist in the "real world." Camp is an opportunity–and responsibility–to create a culture built around respect, dignity, and support. The process begins with our materials marketing to potential campers and staff, continues with our communications leading up to their arrival at camp, is intensified through staff training, and is cemented by how we interact with the entire camp community during and after camp.