Giving back to our host city has become an annual tradition for ACA National Conference attendees and exhibitors.
The 2016 ACA National Conference Planning Team has chosen to collect items for New American Pathways as the service project for this year's conference.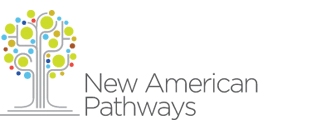 As the only organization in the state providing a full continuum of support and wrap-around services for refugees, New American Pathways provides up to 3,500 refugees per year with the necessary tools to rebuild their lives and achieve long-term success.
Download their Youth Wish List to see how you can help.  We will collect donated items at the hospitality desk.
Refugee youth face specific challenges to success including education gaps, low-performing public schools and little or no supplemental academic support. In addition, grade level placements for newly arriving refugee children frequently are based on age, rather than academic skills, leaving older youth a short window of opportunity to obtain literacy and core skills before graduating from high school.
Despite these challenges, New American Pathways consistently finds that when refugee youth are supported by social structures and targeted assistance, they make rapid progress in language and literacy and thrive as members of their community.
Led by experienced professional educators, their Youth Programs ensure that refugee children advance on grade level and enter high school prepared and on-track to graduate. In partnership with the DeKalb County Schools, they provide school-based Afterschool and Summer Camp enrichment programs for approximately 150 refugee students.
Giving back to our host city....ACA helping local kids....A great partnership!
2016 ACA National Conference Planning Team