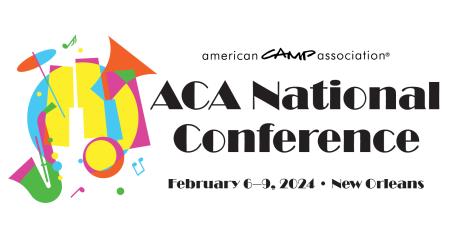 Participate in educational breakouts, keynote events led by distinguished industry experts, peer-to-peer informal discussion groups, and many other learning opportunities that will be offered.
Choose from more than 150 unique events that explore these topics: 
Business and Operations, including Camp-School Partnerships
Camp Includes Me
Camps on Campus
Emerging Issues, Tools, and Technology
Executive Leadership Forum 
Innovative Programs and Activities
Medical Camping
Staff Training and Leadership
Youth Development and Behavior
Commerce Sessions
ACA Research Forum
2024 Attendee Details
Registration for the 2024 ACA National Conference is now open.  Best rates before or on December 16, 2023.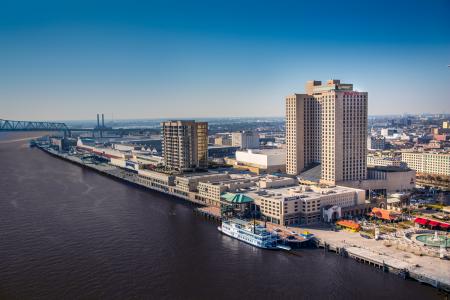 The ACA 2024 National Conference will be held at the lovely Hilton New Orleans Riverside. 
Make your reservation today!
Please visit our keynote speaker page to learn more about the 2024 national conference keynote speakers.
Learn about session tracks, the conference schedule, educational sessions, general sessions, informal and formal networking, and more.

Subject to Change
Don't miss out on the great preconference trainings available! Many similar organizations and groups — kindreds, councils, and affiliates — meet along with ACA. These events bring together like-minded individuals and offer targeted education opportunities.
 The 2024 ACA National Conference volunteer site is now open.  Here is your chance to volunteer to help. Whether you would like to work as a volunteer to receive a partial rebate on your registration fee (registration rebates are limited) or simply to make a contribution to your association, you can help make this an amazing event. 
We'd like to thank CampBrain for their continued support of this great feature of the national conference! 
Please plan to download the conference mobile app, available in January.
Sponsored by:

FAQ information is subject to change. External links are provided as a convenience and for informational purposes only. ACA does not endorse or authenticate content of the external site(s) or that of subsequent links. Please contact the external site for answers to questions regarding its content.
The 2024 call for proposals site is now closed.  Thank you to all who submitted.  Submissions were accepted through September 16, 2023.
All submitters will receive email notification of the program team's decision regarding their proposal in late October 2023.
The local convention and visitor's bureau, New Orleans & Company, has created a special microsite for conference attendees that provides trip planning resources to make the most of a trip to New Orleans - things to do, where to eat, how to get around and so much more! 
ACA does not endorse or guarantee any special offers.  Any questions should be directed to the contact information available on the site.
It has come to our attention that there are emails circulating regarding purchasing an attendee list for this year's ACA National Conference. This is a SCAM and is in no way affiliated with the American Camp Association. If you received such an email, please disregard it, and forward it to Kim Fitzgerald, kfitzgerald@ACAcamps.org, so she can send a 'cease and desist' notification to them.  We apologize for any inconvenience. Unfortunately, large conferences such as the American Camp Association can be a target for scam messages.
Thank you,
ACA Conference Management Team
Exhibitor Details
The ACA National Conference is the largest national camp conference hosted in the US.  This educational event is expected to draw 1,200+ camps representing  1,800+ professionals and focuses on professional development, networking, and commerce. 
Extend your brand identity and marketing capabilities with a strong visible presence at the ACA national conference. Let ACA customize a unique sponsorship package for you.