Growing up in the 1980s and '90s, something I looked forward to every year was attending summer camp. After spending winters mostly indoors, the perfect reprieve from school was getting the opportunity to explore the woods, laugh, be silly, and show my spirit with peers and a wonderful group of fun grown-ups.
But as a queer kid who knew inside that I was different, I sometimes felt like an outlier. It often seemed that a part of myself wasn't being fully nurtured by camp. It's something I've reflected on while growing into adulthood.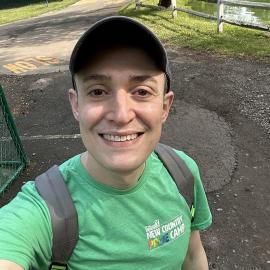 In 2021, I discovered that a nonprofit called Educational Alliance was launching New Country Pride Camp in New York, a day camp experience for LGBTQIA+ kids and those who come from queer families. For the past three summers, I've been fortunate to use vacation time from my day job to take part as a staff member of this unique program.
Like other summer programs for kids, at Pride Camp we swim, play soccer, draw, hike, and eat lunch together — all outdoors under the warmth of the summer sun. But we also make extra time for a program called "Pride Projects." During these activity blocks, as a Pride Project specialist, I facilitate discussions with the campers about the importance of our queer identities: topics like knowing one another's pronouns, recognizing the value in celebrating our differences, honoring our history and those who came before us, and remaining true to ourselves as we continue on our path toward equality.
This camp program is a gift, not just for the campers, but also for the staff. For me, the opportunity to make space for queer kids to just exist — be outdoors, foster friendships, and have a camp experience in a world that is often ignorant and not always welcoming to them — is an honor. Each summer, I've held room for conversations regarding the history of the Pride flag, the roles that art and drag have played in queer activism, the evolution of queer families, and more.
Pride Camp has allowed me to look back at the kid I was and the path I've taken to become the adult I am today. The world looks very different in 2023 — much brighter for these kids — yet we still have a long way to go. I think it's important for everyone, those who are in the queer community and those who are not, to pay attention to the legislation being put in place that aims to prevent queer kids — particularly those who are transgender, nonbinary, and gender-nonconforming — from simply existing in the world as the wonderful humans they are intended to be.
The power of camp is undeniable. And helping to create a camp experience for the next generation of queer kids remains the greatest privilege of my adult life. Just the way I counted down the days to camp when I was growing up, I now look forward to Pride Camp all year long — but much more wholeheartedly.
---
Andy Lefkowitz (he/him/his) is a production editor at Random House, a contributing editor to Broadway News, and a copy editor for the social impact division of Sesame Workshop. A native of South Windsor, Connecticut, Andy spent childhood summers as a camper and counselor at Camp Shalom in Windsor. Andy currently resides in New York City. @andylefkowitz