The past months have been tumultuous across the country because of the COVID-19 pandemic, with widespread stay-at-home orders and school closures occurring amid typically intense program planning for summer camps. As a result, this summer looked remarkably different from previous camp seasons. All programs had to make incredibly difficult decisions about how to best serve their campers, families, and staff, with alternatives running the gamut of session adjustments, virtual camp, rescheduling for 2021, blended programs, and more. 
To capture camp changes related to COVID-19, we conducted an online survey in late April 2020 directed toward ACA-accredited member camps. The 134 completed responses serve as one way to capture the ingenuity of the camp industry, along with challenges the community has faced due to the ongoing pandemic. In structuring both our survey and subsequent analysis, the three categories — intention, challenges, and changes — serve to focus our discussion on the early effects of a pandemic on camp programming and development.
Methods
Created to explore the state of the camp field as well as to link professionals and camps to ACA resources, this initial survey also offered new ideas regarding the guidance camps were seeking during this crisis. The survey for this project was reviewed and approved by Clemson University's Institutional Review Board, in partnership with researchers there and ACA's research team. It was then sent out as part of the ACA Now online newsletter to the entirety of ACA's membership. 
Following initial questions about camp operations and organizational methods, survey questions focused on virtual programming. This survey separated camp type (e.g., day camp, overnight camp) from ownership and sponsorship, as different entities impact organizational hierarchies, which in turn changes abilities to plan, prepare, and make programming decisions. In regard to program operations, participants selected those months during a normal year they offer youth (camper) programming, not including recruitment or camp fairs, to separate camps previously offering programming year-round (e.g., holiday camps, family weekends) from camps operating exclusively in summer.
We asked participants to identify the likelihood of their camp offering virtual programming for campers (youth) during the next 30, 60, or 90 days, and then posed a similar question regarding whether participants had offered virtual programming within the same time frame. Participants who selected yes to offering virtual programming within the past 30, 60, or 90 days further received a question about the type of virtual programming offered. They were also asked about the likelihood that their camp will offer virtual programming when social distancing is no longer recommended. A series of open-ended questions at the end of the survey asked participants to define constraints to virtual programming based on COVID-19's impact on staff and financial and infrastructure resources, as well any changes made to programming as a result of the pandemic that they intended to keep in the future.
Description of the Sample
More than 80 percent of the completed responses came from participants working at or associated with an overnight camp. These were concentrated in either agency or nonprofit models, though variation in model type was evident and is exemplified in Figure 1. Directors composed more than 60 percent of participants, with camp owners and the "other" category as the next-highest categories, each representing more than 10 percent of respondents.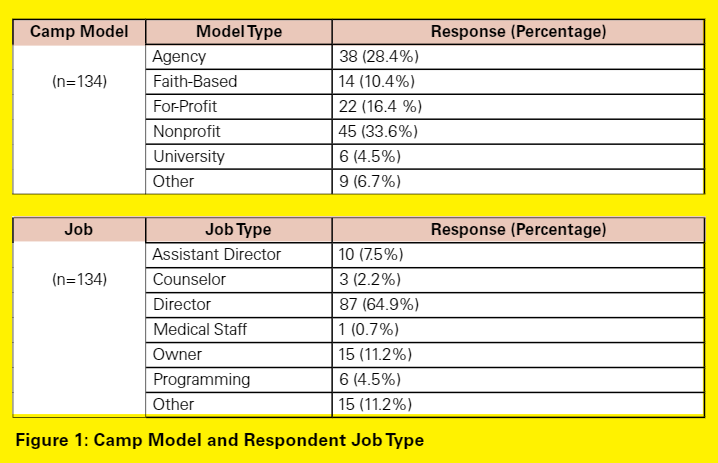 As evidenced from the map shown in Figure 2, built with zip codes supplied by participants in the demographics section of the survey, California had the largest number of respondents. However, the East Coast also had a high level of density in regard to this sample, with clustering in New England. (While this study did not collect data on city, county, and state mandated closures and guidelines, a subsequent study focusing on the differences in local response to the pandemic paired with camps' experiences would be quite interesting.)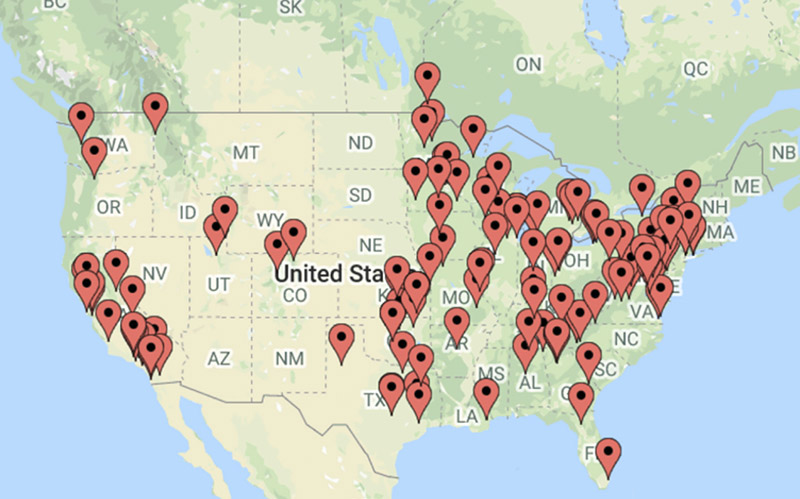 Intention
The survey data demonstrated that camp continues, albeit in a different manner and delivery than before the COVID-19 pandemic. Virtual programming, from do-it-yourself craft videos to Zoom talent shows and bingo nights, was rapidly becoming part of the camp industry. Five percent of respondents said their camps had offered virtual programming within the last 90 days. When asked about their virtual programming within the past 30 days, more than 50 percent of respondents indicated their camps had offered virtual programs within that time frame. Given that camp has historically been an industry that limits or even prohibits technology, this pivot to online/virtual methods of program delivery and connection is unprecedented. These findings demonstrate not only the resiliency of camp professionals during a crisis, but also an emerging trend: virtual programming as a way to replicate the connection offered by in-person camps.
Challenges
In terms of modifications to program operations because of the COVID-19 health crisis, virtual program development was the most prevalent response. The details of what exactly virtual camp did and could look like differed, ranging from the use of online platforms to offer connection during quarantine to the continued development of virtual content post-pandemic as a marketing tool.
While this period of quarantine and social distancing has offered an opportunity for creativity and connection in a virtual environment, challenges persist as camps struggle to determine their role in a socially distanced landscape. Funding and the logistics of in-person programming to virtual programming transition were the most common responses related to camps' challenges during the pandemic. Respondents mentioned their struggles in the uncertain terrain of the crisis, as in-person camp cancellations severely affected some camps' fiscal ability to operate. Others mentioned challenges of quality control, as camp-people-turned-virtual-content-creators quickly found themselves out of their comfort zones in producing engaging, original online videos and other forms of content.
Changes
At the time of data collection in late April 2020, the CDC Guidance for Camps and Youth Programs was not yet available, and many camps responded to survey questions related to changes in operations expressing their reluctance to make a decision without this guidance. Some participants also shared their fear that the guidance would come too late, forcing them to decide on whether they would operate in-person programming over the summer without further information. In terms of current (at the time of data collection) program changes, respondents were asked to answer an open-ended question regarding changes made in programming because of COVID-19. Responses to this question were then coded using qualitative content analysis and based on reoccurring sentiments, and like codes were further grouped together. The most prevalent codes indicated virtual program development, followed by uncertainty or "I don't know" statements. 
Virtual program development was quite varied in this sample, as some participants expressed offering online hangouts for staff, using the Live feature on Instagram more, or considering how virtual programs or content could affect their camps during the off-season or as marketing tools. Some participants also expressed their early adoption of new cleaning protocols, as well as check-in and sleeping procedures. Camps appeared to be utilizing this time not only to pivot to new program-delivery models for summer 2020, but also to consider what changes could be made long-term. 
A New Normal
The information from this survey exists as a snapshot from the field during the first two months of stay-at-home orders and school closures resulting from the pandemic. This information is useful not only in establishing a foundation for an unprecedented shift in the camp world, but also as a tool for ACA to use in discerning what resources members were seeking and how to best serve the camp community during this time. However, the situation 60 days ago is quite different from the current situation, and this data would undoubtedly be different if collection started today instead of in April. As evidenced in the survey responses, camp professionals were working diligently to plan and prepare in a time when planning seemed almost pointless, with new information and changes coming daily.
Like us, some respondents also began looking ahead to see what they might be able to keep from their ventures into different models of operation once life returns to normal. For now, the stories and experiences generated by any camp offering programming (virtual, in-person, or something completely different) remain valuable and needed in terms of research and for the growth and healing of campers and staff alike. 
Ultimately, camp is about community and connection, benefits that remain evident in both virtual and socially distanced programming.
---
Katie Thurson is a graduate student in the Parks, Recreation, & Tourism Management program at Clemson University, and she works with the Office of Pre-Collegiate Programs on campus.
Matthew Browning is an assistant professor at Clemson University researching health and cognitive benefits of exposure to natural environments. He also directs the Virtual Reality and Nature Lab at Clemson.
Barry Garst is an associate professor at Clemson University researching youth development outcomes in out-of-school time experiences.
Laurie Browne is the director of research for the American Camp Association.
Ryan Gagnon is an assistant professor at Clemson University researching out-of-school time experiences, youth development leadership, and overparenting.
---