What is global citizenship and why promote another seemingly bookish concept into a summer camp program? There are good reasons: positive youth development, influx of multicultural young people living in North America, the interconnectedness of most through social media, and because camp is an optimal learning environment (Fine, 2005). Camps are simply great places to learn (Bialeschki, Fine, & Bennett, 2015).
Global citizenship within the organized camp experience can be traced back to the educational philosophy of Kurt Hahn, founder of Outward Bound. Hahn advocated commitment to world peace, mutual respect and understanding between nations, and responsible citizenship, which he believed could be shaped and enhanced by experiential outdoor education (Rohrs, 1970). Could the lessons learned intrinsically at camp lead to a broader understanding of peace, human rights, democracy, and advocacy at local and global levels?
As camps strive to remain relevant in uncertain times, here is another opportunity to become an agent for change. I first became aware of the global citizenship initiative during an extended tour of camps in the central Asian nation of Mongolia. A small, emerging, democratic country with a nomadic heritage and former connection to the now Russian Republic (Russia has approximately 70,000 camps nationwide), Mongolia has an education system where overnight camp is a valued component of the national school curriculum.
Tuvshin Tulshig is the director general of the International Children's Centre Nairamdal (ICCN), Mongolia's largest extracurricular school and summer camp. In 2005, UNICEF released Childhood under Threat, a report on the state of the world's children. Impacted by proceedings at the UNICEF conference, Tuvshin developed a personal vision for nurturing the "global child" through the phenomenon of camp. Global citizenship has thus become a central theme of the Mongolian Camping Association. A great idea for our present era, because although youth may be informed and connected, naive or uncritical access to a vast cyber universe demands globally based insights when making personal choices and setting personal goals.
Young people still need to learn to get along, accept difference, hold respect for all species, and safeguard the planet. Clearly, technology has opened a vast array of portals for the youth of the world to venture through. At the same time, technology is a Pandora's box and in many ways may be making the planet more fragile, more open to a tragedy of the commons scenario. Globally motivated movements are free to unduly influence, raid, and pillage; and our youth are ever more susceptible to these manipulations. This only serves to highlight an urgent need to take on the task of encouraging campers to learn to become globally informed and globally minded. Camps can play a major role in this initiative, and it's worth some consideration as camps really do have the power to make a difference.
A Bit about International Camp Research — But Not Too Much
In 2008, in conjunction with the Mongolian Camping Association, I engaged in a comparative study between Mongolia's International Children's Centre Nairamdal and a Canadian summer camp. This is what was discovered:
Youth experiences at camp were mirroring many of the outcomes proposed by UNESCO (1995) as attribute goals for global citizenship. Additionally, camp experiences were shown to have the capacity to transcend both cultural and international borders (Fine & Tuvshin, 2010). This in turn prompted a threeyear international study, the ICF Global Citizenship Study (Fine, Bialeschki, & Bennett, 2014). Utilizing modules from the American Camp Association's (ACA) Youth Outcomes Battery, data was collected from camps in the U.S., Canada, Mongolia, Greece, Columbia, Venezuela, and Japan.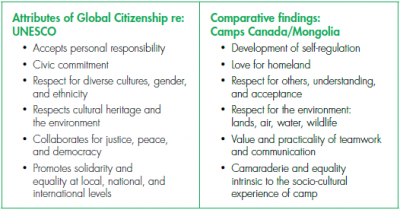 Global Citizenship Activities for Your Camp?
One main aspect of the study involved the development of dynamic and collaborative camp activities that would introduce global-thinking concepts to campers and staff — activities that would allow them to begin thinking about aspects and issues related to globalism and give them an outlet for personal voice. The camp setting allows for play to become a powerful teaching and learning tool (Elkind, 2007).
Harvard-based educator Tony Wagner (2008) has emphasized the effectiveness of extracurricular activities in developing requisite survival skills for success in a globally based society. Organizations, such as Partnership for 21st Century Learning (P21), an American Camp Association® partner, advocate experiential learning opportunities, such as those provided by camp, as a means to cultivate responsible, engaged, and compassionate citizens through an increase in global awareness and social justice issues. Results from our international study indicated that the experimental group scored higher individually and across the board than the control group. This indicated that our incorporation of intentional camp programming such as the Oxfam-inspired activities outlined here, were responsible for augmenting more globally centered attitudes. (Oxfam is an international confederation of 17 organizations working in approximately 94 countries to find solutions to poverty and injustice around world.)
We incorporated the activities offered at camps around the world in an effort to create an atmosphere for greater global awareness and responsibility. Camp directors already have a full agenda, but there will always be new challenges for us as mentors to the next generation. And it must be remembered that the very last item found at the bottom of Pandora's box was hope. Knowing that camp experiences result in learning transfer to other contexts (Fine, 2005; Glover, 2013), it is our hope that these dynamic activities will engender further thought and discussion during camp, and later in the home, at school, and in the community. Our work deals in prospects and possibilities and, as such, I invite you to give this global citizenship program a try at your camp.
Camp Activities
Introductory Activity: What Is a Global Citizen?
This activity lays the ground work for understanding what constitutes a globally minded attitude and corresponding action. The activity can be done either indoors or outdoors and allows campers to:
Realize their potential to change things
Accept and act on group decisions
Learn compromise
Gain a sense of self-worth
Gain respect for difference and diversity
Hold a belief that the world can be a better place through personal actions
What you'll need:
Markers, blank cards or slips of paper
White board or flip chart
How to prepare:
You will need a set of the following nine points for each group of about four or five campers. Each point should be on a separate slip of paper or card.
I try to understand what other people are feeling.
I am as important as everyone else.
Everyone else is equal to me but different from me.
I know what is fair and not fair and try to do the right thing.
I look after the environment and don't waste things.
I try to help others and not fight with them.
I have my own ideas but can alter them if I realize they are wrong.
I want to learn more about the world.
I think I can change things in the world.
The activity:
All of our sessions take place outdoors in areas that provide comfortable ground for sitting and shade. In small groups, ask campers to place the statements in order of importance. This can be done in the form of a diamond with the most important statement at the top and the least important at the bottom. Statements of equal importance are placed alongside each other.
Campers need to work cooperatively and to give reasons to others within their group for their individual views. After about 15 minutes, discuss the activity as a whole group, with each group explaining what their final layout is and why.
Then ask campers to work in groups on what they could do to show that these things are important. For instance, under the first point, suggestions might include listening to others, asking others if they are happy or how they are feeling, or befriending other campers from a different cabin group.
The most difficult one is probably, "I am as important as everyone else," so perhaps you could give examples, such as "I am especially good at . . . ," or "I help out around camp by . . . ." Suggestions can be written as pledges of what campers will try to do to show they can be global citizens, and these can be put on display.
Outcome:
Campers' self-esteem is raised and they feel important, valued, more able to take on responsibility, and understand that they can change things.
Why Do We Fight? Role-playing Game
This activity allows campers to appreciate some of the causes of conflict and to begin to develop strategies for conflict resolution:
Look at different viewpoints
Identify unfairness and take appropriate action
Empathize with and respond to the needs of others, and be aware that our actions have consequences
How to prepare:
This is an improvisational role-playing activity that can be facilitated during a specific activity period such as drama or campfire, impromptu style during free time, or during a scheduled camp-wide activity or event. If the latter, first inform the general camp community that they may (over the course of a given time frame) be witness to what looks like a disagreement or heated argument.
Play the game:
Ask campers to think about why kids might argue over possessions, friends, sports, etc. Discuss the suggestions and ask who feels they have argued for the same reasons. Ask campers to think about situations around camp that could lead to disagreement. Use these as scenarios for role play in small groups.
Give a beginning time and an ending time. Ideas on disagreements could include an argument over a soccer ball, favorite color kayak, being wrongly accused, using someone else's stuff, or lying on someone else's bunk without asking. After each group acts out its scene, ask for everyone's suggestions for resolving the problem. (Note that reversing the roles is an effective way of building empathy).
If performed within a camp-wide context the action will become of general interest for any who find themselves a part of the audience. It can become like a traveling theatre troupe around camp. If you happen to have a hay or luggage wagon, it can be decorated to become a pageant wagon, the traditional traveling stage that moved plays and players from town to town. Characters can include antagonists, protagonists, gawkers, hawkers, and interventionists. All can discuss informally afterwards.
Outcome:
Campers gain an increased awareness of the causes and possible resolution of everyday issues and difficulties. This also helps to promote the development of anger-management strategies and self-control.
Sustainable, Live-action Board Game
This is a great indoor rainy day or outdoor event day activity. It allows campers to develop an enquiring mind, state opinions based on evidence, begin to value resources, and understand human impact on the environment. The game can be played indoors in a large room or outdoors in a field area. Campers themselves are the playing pieces that move around the board.
What you'll need:
Masking tape or field marking paint
Large, colored cards on which to make space identifiers for the playing board
Dice or number spinner, marking pens, flip chart or white board
Information about living sustainably.
How to prepare:
In a whole group, ask the campers how they believe they can live in a sustainable way? How to live in a healthy way? Respect others and the environment? Encourage campers to think about how they can live more sustainably at camp, at home, and at school.
To give them some ideas, you could suggest ways of:
Keeping healthy — not smoking, eating a balanced diet, getting physical exercise
Respecting others — being considerate, looking after other people's things
Respecting the environment — saving water, electricity, and paper, recycling
Write down their ideas for the game. Use a white board or flip chart, if possible, so everyone can see; this will encourage everyone's contributions.
Play the game:
Ask campers to work in pairs or teams to make up game text on the colored cards. These cards will indicate whether players move forward or back on the game board, such as: "Didn't turn tap off properly, go back two spaces," or "Fitted energy-saving light bulbs, go ahead three spaces." There should also be start and finish spaces for the board.
With masking tape or field marking paint, have campers mark out a simple game board game track on the floor or the ground — about 50 squares. Their text cards can then be spread out around the track. Play the game in groups. The game board can be huge for larger numbers. 
Outcome:
Campers will begin to realize that everyone can behave responsibly with regard to each other and the world's resources. Everyone can make a positive difference both locally and globally.
References
Bialeschki, M. D., Fine, S. M., & Bennett, T. (2015). The camp experience: Learning through the outdoors. Routledge International Handbook of Outdoor Studies. London, England, Routledge Books.
Elkind, D. (2007). The power of play: How spontaneous, imaginative activities lead to happier, healthier children. Philadelphia, PA, De Capo Lifelong Books, Perseus Group.
Fine, S.M. (2005). Contextual learning within the residential outdoor experience: A case study of a summer camp community in Ontario. (Doctoral dissertation). University of Toronto. Retrieved from, http:// ccamping.org/wp-content/uploads/2012/11/ Fine_Stephen_2005_Contextual_Learning_ within_the_Resident.pdf
Fine, S.M., Bialeschki, M.D., & Bennett, T. (2014). Summer camp and the advancement of global citizenship: An international study. ICC 2014 Antalya, Turkey. Retrieved from http:// ccamping.org/wp-content/uploads/2014/10/ Book-of-Abstracts-ICC-2014.pdf
Fine, S.M. & Tuvshin, T. (2009). Cosmopolitan citizenship through the residential camp experience: Comparative research in North America and Central Asia. Retrieved from http://ccamping.org/wp-content/ uploads/2012/11/Fine-S.-M.-Tuvshin-T.-2009.- Cosmopolitan-Citizenship-through-the- Residential-Camp-Experience.pdf
Glover, T. et al. (2013). Parent perception of changes in children after returning home from camp, Canadian summer camp research project. University of Waterloo/ CCA partnership. Retrieved from http:// ccamping.org/wp-content/uploads/2013/07/ CSCRP-Phase-3-Final-Report.pdf Oxfam. (2015).
Oxfam U.K. global citizenship guides. Retrieved from www.oxfam.org.uk/ education/global-citizenship/globalcitizenship- guides
Partnership for 21st Century Learning. (2015). 21st century citizenship. Retrieved from www.p21.org/our-work/citizenship
Rohrs, H. (1970). Kurt Hahn. London: Routledge & Kegan Paul, London: England.
UNESCO (1995). Integrated framework of action on education and peace, human rights, and democracy. Paris, France.
UNICEF (2005). The state of the world's children, childhood under threat. Retrieved from www.unicef.org/publications/files/ SOWC_2005_%28English%29.pdf
Wagner, T. (2008). The global achievement gap. New York, N.Y.: Basic Books.
Stephen Fine, PhD, is a camp director in Ontario, Canada, research chair for the Canadian Camping Association, and ex officio member of ACA's Committee for the Advancement of Research and Evaluation.