I spent the first 12 years of my life in a sleepy, rural town in the northeast corner of Connecticut. With both of my parents working full-time, my summer mornings began near dawn as I filled up my backpack and headed to the bus stop a few houses down the road. I would wait patiently with a sense of giddiness at what the day's activities at camp would bring. Holiday Hill Day Camp was my escape, my pure fun without requirements or judgments, and the freedom to choose whether I played Four Square after lunch or made gimp bracelets in arts and crafts.
Famed Stanford researcher Carol Dweck notes the trouble that can happen when children are praised for skill instead of effort (Bronson, 2007); kids can cease taking risks for fear of appearing foolish. That, in a nutshell, was me at seven years old. In school, I sometimes felt isolated and bored. I was academically advanced and often felt that I didn't fit in. I was good at reading, so I read a lot. Math came easy to me, so I did problems in my spare time. I was physically taller than most of my peers, and reached my full height of 5'3" (and back row class photo status) by the fifth grade. I tried to blend into the background and didn't take many risks.
Until I went to camp, I didn't realize how to have fun — unadulterated, no-points-inthe- grade-book, effortless fun.
My first session at camp I spent four days anxiously trying to determine whether or not I should stand in line to play Four Square after lunch. I had never played before, so I watched on the sidelines and tried to pick up strategies and tips. I didn't want to appear foolish by being quickly eliminated, so I put off even trying. When I worked up the courage to play (and experience a rapid-fire elimination), I realized that the once overpowering sense of failure wasn't actually so bad. Nobody was cackling at me. In reality, no one really cared. I got back in line, and within days, I owned that court.
What I remember most about those summers, other than the swimming and the juice boxes, were the massive campwide games that involved some version of capture the flag. It was a colossal team effort, one that built a sense of community for me in a way that hadn't before existed in my life. Running around over that massive acreage, and helping out teammates I barely knew who were both older and younger in age, gave me a sense of belonging that had previously been missing.
I say all this with a sense of weary wistfulness. In the nearly three decades since I was a day camper at Holiday Hill, and in the 15 years since I started working with and writing about teens, so much in the lives of girls has changed — and yet so much remains the same. Understanding this sameness, along with the opportunity that camp gives girls to create a sense of community, develop their own sense of healthy risk-taking, and belong to something greater than themselves is something worth turning to time and time again.
Today's Girl World
One fall afternoon not too long ago, a seventh grade girl came up to me as I was walking through her school's hallway. She gently inquired if I had given the school presentation the previous week. I nodded my head and asked if the presentation, which discussed organization, time-management, social media, and overall wellness in school and life, was helpful to her. Her glowing affirmation surprised me in its depth and authenticity. The girl went on to explain how she had spent the entire previous year on Ask.fm, an anonymous online profiling board where users set up profiles and others can comment and ask questions. Generally, anonymous online profiles are a terrible idea, especially for middle school girls. Ask. fm has been linked to at least nine suicides, as young people are often unprepared for the vicious onslaught of meanness that anonymity can foster.
Following my talk, the girl determined that the hours she spent on Ask.fm were draining her, and she decided to delete her account. Within days, she explained, it felt as though a huge weight had been lifted off of her shoulders. Throughout that past year, no adult — not her parents nor her teachers — knew about the meanness she encountered online. Her parents thought she was doing her homework in her room, and her teachers and school administrators were barely aware that Ask.fm existed, much less that their students had an active online presence.
When I first started working with teens in 2001, there was no Facebook, Twitter, Tumblr, Instagram, Snapchat, or Yik Yak. The plethora of social media apps and online tools, many of which focus on anonymous, ephemeral interactions, create a challenging vortex where many girls are secretly growing up too fast and being exposed to too much without the adequate social and emotional resources to navigate their dual — online and in real life (IRL) — worlds.
Many pre-teen and teenage girls show up at camp today having spent nine months during the school year managing more rigorous academic, extracurricular, and social pressures. At the same time, they receive a never-ending flow of information on how they should act, feel, and be. Teen girls send and receive approximately 4,000 text messages per month — that's over a hundred messages per day (Newswire, 2011). Reality shows and a "cele-bratty" culture where celebrities glamorize toxic behavior and relationships create a new and complex dimension from which teen girls often inadvertently model their choices. It can be overwhelming for most adults to navigate this constant influx of information — for many teen girls, it can easily become fear-inducing, fun-preventing, and anxiety-provoking. In many ways, the current culture of perfectionism enveloping many teen girls' lives begins with the oversaturation of information. The need for digital detox and to be offline has never been greater, nor more challenging to accomplish.
What often results is that many girls and young women struggle to identify what they really like, often fear trying new things, and crave a sense of belonging and community because many of their regular, on-screen social interactions act as a barrier to genuine kindness and connection. Teen girls are twice as likely to be affected by depression and anxiety in comparison to their male peers. And more and more female campers come to camp with a heightened sense of anxiety and nervousness, which can be at especially high levels as they experience that initial detox from their devices and from the constant chatter of the outside world.
The Crucial Role of Camp
For many girls, the role of camp certainly adapts to the world's changes in some ways, but at its core remains unchanged from my simpler days riding the school bus to day camp in rural Connecticut. Campers (and counselors) are coming to camp with a new and different set of experiences based on the way they are forced to try and seamlessly juggle online and in-person experiences. Yet some of the crucial takeaways from camp still boil down to the three Cs: community, cause, and confidence.
For many girls, establishing multiple clusters of community can be key to their social and emotional wellness. I coined the term "community clusters" in my book, The Myth of the Perfect Girl (Homayoun, 2013), to signify the emotional importance of having different groups of friends — perhaps some friends or colleagues from work; others from school, church, or synagogue; and some from an exercise group or activity — that make up each person's own greater community. One of the greatest gifts that camp offers is helping young girls create and maintain multiple community clusters. Even if things are not going well with friends from school or on a sports team, girls realize they always have a community of supporters at camp. This inherent sense of belonging acts as a booster and a relaxant that allows girls to focus on finding their own cause and building their long-term confidence.
Much of girls' anxiety stems from the culture of comparison, where everything (online and IRL) is subject to nonstop assessment. In the relative quiet of camp (and by "quiet" I am referring to the absence of input from parents, teachers, and media sources), girls often have a chance to find their own cause and ref lect on what brings them happiness and personal fulfillment. Finding a sense of purpose enables girls to develop their own framework for success, rather than looking at what others are doing as a source of comparison and competition.
Camp works to build the personal confidence of girls who may be facing increasing stress over not measuring up to some external semblance of perfection, as camp allows them to take healthy risks, be supported in an inclusive environment, redefine failure, and build off success. Girls who are able to be silly, rumble and tumble, capture the flag, and sing at the top of their lungs — those are the ones who can forget the stressors beyond the camp walls, or at least put them aside temporarily. And hopefully, with a bit more attention to community, causes, and confidence, this next generation of girls will use their camp experiences to create their own personal pathways to success. Even though camp only lasts a few weeks or months of the year, the ripple effects are endless.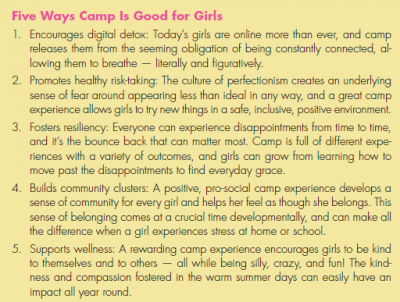 Photo courtesy of Camp Tecumseh, Brookston, Indiana.
References
Alvarez, L. (2013, September 13). Girl's suicide points to rise in apps used by cyberbullies. The New York Times. Retrieved from www.nytimes.com/2013/09/14/us/suicideof- girl-after-bullying-raises-worries-on-websites. html?_r=0
Angold, A. & Worthman, C.W. (1993). Puberty onset of gender differences in rates of depression: A developmental, epidemiologic, and neuroendocrine perspective. Journal of Affective Disorders, 29, 145–158.
Bronson, P. (2007, August 3). How not to talk to your kids: The inverse power of praise. New York Magazine. Retrieved from http:// nymag.com/news/features/27840
Cyranowski, J.M., Frank, E., Young, E., & Shear, M.K. (2000). Adolescent onset of the gender difference in lifetime rates of major depression. Archives of General Psychiatry, 57, 21–27.
Hankin, B. & Rudolph, K.D. (2007, January- February) Child Development, 78, 279–295. University of Illinois at Urbana-Champaign.
Homayoun, A. (2013). The myth of the perfect girl: Helping our daughters find authentic success and happiness in school and life. Penguin Group/Perigree: New York, NY.
National Institute on Mental Health (2015). How do children and adolescents experience depression? Retrieved from www.nimh.nih.gov/health/topics/depression/ depression-in-children-and-adolescents.shtml Newswire. (2011, December 15). New mobile obsession: U.S. teens triple data usage. Nielsen. Retrieved from www.nielsen.com/us/en/ insights/news/2011/new-mobile-obsession-u-steens- triple-data-usage.html
Ana Homayoun is a teen and millennial expert who draws on her camp experiences, among others, to help individuals, schools, and corporations with organization, personal productivity, and overall wellness. She can be reached through her website at www.anahomayoun.com.