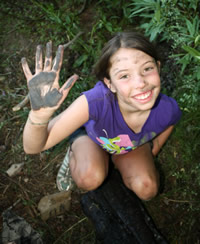 A longtime supporter of the American Camp Association once told me that she gave to ACA because she viewed her yearly gift as "an investment in her profession."
For years, I thought that "investment" was a peculiar way to describe a philanthropic gift because investments are made with the hope, desire, and expectation of getting something in return. Historically, philanthropy has been associated with a person's altruism — the desire to do good without the need to receive anything (except a noble feeling and a tax deduction) in return. So why would this donor describe her gift to ACA as an investment?
I can assure you that there is no finer way to describe the importance of giving to our association than with the wisdom of that longtime donor. She understands that with any investment comes the expectation that the amount given might yield a positive gain. So what is there to be gained professionally by investing in your association?
Membership fees only go so far. More accurately, we know that membership fees cover just 70 percent of what ACA offers its members — programming, services, research, public awareness, etc. We must rely on corporate giving and individual donations to provide the remaining 30 percent of services offered.
The important fact to remember is this: 30 percent of our education, our outreach, our conferences, our advocacy, our research, and our member support is made possible through the generosity of donors who choose to invest in ACA.
To understand that percentage and how meaningful it is to our association, our industry, our profession, our camps, and, most importantly, our campers, we would like to define what that 30 percent means for you and the camp industry:
Phone coverage for the ACA Camp Crisis Hotline for 7.2 hours each day
Approximately 23 pages in each issue of Camping Magazine
Seven educational webinars presented by ACA every year
The CampLine in print and placed in the center of this issue of Camping Magazine
Managing and working with 450 of our 1,500 volunteers
Responding to an average of 65 public relations inquiries per year
Serving approximately 23 of our individual camp scholarship programs
Calling to action 900 ACA members for our advocacy efforts in Washington, DC, around critical issues such as the J-1 visa and national background checks
Reaching out to and partnering with countless educational alliances, including NASA, YMCA, and Girl Scouts of the USA
Sourcing and working with the 87 business affiliates that help you manage your business in the very best way
Sending 158 campers to camp through our Send a Child to Camp program
The list of opportunities created and assured by that 30 percent goes on and on. There is no limit to the difference your donation makes and the critical value it adds to the camp industry.
Our Pledge to You
We are proud to renew our pledge to you, as a supporter of ACA, to make the most of every gift we are given. As such, we will source the best possible opportunities to utilize your gift; we will seek to educate our donors and our prospective donors on how gifts are used and what impact our collective giving has each year; and we will strive to acknowledge gifts with a timely and appropriate response.
Your investment and trust are what make our association great, and we do not take either of these for granted. Our common cause is to improve our profession and secure the future of camp.
We ask you to consider a year-end investment in your profession by a donation to ACA's Annual Giving Fund. We know that our association is only as great as you who support it, AND we promise you that your gift will have an impact on our work, our profession, and our future.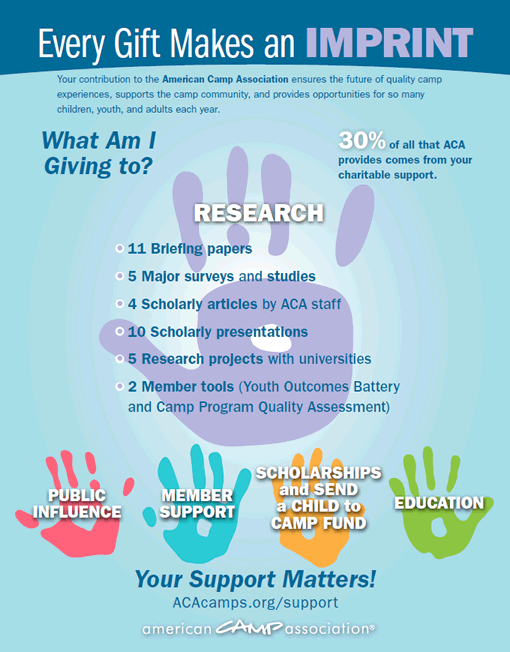 Tom Holland is ACA's chief foundation and funds development officer. He holds a bachelor's degree in secondary education and a master's degree in business administration from Washington University in St. Louis, Missouri. Tom also spent six years as the executive director of the Teton Valley Ranch Camp Education Foundation. He currently lives in Jackson, Wyoming, with his wife and three daughters.
Photo courtesy of Gold Arrow Camp, Lakeshore, California.
Originally published in the 2014 November/December Camping Magazine.