"Without Camplify? Gosh, I don't know where we would be."
What began as a challenging weekend camp in elementary school has transformed into a year-round leadership journey for local youth. Now a high school (and Camplify) graduate, Derick served as a counselor-in-training, a volunteer at monthly middle school Pathmakers programs, and as a LEAD captain his final year at Camplify (For more information on the program's stages, refer to the graphic below). Derick graduated high school at 17 and is serving in a leadership capacity at the camp he has called home for six summers. His greatest role model in life? The director of that camp, Michael.Frances, 77, is raising her great-grandson Derick as a single parent in the mountains of Western North Carolina. They live in a log cabin in the woods, and she's had a number of complex surgeries lately, but she perseveres as matriarch of their two-person household. Frances has told me that heat is "just too darn expensive most of the winter," so she wakes up at 4:00 a.m. to tend to the fire in their cozy abode instead. She is a loving and proud woman who expresses that groceries are costly for teenage boys. However, she chose not to sign Derick up for free lunch at school because "that's for folks who really need it, you know." At the end of the day, Frances's story is one of hope: Derick was nominated in the fourth grade to begin a nine-year leadership journey to change their family tree.
Michael and 20 peers throughout the region have made a commitment to serve local youth like Derick. In the past five years alone, Western North Carolina camps have donated more than $380,000 of camp scholarships to local children. Why? "If Western North Carolina is going to continue to be the jewel that it is, you have to train the future leaders," said the founder of Camplify.
Though Derick graduated and is on his way to a successful future, hundreds of students are still learning leadership skills at Camplify through residential camp and year-round experiences.
The Foundation
Camps have the privilege to promote 21st-century leadership skills in children who can afford it. But in 1994, someone asked how to support growth in young leaders who cannot. For 25 years, Camplify has used a series of camp-based and experiential learning programs to teach kids in need the life skills required to become the leaders of tomorrow. What began as a volunteer-run weekend has influenced more than 3,000 youths. This program flourishes with support from the camp community, which sees value in partnering with
local families:
The children who we meet today are the future of our region.
Regardless of means, these children have the ability to become responsible citizens in our shared community.
These campers attend more than 20 regional schools serving as ambassadors to every classroom and every neighborhood.
Partnering with local families is a long-term and powerful impact on the life of our region.
This is not a singular property running a camp — what Camplify has gotten accomplished is more than 20 camps working together to make programs accessible. If camps in North Carolina do it, camps in other part of the country can recreate this same magic.
This is just one way this community strives to be beneficial to all: camps are great neighbors because camps give back.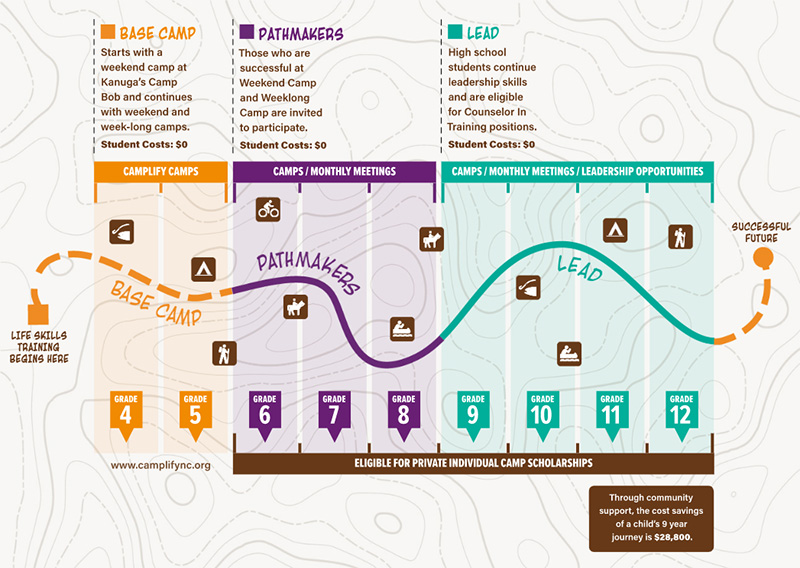 Nuts and Bolts
The University of North Carolina at Chapel Hill conducted a 2018 comprehensive study of the regional impacts of Camplify's five programs. Equitable camping is attainable and is truly the next big thing. Tom Rosenberg, president/CEO of the American Camp Association, reflects that it's time for communities to "Get Camplified."
Camplify does not run a camp; its mission has been accomplished through collaborative partnerships. Participants practice leadership skills 12 months out of the year through five progressive programs. They receive an average of $28,800 of leadership training from fourth grade through high school graduation.
Nominated youth start Camplify based on being great kids, having family buy-in, and otherwise not having such opportunity. They begin as fourth-graders with support from their elementary school counselors at Camplify's first "base camp," a leadership weekend just for Camplify nominees.
Camplify raises money to send each camper to weekend camps for free, so beds are limited based on the budget. The following school year, participants attend two more free weekends in fifth grade where they learn and practice five camp competencies including confidence, collaboration, and respect.
After elementary school, campers attend Camplify Weeklong Camp, monthly school-year gatherings, and eventually earn the opportunity to attend traditional camp on "campership" with children from around the globe. The creation of independent, successful leaders for our region is achieved because of generous investments from the camping community.
What Will Your Legacy Be?
If the spirit of camp is camaraderie, then it's time to challenge the trajectory of camps by collaborating within our communities. In addition to recruiting families from Southeast Asia or traveling to host camper reunions in Texas, consider something radical. What would it mean to extend equitable camp right past your fence?
Sara Schmidt, administrative director at Green River Preserve (GRP), frames it simply, "GRP has always been a nonprofit. It is in our DNA to uphold our mission and provide our services to others."
And that they do. GRP offered four Camplify campers the opportunity to attend a traditional session for less than $100 this summer.
"Working to provide camperships to local youth is a natural extension of our program. We bring children closer to nature, and in this case, even in their own backyard," Schmidt said. "These campers are ambassadors for our community and — we hope — will become future stewards of the earth."
Perhaps your camp already offers discounts to campers. That's tremendous. A majority of camps offer partial scholarships, but what would it look like to offer camp for free, or no more than $10 per night, for a child in your community? That threshold is a foundational stipulation for all Camplify partners. In fact, more than half of camp partners provide camperships that cover 100 percent of the cost to families. No strings. No fees. Just one of the tenants of their camp philosophy: servant leadership to great kids who have earned this opportunity.
Last summer, a new partner camp donated $8,000 to a deserving young lady going into her fourth year at Camplify. Her dad and stepmother could never afford to pay even a quarter of the camp tuition. Camplify staff nurtured the family through paperwork, packing lists, and checking in before camp drop-off, and their family believes in the intrinsic value of camp. Their daughter has grown as a leader from her experiences.
Hiccups and Hurdles
Every community has some shared hurdles: poverty, crises, traumas, hurt, and vulnerability. But a huge return-on-investment also exists when partnering with local families and changing life trajectories.
The national poverty level for a family of three is $21,330. There are single parents raising teenagers who cannot pay $200 for camp. We acknowledge that. We own that. And regardless of ability to pay, these children are worth our investment. Camplify partners with wonderful families and local camps while remaining up front about our mission, vision, and capacity.
Take Derick.
That camp director, Michael, has done amazing work in Derick's life. His great-grandmother is eternally grateful. But the best part is, Derick now has the opportunity to give back to our camp community. He interviewed with Michael the day he graduated high school (early!) and accepted a paid summer position on staff. This young man knows the camp culture better than anyone else Michael could have hired. This is literally Derick's backyard.
Derick was a local elementary student when one school counselor took a chance on him, and now he's well on his way to having the opportunity to become lead counselor, head of mountain biking, or work year-round in the outdoor industry.
Something magical is happening in the mountains of Western North Carolina. That same magic can happen in your neck of the woods.
Photo courtesy of Camplify, Hendersonville, North Carolina.
Author's Note: The author wishes to thank Camplify's 2019 camp scholarship partners for contributing $116,000 in camp scholarships to more than 50 local youth: Green River Preserve, Camp Lutheridge, Camp Lurecrest, Camp Mondamin, Camp Ton-a-Wandah, Falling Creek Camp, Camp Pinnacle, Appalachian Institute for Creative Learning, Camp Tekoa, RYLA, Camp Merrie-Woode, Camp Wayfarer, Blue Star Camps, Camp Highlander, Camp Timberlake, Camp Greystone, Camp Watia, Camp Kanuga, Bonclarken, Camp Glen Arden, and Camp Green Cove.