Each year, ACA's Eleanor P. Eells Award for Program Excellence recognizes camps that epitomize the spirit of the award's namesake through their efforts to provide sterling programming that effectively and innovatively addresses the needs of people and society through the camp experience. We applaud the 2019 recipients. They are all definitive proof of the might of camp programs to equip campers of all abilities and backgrounds with the resiliency and conviction to build better futures for themselves and their communities.

Camp Isola Bella
New England
Nestled on an island in the middle of Twin Lakes in Salisbury, Connecticut, Camp Isola Bella is an Adventurous World of Experience with Signing Opportunities and Meaningful Education — in a word, it's AWESOME — and one of the first camps for deaf and hard-of-hearing campers. Owned and operated by the American School for the Deaf since it began in 1964, "Camp Isola Bella is currently the longest-running camp of this kind," said David Guardino, the camp's new director. "We are proud to offer an extensive, accessible learning environment for all who attend."
In addition to deaf and hard-of-hearing campers, Isola Bella also welcomes children of deaf adults and children with other deaf family members. This, in addition to an extensive range of activities, including archery, arts and crafts, boating, outdoor education, theater, and waterskiing, among others, is essential to the camp's philosophy of "learning through experience" and their dedication to "open access to communication."
Whether it is through sign language, oral, aural, lipreading, or a combination of communication modes, Guardino explained, "Our goal is to raise self-esteem through positive reinforcement and personal development — campers learn by doing. We offer a wide range of activities that are all-inclusive and allow campers of any ability to participate, and we fit our communication to the needs of the campers so they are comfortable with understanding their environment." The main emphasis is on getting the message across in whatever way works best for the individual camper to ensure successful social experiences with peers, abundant encouragement from staff, and the opportunity for setting and achieving personal goals.
When asked about his goals for the program's future, Guardino said, "Our history and culture is something we are immensely proud of. A large part of that success is due to our previous director, Alyssa Pecorino, who invested 19 years and made Isola Bella more than just a camp; she created a growing family. So I hope to continue the legacy of offering quality programming for generations to come."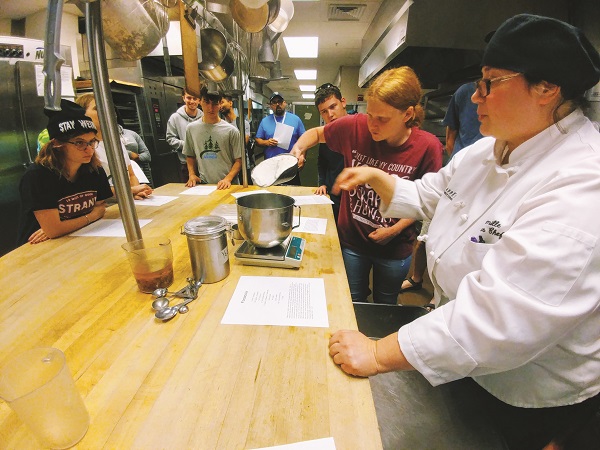 Beyond Akeela
Wisconsin
Beyond Akeela is a camp for quirky teens — bright, independent, academically successful young adults who are in need of support to sustain meaningful relationships with peers. Many Beyond Akeela campers have a diagnosis of Asperger syndrome, high-functioning autism spectrum disorder, or a nonverbal learning disability. As a result, they often struggle with the nuances of friendship and social interactions that can be crucial to a successful transition from high school to college and beyond. Beyond Akeela seeks to provide opportunities for these teens to practice the social and other soft skills they'll need in their post-secondary lives.
"There are many programs around that focus on college preparation for the population we work with," said Beyond Akeela Director Kevin Trimble. "The difference between Beyond Akeela and other programs is the focus on social-emotional skills necessary to thrive in college settings. Beyond Akeela was born out of a traditional camp community, which has kept our focus on the skills that the Akeela population needs more support and practice with to have successful college experiences."
The three-week program for students who have completed 11th or 12th grade, or a post-graduate year, is based at Lawrence University in Appleton, Wisconsin, and combines a traditional summer camp experience with a college preparatory program. As part of a community, participants engage in activities and practice social and independent-living skills that promote building strong friendships, college and job readiness, self-advocacy, collaboration, and executive functioning.
"We're really proud of how our campers and families have helped us shape this program over the years. We have transitioned through a few different iterations of the program, all through feedback received from our camp families and constantly reviewing how the program lines up with its lofty goals," said Trimble.
Among those goals are hopes for expansion in the future. "We hope to continue growing our program and welcoming more new families who have not previously attended an Akeela camp. Currently, we are in one location and would love to expand to new locations in other regions of the US," Trimble said. "This will of course come along with adapting to the needs and desires of our camp families."

Camp Kostopulos
Southwest
Founded in 1967, the Kostopulos Dream Foundation offers recreational opportunities for people of all ages and abilities. Its longest-running program, Camp Kostopulos, is a five-day summer camp adventure, which offers campers three options for camp: residential, day, and trip. Each experience utilizes therapeutic recreation as the foundation for its program.
"We achieve positive outcomes through positive support," said Mircea Divricean, president and CEO of the Kostopulos Dream Foundation. "The two main theories we use are the humanistic and behavioristic approaches." He explained, "The humanistic approach emphasizes the importance of personal choice, individual freedom, and the right and responsibilities of individuals to be in control of their own lives. The behavioristic approach is used as a way to manage the participants' behaviors in therapeutic programs. Positive reinforcement, modeling, prompting, behavioral contracts, and time-outs can be used.
"Camp Kostopulos' programs exist on the premise that people of all abilities have the freedom to change, to make decisions, and to assume responsibility for their own actions. The key to our success is taking a personalized approach. We assess, address, plan, develop, and execute a learning strategy based on each individual's needs, abilities, and goals"
Through this lens, residential and day campers forge enduring friendships and experience traditional camp activities such as fishing, horseback riding, singing songs, arts and crafts, and a ropes course, among others. Through the Travel Trip Adventures program, campers experience river running, hiking, viewing wildlife, and other exciting activities in locations such as Yellowstone National Park, Moab, Utah, on the southern edge of the Grand Canyon, and Jackson Hole, Wyoming.
In addition to summer camp, community-based programs, Vocational Rehabilitation and Work Experience programs, and an Equestrian program run throughout the year.
"Camp Kostopulos represents what's best in us — acceptance of one another, for who we are as human beings," said Divricean. "Camp Kostopulos stands for equality in the world, for chances and opportunities for everyone, regardless of their socioeconomic backgrounds, regardless of their abilities."
With that world view in mind, Divricean said he would love to find ways to spread the Camp Kostopulos mission and practice. "I would like to see more like camps in the world — to inspire other entities to learn from us, partner with us, expand the programs and services, and become an inspiration for people with disabilities all around the world."
Locally, "Camp Kostopulos is helping to shift the paradigm by teaching people with disabilities that they can succeed and make a meaningful contribution to the society they are a part of," Divricean said. "Ultimately, these successful experiences positively impact our entire community."

R.M. Pyles Boys Camp
Southern California/Hawaii
R.M. Pyles Boys Camp is a free program for low-income, disadvantaged boys in Southern California that promotes long-term, positive behavioral change through a wilderness experience in Sequoia National Forest and year-round, supplemental mentoring and counseling.
Camp participants, nearly 70 percent of whom are Hispanic/Latino, are disadvantaged for many reasons, including poverty, living in single-parent households, lack of a responsible adult role model, learning disabilities, lack of English fluency, attendance at low-performing schools, and exposure to dangerous neighborhoods or family influences such as gang activity, substance abuse, and domestic violence. For 70 years, R.M. Pyles Boys Camp has worked to overcome these barriers with the intent of keeping their campers out of gangs and the juvenile justice system, addressing violence in the home or bullying at school, and encouraging them to graduate from high school and attain a higher education.
"It is exceptionally cost-effective for communities — and more conducive to higher quality of human life and dignity — for at-risk boys to participate in prevention-based programs that enable them to overcome the challenges of disadvantaged circumstances," said Adam Bell, executive director of R.M. Pyles Boys Camp. "Helping a young man navigate life's difficulties early on can save him from a potential life of drugs, crime and violence, lack of education, and eventual incarceration."
Bell points out a simple truth: "While it costs $81,203 to house an inmate in California for a year — and a more astounding $271,318 per youth per year in the Division of Juvenile Justice — it costs less than $2,500 to send a boy to camp with a year of follow-up programs and activities."
The camp collaborates with more than 40 partner agencies, including schools, youth service organizations, law enforcement agencies, social workers, and churches, to identify and recruit deserving campers and orient parents on what to expect. Campers begin at age 12 and can return multiple years if, through their actions and strides, they are recommended. Each year a camper remains in the program he steps up to the next level, progressing to more challenging programs that are drastically different from the year before. A camper who isn't recommended may still earn the right to return through changed behavior at home, improved grades, and involvement in the program's year-round events. The multiyear progression culminates with a college scholarship program.
Bell said, "Quite simply, the Pyles program works. It makes communities in Southern California better places to live, work, and play. The only challenge is that there is not enough funding for every child who needs our funding to attend."
That's why one of the goals for R.M. Pyles Boys Camp, which receives no government funding, is to "diversify and increase our funding sources to ensure that no camper is turned away due to financial strains," said Bell. "It is my hope that one day the Pyles program will be replicated and expanded to additional parts of the country, and that every camper who would benefit from our program is able to attend."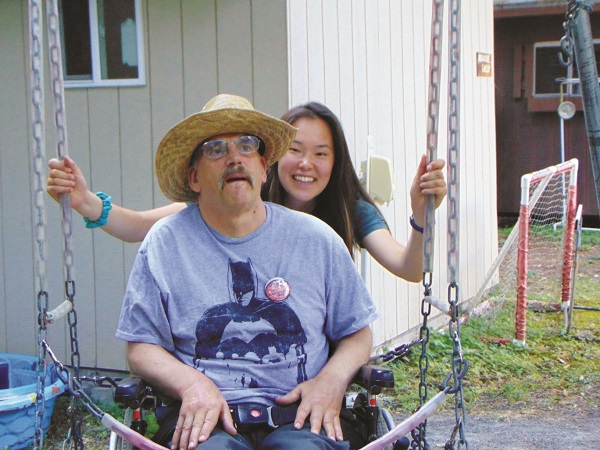 Upward Bound
Oregon
Upward Bound Camp for Persons with Special Needs has been serving campers with developmental disabilities, ages 12 to 80 since its meager beginnings in 1978. The nonprofit, private camp began at a rented facility on the south fork of Oregon's Santiam River that had no running water or electricity, three-sided cabins open to the river, pit toilets, and not even bucket shower facilities. After three summers at a different camp, in 2018 they purchased their own facility, a former elementary school with ample space and flat surfaces, making it easier for program participants in wheelchairs to negotiate the property and allowing for a wider range of camp activities.
"Working with people who have disabilities is a constant process of learning and adapting programming to the needs of any given group of campers we are serving," said Diane Turnbull, executive director of Upward Bound. "Even when we are serving campers we have known for 30 or 40 years, we have to stop and think about how things have changed for them as they age."
With carefully trained full- and part-time staff and volunteers, Upward Bound offers year-round programming, including overnight and days camps with activities such as fishing, hiking, swimming, archery, crafts, horses, and paddleboats from spring through fall; self-enrichment and adult education programs that teach emergency preparedness and personal safety; and seasonal activities in the winter such as baking, games, watching the "Macy's Thanksgiving Day Parade" and a much anticipated Holiday Camp each year.
Turnbull explained that many of Upward Bound's older campers who grew up in institutions have lost touch with their biological families over the years. "Some of our campers who are in their 50s and 60s were placed in institutions at a very young age. Some were simply abandoned by their families. So the founders of Upward Bound decided that they would provide opportunities for campers to enjoy holidays with their 'camp family.' There are a handful of campers who look forward to and come to every Holiday Camp we offer."
Upward Bound also acts as an international training center, equipping leaders from other countries with skills and resources to serve those with cognitive or physical challenges in communities where such services may be sparse.
With an eye on the future, Turnbull said, "As with any long-lived organization, it is important to periodically take stock or examine programs and services to ensure that we are providing what people want and need from Upward Bound, whether they are campers or staff. Add to that we have an important opportunity to be a part of our local community, here in tiny Gates, Oregon. It is our hope that as we develop and provide a wider variety of experiences for our campers, we are also inviting the community to enjoy the fruits of our work by opening the campus to local families for recreational activities that haven't been available here in quite a few years."
Also given each year since 2015, The Eleanor P. Eells Award for Excellence in Research in Practice honors camp programs that:
Develop and implement or apply an exemplary research or evaluation project.
Use research or evaluation findings to improve program practice.
Develop model research or an evaluation project that can be adapted or replicated.
Share research or evaluation findings with others.
We salute the following 2019 winners: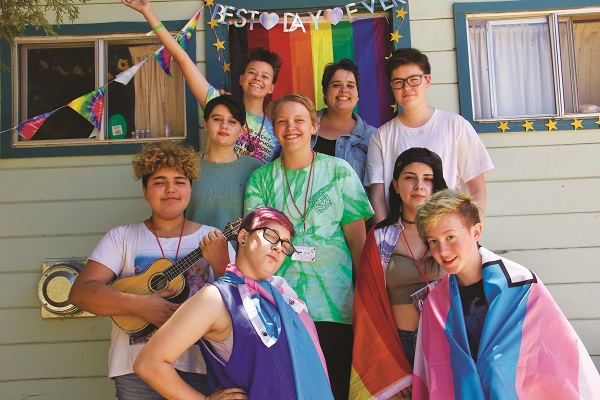 Brave Trails
Southern California/Hawaii
Brave Trails is a leadership camp for LGBTQ+ youth (and allies) ages 12 to 18. "Brave Trails is not just your typical summer camp," said Jessica Weissbuch, co-executive director of the camp. "Our mission is to provide community like all summer camps, but it goes further than that. We help youth to take action, not only at camp, but also in their own communities after camp. Our hope is that our campers become change makers at their schools and in their communities in general."
Programming at Brave Trails is centered on four pivotal elements: leadership, community building, self-realization, and service. The camp uses workshops, adventure, artistic programming, peer connections, positive role models, and service projects to create a safe and nurturing environment where youth can thrive.
"We bring community members to camp to facilitate leadership workshops every day," said Weissbuch. "We also have a program called 'Passion to Action,' which teaches our campers how to come up with an idea and take all the steps in implementing that idea as well as have a service project component."
Brave Trails uses research findings to inform and improve their programming. "We are a small nonprofit, so we use our research outcomes to help us obtain grants and funding," Weissbuch said. "Also, as a direct result of our research, we make changes to our current programming; we get an understanding of what the campers need and put that into practice." For example, as a result of their research reflecting findings in the broader community that LGBTQ+ youth are more likely to have a higher level of depression and anxiety, as well as suicidal ideation than their straight peers, Brave Trails implemented a new year-round mentor program to help combat this prevalence and provide role models. They also created an online community through a closed Facebook group so campers can rely on each other for support and continue to build their sense of community.
"Without the research, we wouldn't have known there was a need for more year-round support," Weissbuch said.
Brave Trails serves campers from 30 states and nine other countries and hopes to expand their reach even further by raising more money and surpassing the $40,000 they offer in scholarships each summer, and by launching satellite programs across the US to make Brave Trails more accessible to youth who can't travel to California or Maryland, where their current programs are.

Frost Valley YMCA
New York and New Jersey
Each summer, more than 500 Frost Valley YMCA staff provide exceptional outdoor experiences for some 4,000 youth through camp programs including equestrian camp, farm camp, the world's only Bear Grylls Survival Academy Summer Camp, adventure trips, a Kidney Camp for children with kidney disease or transplants, and traditional overnight camps, among other programs.
Frost Valley is the nation's oldest YMCA camp. Many things have changed since its beginning in 1885 as Camp Wawayanda, a camp for boys in New Jersey — including a move to the Catskill Mountains in New York and its name — but the camp refuses to rest on its laurels. While Frost Valley's eight core values remain the same — caring, community, diversity, honesty, inclusiveness, respect, responsibility, and stewardship — leaders and staff actively use these values in pursuit of measuring progress toward and achieving the Frost Valley mission to "foster youth development, healthy living, and social responsibility through outdoor educational and recreational programs for all."
"We knew anecdotally that something special was going on here," said Frost Valley YMCA's Director of Camping Services Dan Weir. "We had a suspicion that we were having a profound and lasting impact on our campers, but we didn't have any data to back that up. At the same time, working with our funders, they wanted to know what made us distinct."
That's important because, guided by their mission to "serve all," Frost Valley provides financial assistance and full scholarships to thousands of children and families who might otherwise not benefit from the camp's character-building programs.
Frost Valley used the American Camp Association's Youth Outcomes Battery and additional guidance from the Ontario Camps Association to devise a study to gauge the impact of their camp experiences on participants after camp was over. They wanted to know if there were noticeable changes in skills and perceptions in areas of the campers' lives including making friends, responsibility, teamwork, affinity for nature, problem-solving and confidence, family and citizenship, and the other Frost Valley values. They began following up with campers three to nine months after their camp experience.
"We're heading into our sixth year of the study," Weir said. "So far, the results have come back strong in all areas. Our goal is to continue collecting data and to use the data to make sure we are doing what we say."
Photos courtesy of Camp Isola Bella, Salisbury, Connecticut; Beyond Akeela, Appleton, Wisconsin; Kostopulos Dream Foundation / Camp Kostopulos, Salt Lake City, Utah; R.M. Pyles Boys Camp, Valencia, California; Upward Bound Camp, Stayton, Oregon; Brave Trails, Los Angeles, California; and Frost Valley YMCA, Claryville, New York.
Marcia Ellett is a professional writer and editor. She is currently the assistant editor of ACA's Camping Magazine.