Each year, ACA's Eleanor P. Eells Award for Program Excellence recognizes camps that embody the award's namesake by developing superior programming that effectively and creatively responds to the needs of people and society through the camp experience. We commend the 2017 winners. They are all testaments to the power of camp programs that actively seek to realize the potential of the camper populations they serve by better equipping them to take on the world's challenges with resiliency and belief in themselves.

Camp For All 2U — Texas
For 25 years, Camp For All has operated on a "no barriers" philosophy, empowering children and adults with challenging illnesses and special needs and their families to live life to its fullest and experience the sheer joy of camp. Partnering with more than 60 nonprofit organizations, Camp For All hosts nearly 11,000 campers a year, defining them not by any limitations, but by their spirit and what they can do. Still, there were children who would benefit from such an experience who couldn't physically be at camp. So, in the summer of 2014, Camp For All went mobile, taking its barrier-free, traditional camp activities to MD Anderson Children's Cancer Center in Houston, Texas, and Camp For All 2U was born.
"The camp is for patients as well as siblings or children of patients," said Kurt Podeszwa, director at Camp For All. "It allows the campers to forget about why they are in the hospital, at least for a little while, and experience the fun of camp. We did not want to create just another in-hospital program. We wanted to bring real camp to the hospital."
That means Monday through Friday, from 10 a.m. to 3 p.m., inpatients, outpatients, and their siblings ages fi ve to 18 are placed into "cabins" complete with their own professionally trained cabin counselor. They ride in full-sized canoes (with wheels on the bottom) through the hospital corridors. They fish from balconies.
"We have a portable indoor archery range and go on safaris and hikes. We bring in nature programs, and the campers even get to go outside for a little bit to interact with and learn about our barnyard animals," Podeszwa said.
Seventy-five campers at one hospital for one week experienced the life-transforming camaraderie and high adventure of Camp For All 2U that first summer. This year Camp For All 2U will serve five hospitals and one bereavement facility for seven weeks, changing the lives of 400 campers.
"We would like the program to grow to even more hospitals," said Podeszwa, "but we plan controlled growth because we want to make sure we keep the quality of the program."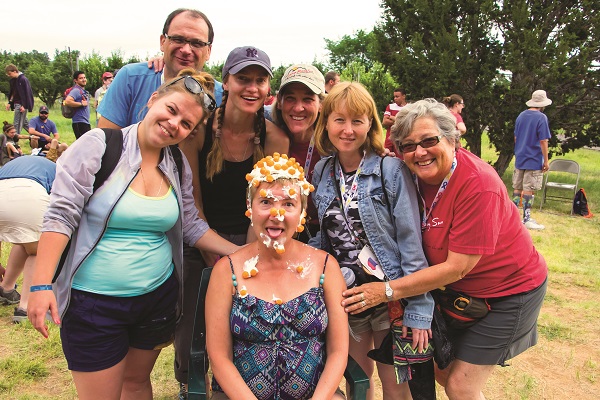 Camp Rising Sun's Summer  of Purpose Program — New Mexico/Russia
Camp Rising Sun was founded in 2006 to provide individuals with Autism Spectrum Disorder (ASD) in the state of New Mexico a summer camp experience. In 2009, Camp Rising Sun became a part of The Autism Programs at the University of New Mexico Center for Development and Disability (CDD). In 2015, Camp Rising Sun's expertise in nurturing children with ASD and their peers extended even further — all the way to Russia — when, in concert with Russia's Naked Heart Foundation, 12 Russian camp staff  members made the journey to Camp Rising Sun for training and the Summer of Purpose program was born. An additional 19 staff from camps throughout Russia were trained the following year, and so far the program has developed nine Russian residential camps for individuals with ASD and two Russian camp programs that use the Rising Sun model to train other camp staff  throughout the country.
"Camp Rising Sun is an awesome experience for all involved," said Paul Brouse, the camp's director. "For the campers, this is a traditional camp with all the same fun and games as any other camp. The difference is that camp life is designed to meet the individual support needs of the campers while meeting the needs of the group. For the volunteers/staff  and those being trained, it is a rich, intensive, and well-rounded learning experience in working with individuals diagnosed with Autism.
"Since we are part of the CDD and UNM, we have access to some of the greatest professional teachers. Our leadership team has occupational therapists, teachers, speech language pathologists, psychologists, and doctors who work in the community, teaching and training in the field of Autism. These fantastic individuals are working alongside our counselors [and trainees], helping them to problem-solve and implement the best supports for their campers," said Brouse.
Staff from six additional Russian camps are expected to attend Camp Rising Sun this year, and goals for both the camp and the Summer of Purpose program are simple, said Brouse: "We want to increase recreational capacity for individuals with Autism in the state of New Mexico and the world. We want to create this increase by training individuals at camp who would then go back to their communities and support families there."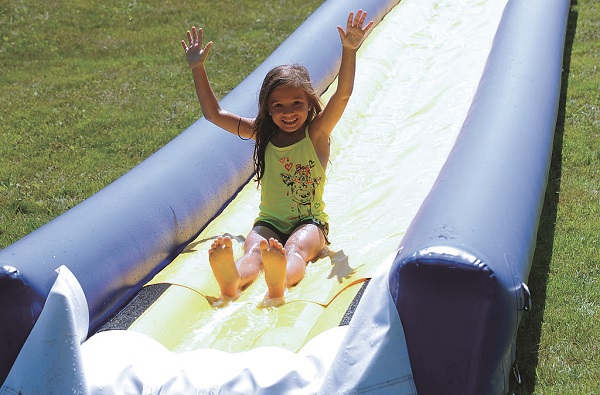 Camp Sea Stars North — New England
Camp Sea Stars North, for children of Sandy Hook/Newtown, Connecticut, was founded in 2016 by the CampGroup Family of Camps and the Camp Phoenix Foundation in partnership with the Resiliency Center of Newtown in the wake of the tragic events there on December 14, 2012. Camp Sea Stars North is a free-of-charge, trauma-informed summer camp in neighboring Massachusetts that offers these children a positive community experience and a place of healing through the fun-filled activities of traditional camp.
Jay Toporoff, director of Camp Sea Stars North, explained, "Sea Stars North is a legacy program of CampGroup's previous program called America's Camp, a one-week, free-of-charge program for kids who lost a parent on 9/11. The most amazing aspect of Sea Stars North has been the involvement of America's Camp graduate campers/staff  as staff members here. The kids of 9/11 helping the kids of Sandy Hook/Newtown is a testament to the healing that occurred at camp for the 9/11 folks, the resilience they continue to show as they heal, and their passionate interest in 'paying it forward' to another group of kids who need to heal. They are empathetic and genuine and loving adults now who volunteer their time to help others — it's a great story."
The Resiliency Center of Newtown serves as liaison to families eligible to take advantage of Camp Sea Star North's uplifting experience and assists with the psychological needs of this unique camp population.
The intention is to run Camp Sea Stars North for as long as the children of Sandy Hook/Newtown benefit from the experience. The hope is that, as with children who attended America's Camp, campers will grow in healing, empathy, and resilience and take with them a desire to help others in need when they eventually leave the program.
"The biggest lesson for us has been the healing power summer camp offers people," said Toporoff. "Our ability to address collective loss and trauma through the community bonding of camp has become a proven model that campers report brought them out of the darkness and back to the light of trust and community participation."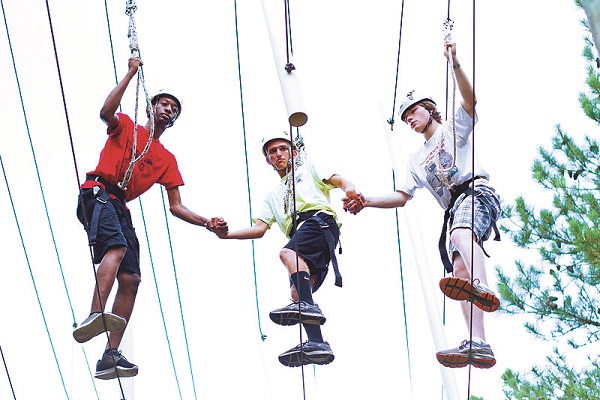 Camp Twitch and Shout — Georgia
In 2008, a small group of Georgia residents met with the purpose of creating an opportunity for children with Tourette Syndrome (TS) to enjoy a traditional summer camp experience. TS is a hereditary neurological movement disorder that is characterized by repetitive motor and vocal tics, which may manifest as involuntary movements of the extremities, shoulders, and face accompanied by uncontrollable sounds and, in some cases, inappropriate words. The following summer, Camp Twitch and Shout hosted 40 campers, ages eight to 17, and 20 volunteers from around the Southeast at Camp Twin Lakes in Winder, Georgia. The program has grown by leaps and bounds since then, hosting over 140 campers from 30 states and 110 volunteers in 2016.
"One of the things we do really well is bring people together who have Tourette's. But our camp is not about Tourette's; it's about giving kids a typical camp experience and a place to gain resilience and confi dence to go back to their worlds and face the challenges there," said Tricia Kardon, Camp Twitch and Shout's executive director.
"As you can imagine, when you bring people with Tourette's together, it can be very complicated." Kardon explained, "TS has two components: it is neurological and environmental. The environment — one of excitement or stress — can actually impact the frequency and severity of their symptoms. And you have the external environment and the internal environment, which could be depression, ADHD, OCD, etc. As we got larger, we really had to start paying attention to the associated disorders."
Developing and supporting a program that addresses the campers' struggles, which also typically include learning disabilities and social skills deficits, while maintaining a fun and engaging atmosphere means continuous collaboration with organizations such as Camp Twin Lakes, the Tourette Centers of Excellence, and the University of Georgia's Department of Psychology. All of this so that when the campers walk through the gates of Camp Twitch and Shout, their disorder doesn't define them anymore — they feel understood, accepted, and able to spend some time discovering who they are underneath.
The Camp Twitch and Shout program includes three staff members who run TS clinics during the year. Behavior specialists are integrated into the group, and campers are encouraged to work through struggles and remain in activities as much as possible.
For children with TS, "the future feels uncertain and a little bit scary," said Kardon. "Bringing them here, with our volunteers, many of whom also have Tourette's, helps tremendously to show them they can have a normal life."
Always looking to the future and how they can improve the lives of those navigating the challenges of TS, Camp Twitch and Shout is adding a new program for young adults ages 18 to 25 who have aged out of the regular camp program. "An annual weekend retreat will give them an opportunity to still have that community, that fellowship, and those connections as they move through that diffi  cult period of early adulthood," Kardon said.
"As always, we look ahead with critical thinking and ask how we can do better."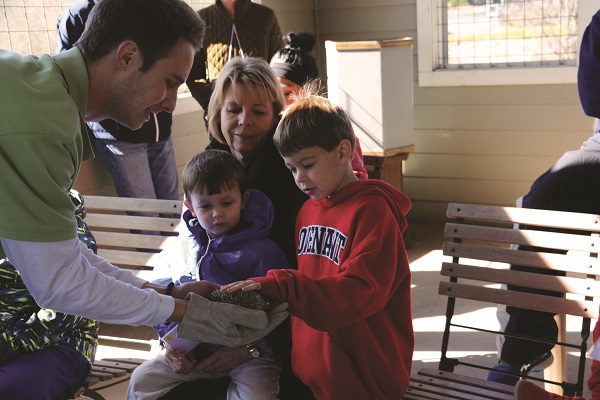 Cornstarch Kids Family Camp — Texas
Founded in 2016 and hosted at Camp John Marc in Meridian, Texas, Cornstarch Kids Family Camp is a program specifically designed to serve families that have a child or children with all types of Glycogen Storage Disease (GSD). GSD is a rare metabolic disorder that causes glycogen to be improperly stored in the body. This disease can negatively affect muscle growth and all organs, especially the liver. Many children with GSD require frequent feedings with cornstarch or slow release starches several times a day and at night to maintain normal blood sugar levels.
"Cornstarch Kids Family Camp is the fi rst camp in the world for children with GSD," said Megan White, director of the program. White also said the general public, and even some medical professions, are fairly uniformed about GSD, so the need was there for a place where Texas families living with the condition could come together for encouragement, medical education, and fun that would translate into better confi dence for life for the chil-dren aff ected.
"Cornstarch Kids Camp has numerous dietitians as part of the camp program who do remarkable cooking classes, teaching families — including the campers — how to prepare GSD-friendly meals and treats," said White. "And bringing these families together means they can share and learn from each other and find comfort in knowing that they are not the only ones dealing with GSD."
The hope is that Cornstarch Kids Family Camp's program can be the model for a second program in South Texas to serve even more of the families in the Lone Star State who are coping with GSD.

The National Military Family Association's Operation Purple — Nationwide
The National Military Family Association (NMFA) is the leading nonprofit organization committed to strengthening and protecting the families of the men and women who are currently serving in the military, have served, or are wounded or fallen. NMFA develops one-of-a-kind programs to meet the needs of an incredibly unique population scattered across the globe, including military-connected kids. Operation Purple Camp, which launched in 2004, was the fi rst camp program created specifically for military children according to NMFA Youth Initiatives Director Meredith Lozar, MHR, AFC.
"Its proven curriculum responds to the need to increase resiliency and strengthen peer connections in order to help our military-connected children and families be more successful," Lozar said.
Named Operation Purple Camp because purple is the perfect mix of Army green; Air Force, Coast Guard, and Navy blues; and Marine Corps red, it symbolizes all who serve, and that includes military children. The program's camps are designed to address the physical and psychological well-being of military children and families through a free week of camp experiences where campers have the opportunity to develop healthy relationships using the healing and holistic aspects of nature. With the help of fully trained counselors and staff , Operation Purple campers forge bonds and skills that can help them navigate the challenges and overcome the common stressors of military life.
Since the program's inception, nearly 60,000 military children have attended Operation Purple summer camps across the nation.
"I want to ensure the program's growth by demonstrating its short- and long-term impact, strengthening its already substantial partnerships, and strategically creating new parts of the program to enhance our support of military-connected families and children," said Lozar. "My goal is that the program remains as ready, relevant, and adaptable as the families it serves."
Other Winners
To read about Sanborn Western Camps and Roundup River Ranch, the 2017 Recipients of the Eleanor P. Eells Award for Excellence in Research in Practice, see the Research column in this issue.
Marcia Ellett is a professional writer and editor. She is currently the assistant editor of ACA's Camping Magazine.