Holy cow! I am really in the United States. Will my English be good enough? I should probably call home, but how? Everyone is looking at me. What is going on? I assessed my plan: Make it through customs, get my suitcase, call home, eat something . . . wow, this is too much! 
All these thoughts went through my head when I landed in the US for the first time. I realized I was in for an adventure: 12 weeks as an international camp counselor at a US summer camp — and a big cultural challenge.
The summer of 2013 was my first summer in the US and the first time I'd ever traveled abroad. I arrived in Salt Lake City, Utah, not knowing anything about the culture, the location, or the food. All I knew was that someone from Camp Roger was going to pick me up — eventually. 
As we drove for over an hour into the Uinta Mountains, we engaged in short conversations about my trip and how everything was so different from Colombia. Once at camp, I tried to introduce myself, but people struggled with my accent and how to pronounce my name. I felt embarrassed. I knew they didn't mean to make me feel that way, but I couldn't stop thinking that I wasn't good enough. Things just didn't feel right to me.
I stopped talking for the rest of that day and only engaged with people when necessary. I didn't initiate any small talk or try to communicate with anyone for two or three days. There were other international staff from the UK and Europe but nobody else from Latin America. I was frightened, and I had no idea what to do during staff training.
That summer was unique; it was the first and last time I felt like that. I eventually opened up and made many friends, but I still wished the initial experience hadn't been so shocking. I went back to camp for six more summers — and every year taught me something new about the language and the US culture.
I speak from experience when I say that being an international camp counselor can be terrifying. It can also be tremendously rewarding, constructive, and, yes, fun. See, I trust that summer camps are a place for everyone to grow, including both local and international staff. I believe opportunities to implement new initiatives to create a more fruitful relationship with your international co-staff are plentiful — and those of you who were born and bred in the US can play a huge role in helping your international team members feel welcome and valued.
Rich History
Since 1961, international students have been coming to the US through the J-1 Exchange Visitor Visa program. International staff are important for camps. They bring a wealth of experiences, cultures, and knowledge. Without a doubt they enrich the camps they serve. In 2019 (before the COVID pandemic), 20,000 participants from all over the world traveled to the US to work as summer camp counselors.
Many participants join this program because they want to experience the US summer camp culture while also sharing their own culture, language, and customs with their peers. This culture and language exchange is a two-way street affecting camp staff, campers, and families.
International Staff Have More and Different Needs
Traveling abroad presents many challenges. Imagine being in a different country where you may or may not speak the same language, and you are expected to live out of a suitcase for three months. On top of that, you must work beside individuals who are familiar with their surroundings to be role models, acquire ropes or lifeguarding skills, get first aid and CPR certifications among other training, and safeguard children and youth at all times. It would be great to have local coworkers who are helpful and mindful of your mental and emotional state, wouldn't it? 
For international camp counselors new to the country and the camp experience, their headspace could look something like this: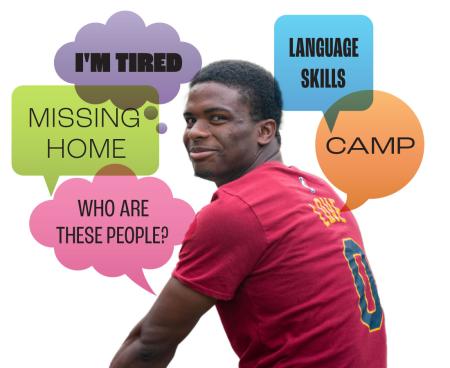 While necessary camp knowledge may be among their thoughts, chances are good that language and cultural barriers may be larger concerns.

Here are some key elements to bear in mind as your international co-staff arrive at camp:
Cultural acclimatization
Communication
Food
Cultural Acclimatization
Some of the most normal things to you will be an absolute novelty for them. Yellow school buses, big chopper motorcycles, massive retail and grocery stores — the concept of deep-fried Oreos blew my mind. 
Invite questions and help explain anything your new international colleagues may see that they don't understand or are curious about.
Communication
If you notice that an international camp counselor is having trouble calling home, don't be afraid to ask camp leaders for help on their behalf. Your foreign co-staff need to be able to connect with their loved ones while at camp. Some international phones don't work in the US, and purchasing a SIM card may not be an option. Use of a laptop with decent internet can be a great help.
If you are ever tasked with picking up an international staff member at the airport, bring visible signs and wear your camp's shirt. Not only will this be useful for you to find each other, but your international colleague will feel respected and welcomed.
Food
If you have attended camp in the past as a camper or staff, you know that camp food is unique, and this can be challenging for some international team members. If your camp has a staff fridge or a place for staff to cook, make sure your international coworkers know where to find them. A familiar bite to eat can be a comfort.
You can also use food as a bonding experience by sharing culinary culture in the form of your favorite snack or sweet.
Language and Culture
Now we are going to dive deeper in two concepts that made a big impact in my camp experience: language and culture.
Language
About 200 countries participate in the J-1 international camp counselor program. Some of these countries are English speaking; others are not. Be aware of how language can hinder someone's experience at camp. 
When it comes to language it is always best to:
Ask first what language your international colleague speaks.
Not assume that their language is the same as their country. People don't speak Mexican or Argentinian.
Know that having an accent and making mistakes when speaking a second language is perfectly fine.
Avoid relating their language proficiency to their ability to do their job. Not fully knowing a specific language does not mean one is less qualified to perform.
Remember that puns, jokes, and sarcasm can be difficult to understand at first, even for some native speakers of English.
Speak slowly without being condescending. Vocalize and project your voice so everyone can hear and understand what you are saying.
Ask for consent when correcting someone's speech. This can be frustrating and discouraging for some English as a Second Language (ESL) speakers.
Avoid interrupting. Many international camp staff members travel to the US to improve their English skills, and cutting them off or "re-explaining" something to them defeats that purpose and is just rude.
Culture
Language determines culture in many ways.
Summer camps have been a tradition in the US for over 152 years, but summer camps don't exist everywhere in the world. Summer camps are truly a foreign concept for many international seasonal staff.
For myself, I only knew of summer camps because I had seen a movie or two that portrayed a version of a sleepaway camp. And I still remember being amazed by the way things were done in the US compared to Colombia.
Of course, the culture in your state and camp will not represent all US culture, but it is a good starting point. If you are familiar with the state you are working in, consider sharing your knowledge with an international coworker during staff training. You can tell them what makes your state special and different from the rest. Here are some examples of things you can talk about with international staffers regarding your state and US culture:
Local cuisine
Famous artists or celebrities who are from the area
Cities, landmarks, and parks that are close to camp
Some key historical facts about your state
If you are interested in talking about topics such as politics and religion, just be willing to listen to what your international co-staff know, and take the opportunity to politely debunk stereotypes. Preconceptions of camp and the US culture can heavily impact international staff's experience at camp, so feel free to check in on them and be a friendly ear if they want to talk..
Call to Action
You can help ease the culture shock.
Be Welcoming
Some of these young adults have not traveled abroad before. I have met counselors whose first time on a plane was on their way to the US. They miss home. They are concerned about their English proficiency. They will have forgotten to pack shower shoes and sunscreen! 
Being welcoming and open toward them will ease that shock a little bit. Put yourself in their shoes; imagine being away from everything that means home for three months. Be open minded and willing to listen. Be intentional about the questions you ask, and focus on the positives. For example, if you meet someone from Colombia, avoid bringing up conversations about narcotics or violence. Use references to movies, nature, and sports instead.
Be Inclusive
Most of what happens every day at camp is likely be a brand-new experience for international staff. Make a point to invite them to join in games and songs, and encourage them to showcase their culture and skills.
You may notice that they gravitate toward their conationals. Don't be afraid to join them. You can show through your actions that at camp everyone is equal and cared for. 
Be a Mentor 
You can be a mentor and a leader among your peers. Mentoring an international staff could include: 
Volunteering to be co-counselors with them.
Reaching out to those who seem to be having trouble getting the gist of camp.
Following up and offering further help when times are tough.
Always listening and being there for them.
Celebrating their cultures and the diversity they bring to camp. Research their flags, listen to their music, or try to learn a bit of their language — their diversity is a big deal! 
You will most likely work with international counselors this summer. Sharing with and learning from them can be a culturally enriching experience for both of you as well as your campers.
International staff will rely on you more than you think. Hopefully you will get to meet them via social media or a precamp virtual meeting if they are unable to be physically at staff training. Take advantage of those opportunities to learn their names and where they come from. Lay the groundwork for building strong relationships from the beginning.
Time Off Campus
Camp is demanding physically and emotionally. Time off and away from camp is a crucial factor in how your weeks and sessions develop through the summer.
One of the most common pieces of feedback from the international experience is how difficult it is to actually leave camp. Without transportation, off-site activities can be out of reach. Camp leadership may try to coordinate rides, but you can help by "adopting" an international team member if you have transportation to offer. Don't be afraid to take them home or drop them off at the nearest Walmart; they will appreciate it. And who knows, they may return the favor by offering a ride or a place to stay the next time you travel abroad.
There is huge potential for international staff to be successful at camp. By being empathetic, intentional, and respectful of culture, language, and international staff's specific needs, we can make the camp experience a little less of a shock to the system. 
Last summer an international staff member said, "When you are new absolutely everything is difficult, even if it is easy." 
Let's work together to make this summer the best yet for our international co-staff.

Photos courtesy of Camp Brave Trails, Los Angeles, CA; Camp Ho Mita Koda, Newbury Township, OH; Camp Harbor View, Boston, MA.
---
Jesus Castaño is a program coordinator for YMCA Camp Kern in Ohio. Native to Colombia, Jesus started his camp journey in 2013 as a J-1 international counselor. Jesus has spent the past 10 years growing as a professional and advocating for youth development and diversity in camping.