Building Camps That Care About Kids — First in a Series of Four Articles
Once upon a time twenty camp directors had the opportunity to find out what campers and staff really thought about camp. Oh, they had used evaluations every summer. Don't the American Camp Association (ACA) standards require that? But besides asking which activities the kids liked best (a question they already knew the answer to), or whether they liked the food and their counselor (hmm, already knew that, too), these directors used a survey from Youth Development Strategies, Inc. (YDSI) to learn to what degree the key criteria established for positive youth development programs were present in their camps.
The results pleased them. Ah, let's qualify that. Some of the results pleased them. Some were sobering. Oh, it wasn't that campers hated camp. After all, 50+ percent of them were returning campers. But there were some areas where camps have learned to do well (bravo!), and some areas where camps can do a lot better if we really believe that camp is a vital opportunity in the development of America's youth.
These twenty camps embarked on a journey down the path of a Program Improvement Process (PIP) to help us find out what kinds of strategies and organizational practices help camps offer even better supports and opportunities for positive growth for our campers. Just like the PIP camps, here is the key question that has to be asked and answered before you start on your own journey down the path of building a caring camp: do you believe your camp can be even better than it is?
The PIP Starting Point
ACA used the Community Action Framework for Youth Development (Gambone, Klem, & Connell, 2002) as the framework for this study. The key component from this model is "Increase Supports and Opportunities for Youth." (See Figure 1.) This component stresses offering key supports and opportunities that serve as developmental building blocks for young people on the road to becoming productive young adults.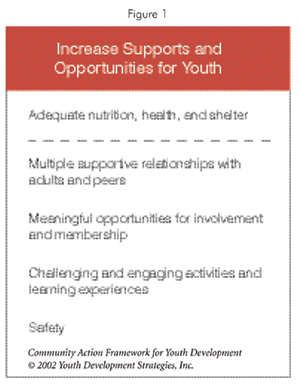 Since supportive relationships are the focus of this story, let's look at them in more detail. What is important about relationships to young people? How can staff let campers know they care about them? Here are four dimensions of supportive relationships with key questions:
Provide guidance. Does your staff pay attention to what is going on in campers' lives?
Build emotional support. Are your staff comfortable talking with an upset or angry child? Do they do it consistently?
Provide practical support. How frequently would campers ask a staff member for help if they were in a crisis or needed personal advice?
Show that peers and adults know something about them. Do the staff and other campers know what is important to another child?
*See "Survey Domains" for each component as well as a sample question that campers answered.
What We Did After We Measured Campers' Perceptions
The PIP camps differed by how well they provided relationships, safety, youth involvement, and skill development for their campers. Part of the process for the PIP camps was to take a hard look at strengths and weaknesses in each area. They assessed their organizational practices, talked with campers and staff to better understand why they scored as they did, and then selected particular areas they wanted to improve. Not every PIP camp chose to focus on the same area. Each camp implemented change strategies in areas and ways that made sense to them. This is the only way change will work for you.
What Was Learned From the PIP Process
The most striking reactions from the process include:
It takes deliberate effort to annually give serious thought to your camp's strengths and weaknesses.
Staff are key . . . staff members who are willing to allow and even encourage change if that change will positively affect campers.
Camper input must be at the center of continuous improvement of camp programs.
Intentional effort is required to systematically create a positive culture in camp.
No magic "one size fits all" solutions exist. It is not so much what you do, it is how you do it.
Since none of these thoughts are revolutionary in and of themselves, why were the lessons so stunning? They were surprising because to do each one of these each year conscientiously with an expert looking over your shoulder is a different reaction than most of us have on an annual basis. We may think about some of these issues, or implement one or two of them. A higher level of commitment resulted from the knowledge that external experts were reviewing plans and coming to camp to measure the results!
We analyzed the various strategies and practices the camps implemented to meet their individual targets for change and found some common categories of "effective change strategies." Remember, these strategies are not plug-in and go but are broad areas for consideration.
Focus on mission with intentional effort. Doing things that bear little relationship to your mission pulls energy away from improvements that could positively connect to your goals. Why do you do what you do in camp?
Be deliberate in strengthening camp activities. Revise activity lesson plans to address skill development on a daily level. Are your campers fully challenged?
Strengthen programming/scheduling to take advantage of every opportunity. For example, change arrival day procedures to foster community and emotional safety or alter the daily schedule to allow time for staff and campers to "hang out" with the intention of building strong positive relationships.
Review staff patterns. Schedule more staff to supervise free time with the intention of addressing safety and relationships goals.
Emphasize camper planning. Implement new efforts around meaningful camper involvement in planning evening programs, cabin activities, and free-time activities. Offer campers opportunities to participate in camper councils and meetings with the directors and administrative staff.
Build staff training to model the values core to your mission. Train staff in how to facilitate/process activities that encourage camper leadership and planning, how to listen in ways that promote emotional safety, and how to have meaningful conversations with children.
Address facility concerns. Make improvements by painting buildings and bathrooms (with camper input) and paying attention to lighting concerns. In most cases, the dollar impact is minimal when compared to the effect.
What We Learned About Relationships
The PIP camps did very well with supportive relationships. Over 69 percent of the campers were classified in the optimal area for Supportive Relationships while only 5 percent reported insufficient levels of these relationships. The number of campers in the optimal level of Supportive Relationships exceeded averages in other community-based organizations and schools that have been studied by YDSI. This finding confirms the value that most camps place on building and maintaining relationships. These relationships contributed to a "sense of community" for camp and impacted everything from return rates of campers and staff to bringing about life-changing experiences because of caring friendships established at camp.
PIP Camps' Stories About Building Caring Camps
Two PIP camps focused on specific, effective practices to build strong supportive relationships: YMCA Camp Coniston and Camp Foley. While most of the PIP camps did well in this area, the stories told by these two camps provide specific strategies and techniques that helped them excel in building strong relationships at camp. We asked them to share with you their perspectives on the PIP study, the practices that seemed to be effective for them, and the words of advice they would offer around relationships.
YMCA Camp Coniston
YMCA Camp Coniston is a resident camp in New Hampshire directed by John Tilley. Camp Coniston started out very high on the initial survey of relationships with over 85 percent of their campers at optimal levels of supportive relationships. That meant they were already doing some things very well before the study even started. Over the next eighteen months, they got even better!
Here is what John shared:
Supportive relationships are a holistic process—they have to do with everything you do in your camp. Everyone says that it takes a great summer staff and a nice facility, but it extends way beyond that. Yes, staff have to deliver, but you have to think bigger than that. It's about integration. For us, building strong positive relationships is our #1 goal! So here's what we do:
We design everything around our goals . . . what the kids do, answering our phones, off-season work, facility design, the way we program, even the way we handle a cancellation. During staff training, staff completed an exercise where they had to use that goal to think about all aspects of camp that they can influence—everything from greeting parents and campers on arrival day, to dining hall procedures, to the activities we do and the way we do them. Staff have to know that this agenda is theirs to carry out! This exercise helps us get the focus established from day one.
We designed a lot of gathering places. We used to have a fence by the dining hall. We replaced it with benches. Now instead of saying "Don't sit on the fence," we say "Go sit on the benches."
We changed our program to give more "hang time" that encouraged the kids to talk. Concurrently, we taught the staff how to "watch" kids while letting them have some space. Kids can walk to activities on their own with their friends—we don't make them always walk as a group with a counselor.
We want to build a community where the kids feel invested in these relationships and want to return. We also want to help kids make friends and feel welcome as a friend. So every car that enters on opening day is greeted by a counselor before they are even on property. Often our senior staff, who know many of the returning kids, are the ones out there greeting kids in the car by first name! For the new camper, it is the fun, excitement, and connection that start before they are even out of the car. We have our staff wear staff shirts that really stand out — we want the parents and the kids to "see" the staff and what they are doing.
Relationships (or whatever your goal is) have to be intentional, and they have to be a part of your whole attitude! This effort makes your camp a better place, and then kids want to come, and if kids come, then we have a chance to affect their lives. If we affect their lives positively, they want to come back. But we can't do anything unless I get the kids here. It's a spiral to success.
This whole relationship emphasis has to be modeled by the director and administrative staff. The behaviors I want to see in my staff start with me and JD (Jennifer Deasy, assistant director). You have to make time to sit and talk with your staff and really get to know them. You need to talk with the campers too! I feel a responsibility to be out with the kids—getting to know them and ensuring that they know me.
My parting words of advice are that you can't have it all. Select a goal that is really important to you, be intentional in everything you do to meet that goal, and realize that sometimes you may have to make trade-offs in something else. Coniston is better because we participated in this PIP study. We know about our program, because the process gave us a mechanism to look critically and closely at ourselves.
Camp Foley
Camp Foley is a resident camp in Minnesota owned and directed by Marie Schmid and Jeff Beltz. Camp Foley campers also started out high on relationships and showed positive gains in the number of campers at optimal levels of supportive relationships during the project.
The following information was shared by Marie:
The process we started with PIP is now (2006) making a full cycle. We knew relationships were important for us at camp, but our goal was to implement some changes that might make relationships even stronger. Here are some of the practices we implemented and integrated into our camp:
We started with the hiring process. We changed our staff applications and the way we interview potential staff—and redesigned our staff materials so that the relationship language was incorporated into everything we do. We have our staff complete an online precamp tutorial with the emphasis on the four developmental areas from the PIP study.
We designed a training module around "Kid Culture" in which we talk about movies, music, language, and other things that help staff understand where kids are coming from and help expand their cultural awareness. We help them develop questions they can use as "starter" questions with kids and set the stage and tone for what we'd like them to do.
We also work with the staff to design specific relationships outcomes. For example, the expectation is that all kids will have at least five minutes every day of one-to-one time with their cabin counselor. While that sounds small, we found it was a good place to start. And we structured time with the staff when we could follow up with them specifically about this one-to-one time. No matter what the technique used, you have to be sure to follow up with staff to see how it works.
Staff training is critically important for us. We have goals related to character development that rely heavily on relationships so we have to help the staff see the areas of integration. For example, every cabin has a "Quote for the Day" that is posted and then staff and campers talk together about what it means. Staff have to learn about age-appropriateness and ways to talk with their campers. We also try to give them enough resources like "113 things to do with kids in the cabin" so when they have their cabin time, they will have some "starters" in mind until they become more experienced.
We changed our staff schedule to have a roving "engager" who is assigned to mingle with the kids during their free choice time. The sole job of the "engager" is to hang out and talk with kids. We stress that this job is just as important as teaching an activity. These staff are selected for this job because of their strong relationship skills.
We had begun a performance-based compensation bonus, which was awarded at the end of summer before the PIP project. However, we added skills around relationship-building as a potential area of reward. It is a great way to reinforce how important it is to us that staff develop good relationship skills.
We discovered through some special events that promote relationships it isn't what we were doing that was important but the fact that the kids were spending quality time with the staff. What you do doesn't have to be very complex; you just have to be intentional!
As directors, we follow the idea of Continued Development of Skills (CDOS) we learned at an ACA session and apply it to our expectations around relationships. This process helps us mentor our staff by giving them specific feedback on what works well and what to do next to take it to a higher level. It pushes us as directors to stay a step ahead and remember that many of our staff are still in that youth development process themselves. We also don't have to reinvent the wheel—there are good resources available that are not complex or expensive.
The nugget of advice I'd give is "follow-through." Training is good and intent is fine, but follow-through is critical! I have to be sure to ask my staff the follow-up questions and remind all of us that it is an intentional process. You must get your staff on board with the importance of what you are doing, and everyone has to be open to change. For us at Camp Foley, change has become a part of our camp culture—and we think we are better for it!
These stories are great starting points for enhancing supportive relationships in camp! Camps should feel good about their potential to make a significant contribution to youth by modeling and promoting relationship-building skills.
In the next issue, we take on a more challenging dimension: youth safety. All youth development leaders say it is a critical dimension. Come ready to read, reflect, and be challenged!
References
Gambone, M.A., Klem, A.M., & Connell, J.P. (2002). Finding out what matters for youth: Testing key links in a community action framework for youth development. Philadelphia, PA: Youth Development Strategies, Inc. and Institute for Research and Reform in Education.
American Camp Association. (2006). Inspirations.
M. Deborah Bialeschki. Ph.D., is the senior researcher for the American Camp Association. Marie Schmid is the director of Camp Foley in Minnesota. John Tilley is the director of YMCA Camp Coniston in New Hampshire.
Originally published in the 2006 September/October issue of Camping Magazine.