"Do not  water the plants! Thank you."
I actually took a photo of that very sign at an airport's TSA line. The intent was to deter someone like me, who had forgotten to empty their drink, from tossing water onto the plastic plants near the security checkpoint. 
More often, of course, what gets watered grows. This includes plants, crops, trees, animals, and people. The kind of growth that occurs at the most basic level is physical growth — growing taller or bigger. But what if we think of another kind of growth? The kind you might not be able to literally see, but that can still be observed or recognized. What about you? How have you grown in nonphysical ways? 
During the hiring process you were planted. Your camp roots began to take hold. And they will continue to travel deep and wide to provide a firm base for your role once the campers arrive. You will start strong. You have been watered (and fertilized) in the time leading up to the start of camp. What happens next is partially up to you. Assuming you are not made of plastic, working at camp means that where and how you focus your time will help you develop and grow personally and professionally. Grab your watering can — because you will need it this summer!
First, think about what you wanted to be when you were five or six years old. Was it an astronaut? A firefighter? A doctor? A teacher? It was fun to think about and answer when the grown-ups in your world asked that question. As you got older, how did that change? Do you cringe when someone asks you that now? What if the question becomes "Where are you going to school?" Or "What major are you pursuing?" Or "What job will you have after graduation?"
Fast-forward 20 years. What do you envision you will be doing? What would you like to do? Is that the same as what you will actually be doing? Only time will tell.
Did you know that according to futurist Thomas Frey (2011), as a rule of thumb, 60 percent of the best jobs 10 years from now have not yet been invented? I've actually seen stats that are even higher than that, but this is still an impressive number. And, according to Zippia, the average person in today's world changes jobs 12 times (Boskamp, 2023). The question then becomes, how do emerging leaders such as yourself prepare for what lies ahead when the future dictates the present?
If you had to guess, what are the top five skills employers in today's world are looking for on a resume? If you were watching a video, this is where you would hit "pause" and jot down some ideas. If you are in staff training, you may want to turn to a partner to share thoughts back and forth. Take a few moments and write down your "top five" skills list.
Every year the National Association of Colleges and Employers (NACE) actually puts out such a list. So does Indeed, Forbes, LinkedIn, and several others. For the purpose of this article, the 2022 NACE top five list names problem-solving, analytical/quantitative, ability to work in a team, written communication, and initiative as employers' most sought-after skills. 
If you compare this list to previous years, the top five typically jockey for position in that ranking but rarely move out of the leader group of skills. At camp, we call those same skills "superpowers." It is rare that someone gains aptitude in skills such as problem-solving, teamwork, communication, and initiative by reading about it, taking a class, or even watching a YouTube clip. Rather, it is through an experience like working at camp where this "stuff" has a chance to take hold. 
What you may not know (yet) is that camp is the ultimate internship for developing the superpowers needed for the present and future. You will have opportunities to practice and develop each one of those top five skills. However, skills accrual doesn't just happen by spending time in the camp ecosystem. It will take some effort on your part. Personal and professional growth often comes from hard work and considerable self-reflection and conversations with camp leadership, peers, and campers. 
Being proactive and intentional will give you the time needed to nurture this self-growth. You can pay attention to growth opportunities as the summer unfolds by using three powerful tools: hindsight, foresight, and insight.
Hindsight
Looking back (and inward) is key to moving forward. This is the first step of your self-reflection journey. You may have already done some of this in your interview. Describing a time when you followed through with a commitment, exercised patience when working in a group, or found a way to reboot in a stressful situation gives thought to the past and provides information for the future. It's like looking in the rearview mirror. It is important to pay attention to where you've been to glean from your habits and patterns the ability to make needed corrections and changes in direction. 
Hindsight Self-Reflection
Think of this as an ongoing interview, and ask yourself these questions (Kaye & Giulioni, 2019):
What personal values must be realized for you to feel validated in what you are doing?
What energizes you, and what bores you?
What do you most enjoy learning about?
What skills do you appreciate in others that you don't always see in yourself?
Which of your skills are most valuable to you? To camp?
How do your strengths sometimes work against you?
What are you most proud of accomplishing, and why does it instill such pride?
What feedback have you received that you have (not) acted upon?
What do you wish you had more time for in your role at camp?
What lessons do you find yourself learning over and over again?
Note: If you are coaching/mentoring staff this summer, these questions are gold for ongoing, one-on-one conversations!
According to Beverly Kaye and Julie Winkle Giulioni, authors of Help Them Grow or Watch Them Go, hindsight also helps develop self-awareness that will enable you to recognize what you are good at (or not so good at). Looking back and inward provides a reservoir of information that allows movement forward and toward (career and life) goals in intentional ways. Think of the power that comes from (Kaye & Winkle Giulioni, 2019): 
Knowing your strengths — the technical and people skills you are good at
Values — what's most important
Interests — what keeps you engaged/motivated
Dislikes — what you want to avoid
Preferences — how you like to work
Growth opportunities — often found in the midst of challenges 
What if you: 
Spend a little time looking back before leaping forward? Keep a journal to write down experiences as they happen or at the end of each day, including your thoughts around them — or reflect during your daily walk or meditation time.
Unlock that which is unique and important to you this summer? Slow down long enough to pause before rushing to the next thing, and you will start to figure out what makes you "tick." This is valuable information for school, home, work, and life.
Apply the same curiosity you had when you first found out about camp to things that happen throughout a typical day/week? Think of this as "self-Googling" to discover the interesting things happening right in front of your very eyes.
Hindsight conversations provide a solid grounding in who you really are and what you bring to the party. You now need to apply what you learn about yourself in hindsight to what is going on and changing around you (Kaye & Winkle Giulioni, 2019). 
Foresight
Imagine you are looking through the windshield of your vehicle way off into the distance. You may even notice some fuzziness ahead. Don't worry — that will come into focus in a little bit.
"When am I ever going to use this?" That was most likely a well-intended question you asked or that at least crossed your mind as a math student when grinding through a quadratic equation or some other formula. When utilizing the foresight tool, you can start thinking about when you will use the "superpowers" you are developing in situations outside of camp. There will be times in classes, clubs, organizations, with friends or family, or at work that will be the catalyst for putting one of these essential skills in motion. 
Have you ever thought about what career success looks like to you (knowing this will/may change)? To reach your goal(s), what skills and knowledge might you need? Chances are, you will be practicing those very skills numerous times throughout the summer.
The following words, part of Kaye and Winkle Giulioni's "development dictionary," were chosen because they are powerful and synonymous with growth. Their intent is to get you thinking. They may point you in new and sometimes invisible directions. They can establish or maintain momentum forward and toward your individual goals.
Add
Broaden
Challenge
Cultivate
Deepen
Expand
Experiment
Increase
Learn
Minimize
Observe
Practice
Reconsider
Reenergize
Reinforce
Revive
Share
Sharpen
Strengthen
Test
Putting these development dictionary words into the context of camp, here are a few ideas to get your wheels turning about how they can be turned into (foresight) goals: 
I want to broaden my network of people in different careers.
I would like to strengthen my ability to handle conflict.
I want to deepen my understanding of the stages of group development.
I want to experiment with different leadership styles.
I would like to revive (bring new life to) camp Olympics this year.
I want to add another level of progression in archery.
Even if you pick just one of these to work on this summer, this forethought could lead to new possibilities for the future. 
What if you: 
Develop the habit of being curious about the bigger picture this summer? Curiosity starts with being observant and asking questions (even if they are of yourself). Show you are genuine in your desire to know/learn more.
Incorporate a development dictionary term into a weekly goal? Be realistic, but try to set yourself up to get out of your comfort zone and stretch a bit. You may be surprised by what you can accomplish or gain. 
Offer to innovate on challenges you see at camp? Sometimes a new perspective is all it takes to generate ideas for what seem to be inefficient or outdated systems. You may find a new way to control traffic flow on opening/closing days, organize belongings at the pool/lake, or take attendance at the start of activities. Remember to find out the purpose for doing things a certain way before jumping in to offer suggestions.
Insight
This is where the fun begins! When hindsight and foresight converge, insight shows up on the scene as the third tool. So does clarity. Insight guides you toward practical steps you can take on the path to where you want to be. Think of the dashboard on your vehicle with all of its dials and gauges. Interpreting the information you see here will give you valuable insight on how you are currently operating and what adjustments might need to be made. 
Dashboard Insight Self-Check-In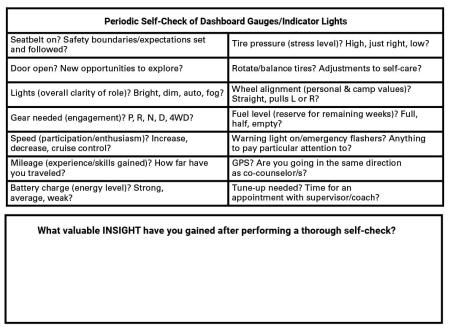 Don't worry about keeping track of all gauges and dials all the time! Pay attention to those that are easiest and/or hardest for you and start there. As you become more self-aware over the course of the summer, you can get a more complete view of how you are doing and where to focus.
Each person has their own unique career DNA that is made up of skills, education, interests, goals, values, and experiences. The intersection of these will help you determine what you ultimately want to do. You may have taken a career interest survey at one time that helps relate your interests and abilities to possible career choices. Working at camp gives you the live version of that same survey every single day.
By summer's end, you will have a better idea of the following: 
Are you: a people person, handy, one who asks questions?
Can you: cooperate with others, tell people what you need, organize activities?
Do you like/prefer to: work alone, make decisions, work outdoors?
If you would like to dive deeper and determine your personal career DNA, check out the exercises here: harborseals.org/wp-content/uploads/2014/10/140928_career_dna_lite_2015.pdf (New York Harbor Seals, 2015). 
What if you: 
Have a clearer understanding of what career success looks like for you? By the end of the summer you should have a good idea of your work environment preferences (working alone/in a group, solving problems/avoiding them, leading/following). 
Are able to teach others as well as learn from others? By recognizing your strengths/areas of growth, you are in a position to share your skills/knowledge/experience in addition to developing new skills/strategies/understanding with the guidance of peers, campers, and leadership. 
Can develop in place as a growth strategy? Changing it up while staying where you are allows you to seek out new leadership opportunities next summer and beyond. The great thing about camp is that no two summers are the same. Step up to recruit future staff; lead a session during staff training; be a head counselor of a particular age group or program activity; manage the camp's social media platforms; or take on more responsibility in the kitchen or other support area. These are all very real possibilities to help you grow. Camp leadership will seek you out when potential is spotted, and you can also make your wishes be known when having conversations throughout the summer with your mentor/coach.
Author and professor Ronald Osborn makes a good point in saying, "Unless you try to do something beyond what you have already mastered, you will never grow."
What you water will grow (including you). Where you focus your time this summer will help you develop personally and professionally. Grab your watering can and watch the growth that occurs over the upcoming weeks and months.
Discussion Questions
How have you grown in nonphysical ways over the years?
How can you incorporate hindsight (looking in the rearview mirror) to provide useful information about your habits and patterns?
When do you see yourself using the skills you are learning at camp when you are at home, school, work, career, or life?
Which dials/gauges on the insight dashboard will be easiest/hardest for you this summer?
What would you most like to learn about yourself while working at camp?
References
Boskamp, E. (2023, February 9). 21 crucial career change statistics [2023]: How often do people change jobs?" Zippia, zippia.com/advice/career-change-statistics/
Frey, T. (2011, November 11). 55 jobs of the future. Futurist Speaker. futuristspeaker.com/business-trends/55-jobs-of-the-future/
Kaye, B. & Winkle Giulioni, J. (2019) Help them grow or watch them go: Career conversations organizations need and employees want. Oakland, CA: Berrett-Koehler Publishers Inc.
New York Harbor Seals. (2015). Discovering your career DNA. New York Harbor Seals, harborseals.org/wp-content/uploads/2014/10/140928_career_dna_lite_2015.pdf
---
Kim Aycock, MST, has several decades of experience equipping young people with skills robots are unable to do. While blending the talents of a master teacher with the knowledge of a seasoned camp expert, Kim ignites learning for varying levels of camp pros worldwide through her interactive and innovative presentations. Kim speaks at regional and national conferences, contributes regularly to Camping Magazine and ACA blogs, and serves as co-chair of ACA's Staff Recruitment & Retention Committee and Staffing Summit. She can be contacted at kimdaycock@gmail.com.
Photos courtesy of Camp Fire Alaska Rural Alaska Program, Alaska; Camp Kupugani, Leaf River, IL; River Valley Ranch, Manchester, MD.
---