These are just a few of the actual situations faced by camps this year. These examples and many others were fielded by ACA's Camp Crisis Hotline team. The Hotline serves as third-party support for camps in crisis. While the Hotline team does not provide medical nor legal advice, they do help camps talk through their crisis and consider options for next steps. Hotline team members also provide callers with resources, strategies that have been successful in other camps experiencing similar crises, and sometimes simply a "listening ear" of support.
Since 1985, ACA's 33 years of providing resources to camps has helped create a service providing the information, tips, strategies, and other resources to those who phone the Hotline.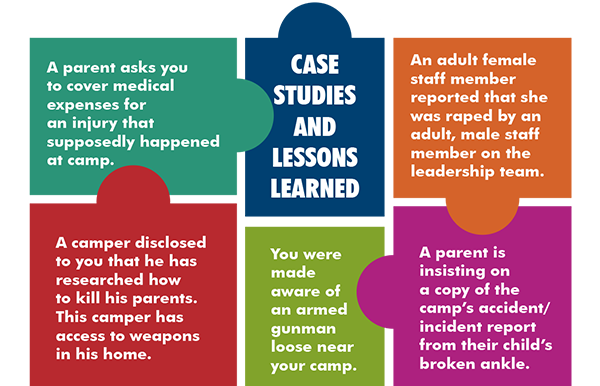 Annually, ACA provides a review of lessons learned based on Hotline calls received that year, case studies for you to use with your staff, and links to the resources that were found most useful. Previous years' annual reviews and other helpful resources are available on the ACA website's Hotline resource page. We hope you will use this review as a training tool for your staff and as a resource to help you prepare your own crisis management plans. Each year, we receive approximately 125 to 135 calls to the Hotline. This year, the calls fell into the following categories:
Health and medical issues - 26%
Personnel/staff issues - 22%
Allegations of child abuse - 15%
Business operations issues - 14%
Camper issues - 12%
Infestations - 6%
Parent issues - 4%
Miscellaneous - 2%
Top Trends 2018 
For ten years, health and medical issues have ranked as the top trend. Many camps seem to have difficulty obtaining the healthcare expertise that is needed in the camp environment. Difficulties ranged from medication management mishaps, to lack of familiarity with childhood illnesses, to struggles supporting campers and staff with mental health issues.
There was a significant increase in calls related to personnel and staff issues. Many of the staff issues had roots in actions and decisions occurring during staff time off impacting their camp jobs.
For a third year, mental health issues for campers and staff remained high.
Calls related to infestations such as bedbugs, lice, or scabies decreased in number.
Health and Medical Issues — 26% of calls
This year there was an increase in calls about medication administration mishaps by healthcare and camp staff. For the third year in a row we received a high number of calls from camps needing assistance for mental health issues such as talk of suicide, cutting, eating disorders, and anxiety for both campers and staff. Many of the remaining health and medical calls ranged from questions about common childhood illnesses (whooping cough, chicken pox, etc.) and flu outbreaks to a few accidents with injury. In many of these calls, the camp did not have the healthcare expertise needed in the camp environment on staff or easy access to resources. Tragically, ACA was notified of two deaths through Hotline calls this summer.
While the ACA Hotline team is not comprised of legal or medical experts, we do have the experience to direct camps to the best information available. In addition, we partner with organizations such as the Centers for Disease Control and Prevention (CDC), the American Academy of Pediatrics, and the Association of Camp Nursing (ACN) to provide education and resources for the camp environment.
ACA Health and Wellness resources.
Lessons Learned — Health and Medical Issues
Trained healthcare staff is critical to the health and well-being of your campers and staff. The Association of Camp Nursing (ACN.org) provides excellent resources and training for camp healthcare staff. In addition, consider having your healthcare staff review ACA's Hotline resource pages on health issues (ACAcamps.org/ camp-crisis-hotline) and participate in health-related online courses and webinars through ACA's Professional Development Center.
All staff need to understand the issues regarding distribution of medication. As more people bring prescription medication to camp, and more camps want to provide out-of-camp adventure experiences (such as overnights away from camp), the issues related to the distribution of medication become complex. The answer to the question of who can manage, administer, and distribute medication varies by state. Resource: Medication Management.
Prepare for mental health concerns for campers and staff. The number of calls to the Hotline on mental health concerns appears to mirror a societal trend. Camps need to have a mental health support system in place and should add mental health resources and experts to the team and healthcare plan.
In the event of a serious accident, injury, or infestation, an excellent communications plan is critical. Many callers just want help crafting messages about an incident that they can share with families, the media, and others. Resource: Crisis Communications Toolkit
Gather and bookmark resources before your season begins. Bookmark pages that provide camp-specific information on common health issues, such as the Hotline web page and the Centers for Disease Control and Prevention. The CDC offers the very best information available on virtually every disease and illness you may encounter. Among the diseases, illnesses, and afflictions included are Lyme disease, pink eye, scabies, whooping cough, norovirus, MRSA, head lice, pinworms, chicken pox, bedbugs, and Hepatitis B.
Have a health/medical support system in place. Before camp even starts, identify health and medical resources you can call at a moment's notice to assist you in whatever challenges come your way. This plan includes not just your on-site healthcare staff, but the list of contacts you would phone in the event of the unexpected. (e.g., mental health professionals, dentists, etc.) 
Staff Training Questions — Health and Medical Issues
What would you do if you were notified that a camper due to arrive has tested positive for Hepatitis B?
What if you had parents who sent their child to camp with serious medications with no indication of why the camper is taking said drugs, and this camper ends up having behavioral issues?
Do you know who is allowed — by law — to administer medications to campers in your state?
Where would you turn for mental health support for a staff person who disclosed to a peer that they were thinking about committing suicide?
What if you had a camper who was continuously making themselves throw up? You were unable to get this self-harming behavior to stop and decided to send the child home, but the family refused to come and pick up the child.
What if your camp nurse realized that seven pills from a camper's prescription bottle were missing? The missing pills are considered a Schedule II-controlled substance with high potential for abuse.
What would you do if a camper told his counselor that he was going to kill himself when he got home from camp with one of his father's guns?
What if a camper had a mild reaction to ingesting hemp seeds after an "Iron Chef"-type activity? The hemp seeds extremely upset the child's father. Resource: Yes, Eating Hemp Seeds Is Legal
What would you do with a staff member who cries excessively and pulls out their hair whenever constructive criticism is given?
What would you do if a camper disclosed that she is struggling emotionally and has been cutting and thinking about suicide — and that her parents don't know anything about her struggles?
Personnel/Staff Issues — 22% of calls
This year saw an increase in the number of calls related to staff and personnel issues, up from 13 percent of calls in 2017. There seemed to be more calls related to issues that happened on staff time off and away from camp that interfered with staff members' jobs at camp, and more calls related to staff behaving inappropriately. Additionally, camps were searching for resources to help them make legal decisions regarding the hiring or release of a staff person.
Lessons Learned — Personnel/ Staff Issues
Set and enforce clear policies about acceptable relationships between staff while at camp. Numerous callers wanted to discuss sexual relationships between staff, including consensual as well as allegations of force. Understand that where adults are concerned, if an allegation of force is made, that is a police matter and the alleged victim should contact the authorities. The authorities will help navigate what happens next with both the alleged victim and the alleged perpetrator.
Identify an employment attorney to provide you with legal counsel. Identify this resource before you begin your hiring cycle. An attorney with experience in labor laws, contracts, and employment issues who you can contact for help at any time is an invaluable resource for any camp. Resource: Cornell
Enforce your personnel policies. It's not enough to simply have personnel policies — you must share, review, and enforce them as well. Establish a clear understanding of what the consequences are (reprimand, suspension, dismissal, and so on) for the violation of the policies. If you don't enforce your own policies, you leave yourself open to a variety of risks — including lawsuits — especially if you do not enforce consistently (i.e., treating one staff member differently than another when they have both ignored one of your policies).
Have a back-up plan for staff coverage in an emergency or unexpected loss of staff. Supervision ratios are critical to ensuring the safety of your campers. What will you do if you have a policy against alcohol on property and you catch numerous staff drinking? Before the season begins, identify short-term options that you can turn to for staff coverage in an emergency.
Take any threat of suicide very seriously. As previously discussed in the health and medical section, suicide threats are a serious mental health issue. It is imperative to seek the help of mental health professionals and get the necessary help for the staff member. Resource: Suicide Prevention
Staff Training Questions — Personnel/Staff Issues
Do you have a plan thought out for on-site logistics and security in regard to the termination of a staff person?
Would you recognize the signs of depression or other mental health challenges in your staff? If so, how would you support these staff members?
What would you do about a staff person who knew a camper could not ride a bike and took the camper on a bike trip anyway? The camper fell, was injured, and was hospitalized. Should there be repercussions for the staff person?
Is it okay for a female counselor to sleep in a cabin with six- to sevenyear- old male campers because camp is short on male counselors?
What roles would you assign a staff person who has disclosed that they are gender non-binary regarding staffing and supervision of campers?
What would you do if a staff member shared that she is ten weeks pregnant, has little to no family support at home, and is in denial about the reality of her situation?
What if one of your international male staff members was arrested/ jailed for alleged rape of a 19-yearold female (nonstaff) while at a party held at another staff member's parents' house in town? He has no legal counsel. There was underage drinking, and the female indicated the rape occurred while she was passed out from being drunk. Resource: Best Practices Concerning the Arrest of an International Staff Member.
How would you address an unsubstantiated rumor going around that a camper and a staff person "hooked up" during the off-season?
What if one staff person reported that another staff person was seen using marijuana during time off and off-site? ACA personnel resources.
Allegations Of Child Abuse — 15% of calls
Fifteen percent of our calls involved allegations of child abuse. This number has decreased from 21 percent of calls last year. Often calls in this category are about clarifying mandated reporter responsibilities and whether to call the authorities. Unfortunately, calls in this category also include allegations of abuse at home, allegations of camper-to-camper inappropriate touching, allegations of camper sexual abuse by another camper/campers, and allegations of abuse of a camper by a staffer.
Resource: Child Abuse Prevention Resources
Lessons Learned — Allegations of Abuse
The law is clear. You must contact authorities if there is an allegation of abuse. All camps fall into the category of a mandated reporter. While state laws vary, camp professionals generally serve in loco parentis (in place of the parent) and must call the proper authorities in their state when allegations of abuse are revealed. Camps have a very clear focus and responsibility to protect the children in their care. Camp professionals can be arrested for disregarding these laws. It does not matter whether the allegation is that the abuse occurred at camp by another camper, by a staff member, or at home. Make the call to authorities if you suspect that a child is the victim of abuse. If the child lives in another state, you may be asked by your state to contact authorities in the other state as well. Resource: childwelfare.gov.
Don't try to investigate. It is critical that you contact the authorities promptly so experts who are trained on these issues can begin their processes immediately. Resist the temptation to start your own "investigation" prior to contacting the authorities, even if you think it is possible that the child is making it up. The camp should rely on the legal authorities to step in and take over the matter.
Don't be surprised when a child discloses an allegation of abuse at home. It has been our experience that children who are the victims of abuse or neglect at home (or some other place outside of camp), once experiencing the safe environment of camp, can sometimes — for the first time — reveal their abusive situation to a caring adult at camp.
Attentive, active, and involved staff supervision is the key to keeping campers from harming, bullying, or abusing each other. Allegations of camper-to-camper abuse often happen in those brief moments in time when staff were not directly engaged with campers — shower time, trips to the restroom, changing for the pool, the time between program and mealtime, just prior to bedtime, etc. It is imperative that your staff be trained to be even more watchful during these vulnerable times. If your camp does not have staff sleeping in the same room with campers, you must consider what you are doing to ensure there is no inappropriate behavior in the middle of the night.
See something, say something — teach your staff and campers to be ever vigilant and question what they see. It takes just one person to step up and question when they see something not right about the way an adult is interacting with a child. You may be the one who is able to free a child from serial abuse. Always have the best interest of the child in mind.
One staff person should never be alone (out of the sight of others) with a camper. Period. If nursing/healthcare staff are concerned about the privacy of a camper when they are being medically examined, be sure you have established procedures that still avoid a situation where a staff person could abuse (or be accused of abusing) a child. Your staff training and supervision policies must support this principle.
One in four girls and one in six boys are the victim of abuse before they reach age 18 — thus, many children may be arriving at your camp already victims of abuse. The US Department of Health and Human Services has excellent resources to help you recognize the signs of abuse. Become knowledgeable. Resource: Child Abuse. 
Establish clear policies about appropriate physical interaction between staff and campers. Be very clear where you draw the line. Does your camp allow hugging, back-patting, lap-sitting, etc.? If so, be sure that your staff understands what is appropriate and what is not. Use role-playing in staff training to crystallize your policies.
Documentation is important. As with any important issue at camp, documenting everything is key to ensuring that the authorities have what they need to proceed with their investigation. Remember, your job is not to investigate, but to record the details of what was said by the child, who they said it to, etc.
Allegations of camper-tocamper abuse must be reported. Mandated reporter laws are clear. If you suspect that a camper has abused another camper, you must call the authorities. The authorities may choose not to investigate if both parties are minors, but you still must report. The safety of children in your care must be your number-one priority! Resource: stopitnow.org.
Staff Training Questions — Allegations of Abuse
What would you do if a mom called to report that her daughter was approached by another camper in the middle of the night who touched her inappropriately and tried to force her daughter to touch the other camper back? 
What if you were given a picture of a staff member in an inappropriate position on a couch with a sleeping camper?
How would you handle a situation where a 14-year-old female camper shared that there was abuse at home where you know this has already been reported yet you file a second report? The issue seems to be that dad is the abuser, and while he doesn't live with the camper and her mom, the mom continues to invite dad to the house, to family outings, etc. Mom also invited the dad to come to the "parents' day" at camp (this weekend) and the camper is scared.
What if a staff member learned from a nine-year-old female camper that the camper had been sexually assaulted at some point outside of camp (perhaps during the school year, perhaps at school)?
What would you do if you just learned that a camper who had been sent home from camp due to disciplinary issues had been sexually assaulting another camper while he was still at camp?
Do you know who to contact if an international camper reports abuse at home?
Business Operations Issues — 14% of calls
The percentage of calls related to business operations doubled over the last year. While many of these calls were not what we would describe as a "crisis" in nature, the Hotline team recognizes that in the moment the camp director makes the call to us, they are stressed and looking for resources. Business operations questions included a broad range of topics such as the use of applicable laws, international campers and staff issues, rental group issues, handling disgruntled former staff, incident and accident reports, and insurance questions.
See ACA's Business Management and Practices Toolkit,
Lessons Learned — Business Operations Issues
Camp is a business and operating a business is complex — seek and retain legal counsel. While ACA cannot provide legal advice, we do help callers consider the questions to discuss with legal counsel. Good businesses also see the importance of having a solid relationship with their insurance agent, their local emergency response officials to include medical services, and a human resource professional.
Understand the laws applicable to your camp — state, federal, and local. Who is ensuring that your camp is compliant with all relevant laws and regulations? Camp owners/directors should be aware of the local, state, and federal laws and regulations that govern their operation.
It's all about relationships. Time spent during the year building contacts and creating relationships with local officials, fire and rescue, medical services, health department, police department, merchants, etc., will serve your camp well into the future.
Staff Training Questions — Business Operations Issues
Do you fully understand the coverages afforded your camp by your various insurance policies?
What would you do if a parent asked the camp to cover medical expenses for an injury that occurred at camp?
What is your camp's policy on providing copies of accident and incident reports to parents as requested?
What if you were asked to serve as an expert witness?
When multiple organizations are on one site and staff are sharing responsibilities, who has the ultimate authority, and how do sticky situations play out?
What would you do if a parent or member of the community wrote a false review online about your camp?
What if you were considering delaying and/or canceling the remainder of your season due to poor air quality, because of widespread wildfires nearby, but your insurance company tells you that unless you are under mandatory evacuation, there is no basis for a claim. What are the financial impacts of this decision? See Wildfire Evacuations.
Camper Issues — 12% of calls
Camper issues represented 12 percent of our Hotline calls this year, which is slightly lower than last year's 17 percent. Different from camper-to-camper abuse, this group of calls mainly focuses on an individual camper's behavior in general and not toward another specific camper. This category also includes concerns with campers who identify as gender diverse.
Lessons Learned — Camper Issues
Ensure that parents and campers understand your camper behavior and related policies and their consequences. If, for example, your camp has a policy that campers cannot have cell phones while at camp, be sure campers and parents understand what specific consequence you will render if a cell phone is found.
Strict and well-enforced staff supervision policies are key in decreasing camper behavior issues. Ensure that your procedures and staff training are designed not only to protect the safety of campers, but also to identify situations where campers could be tempted to behave inappropriately. Resource: Confessions of a Disciplinarian.
Take all comments about suicide very seriously. We continue to receive calls from camps regarding campers making suicidal comments. Unless you are a trained mental health professional, assume the threat is serious. Educate staff on the indicators and symptoms of mental health problems. Information breaks down the stigma surrounding mental health issues and enables people to recognize when to seek help. Resource: Suicide Prevention.
Plan for individuals who identify as gender diverse. ACA continues to field calls regarding the issues of inclusion and accommodation of people who identify as gender diverse. Formulate a plan. Even if you haven't been approached by a camper family with a transgender or gender-diverse child, chances are increasing that you will be at some point in the future. Be prepared, as this decision will likely involve many parties, and it will take some time to formulate a plan of action that works for your camp. Educate yourself and your staff. Train yourself and your staff to understand and be aware of gender identity issues. Resource: LGBTQ
Make bullying prevention a priority from the first day of camp, and let all campers and staff know that bullying behavior is unacceptable. All campers need to feel safe both emotionally and physically. One person's description of bullying is another person's description of abuse. Set bunk and group rules with explicit examples of acceptable and unacceptable behaviors regarding bullying. Post these rules and have staff and campers review them together. Resource: Bullying Prevention.
Campers' belongings can be searched if you suspect illegal or unsafe activities. Unless the camp is owned by a public entity (e.g., the city recreation department), there are no constitutional issues in having a policy to search belongings of campers. Invasion of privacy issues may be superseded by safety concerns. Ensure that parents are aware of your policies. Resource: Camp's Right to Search.
Staff Training Questions — Camper Issues
Do you have interruption of business insurance and, if so, what "activates" this coverage?
What would you do if two high school campers kissed in a cabin late-night game of truth or dare and someone captured it on a cell phone video?
What if you caught two boys masturbating after lights out in their cabin. A third boy was aware of the other two and was talking about girls with them while they were "busy?"
What would you do if a camper parent reported to you that two campers in their child's group were participating in make-believe play? While playing, they set up a storefront, wrapped large, toy building blocks white and/or green and pretended they were bricks of cocaine and weed. Then, they proceeded to sell it to other kids and describe how they could use it.
How would you handle a prank that resulted in one camper urinating in another's water bottle and the camper unknowingly taking a sip from the bottle?
How would you handle a report of sexual activity between campers or staff of the same sex/gender? Would your reaction vary if you ran an all-girls or all-boys camp?
Infestations — 6% of calls
Bedbugs, bats, lice, scabies, pinworms, spiders, and ticks, oh my! Infestations is a new category of calls this year. In the past, this topic was part of the health and wellness category; however, as the occurrence of calls of this subject matter was often a significant portion of the category. we separated them.
Communicable Diseases and Infestations Resource. 
Lessons Learned — Infestations
Ensure that all staff are trained to identify signs of common infestations and illnesses. Many times, it is your frontline counseling staff who will witness firsthand changes in campers and their surroundings. Ensure that your camp staff know the basics of identifying infestations such as lice and bedbugs, are trained to perform regular tick checks, and are vigilant to notice any changes in the heath of those in their cabin. Frontline staff — while no replacement for trained healthcare staff — play an important role in the prevention of injuries and the spread of illnesses and infestations. Consider having all your staff watch the ACA online course, Ticks, Tears, and Toothpaste: The Counselor's Role in Healthcare.
Staff Training Questions — Infestations
What would you do if you found lice in a camper's hair as they were checking in to camp? What is your policy on lice? (Nits vs. no-nits? Send home vs. treat on site?) Resource: Lice - Tips for Camps.
What would you do if you discovered bedbugs in five cabins? Campers are leaving, but a new group is coming in right away with not much of a break.
Parent Issues — 4% of calls
Four percent of calls this year involved parent issues, which can be some of the most difficult issues for camps. Calls included both the actions of the parents of campers as well as the parents of camp staff. Sadly, we continue to have calls from camps where a parent refuses to pick up their misbehaving child who has been expelled from camp. As camps, you partner with parents, but sometimes it is the behavior of parents themselves that is the challenge.
Lessons Learned — Parent Issues
Ensure that all families have a copy of and understand your camp's policies. This includes refund policies and consequences for noncompliance with camp policies
You need not — and should not — be the private investigator, judge, or jury. If you suspect a parent is neglecting or abusing their child, if you suspect parents to be driving drunk or high, if divorced parents are battling out custody issues, etc., then contact the authorities and/or legal advisors. You don't have the legal authority to investigate or judge, so let those who do handle these situations. Resource: Who's in Charge?
Always have at least one — but preferably two — emergency contacts who are not the parents of the camper. As mentioned above, we have had calls from camps regarding parents who are refusing to pick up their child early from camp when the camp has determined that they must expel the child. As shocking as it seems to the camp, there are parents who simply want the camp to handle everything until the scheduled end of camp. If the camp is unable to get a parent or other emergency contact to take custody of the child in cases of threatening behavior, sometimes the camp's only recourse is to call the authorities to take custody. Be sure that your camp families understand your expectations and the parameters that might force you to determine that a child must be sent home — including any medical situations.
Communicate. Communicate. Communicate. An informed parent is a partner. An uninformed parent can become an adversary — with their children caught in the middle. Resource: ACA Communications Toolkit.
Staff Training Questions — Parent Issues
What would you do if the parent of a child on the autism spectrum was requesting her child be allowed to bring a therapy dog to camp?
How would you deal with a divorced parent issue where the parent who enrolled the camper does not want the other parent to access any of the paperwork supplied to the camp?
What if you had two families embroiled in escalating marital drama who are creating issues for each other's children before they even arrive at camp — putting camp in the middle? Allegations of child-to-child abuse is the biggest issue.
How would you handle a parent request for an incident report about their camper's behavior that resulted in the camper's dismissal from camp?
What would you do if a father dropped off his son at camp and told the director that his mother is not allowed to pick him up? The father further described that there is a court case pending against the mother through the state. However, the mother registered the camper, and on the camp forms only the mother and grandmother are listed as legal guardians?
Miscellaneous Issues — 2% of calls
The remainder of the calls concerned varied issues. These ranged from responding to natural disasters such as fire, flood, and tornadoes to rental group contracts and requests for standards and leadership resources. Two calls were related to community threats near the camp location — escaped convicts and an armed gunman. One call was related to guidelines for having service animals in camp.
Contributed by Tori Barnes, Kim Brosnan, Laurie Browne, Abby Burbank, and Rhonda Mickelson.