One of the growing medication challenges in the camp health world is cannabidiol (CBD) oil. An increasing number of camps are getting questions about this product — the legalities of use, the properties of the drug, and the implications for camp. Provided here are educational facts about CBD oil to help camps make quality decisions about its use in their settings.
CBD oil, also called hemp oil, contains CBD extracts from the cannabis plant. The least processed form of the cannabis plant is hemp (Johnson, 2018; Sigmon, nd). Hemp and marijuana come from the same plant, Cannabis sativa, but the two are very different (Stamberger, nd). Hemp contains most of the CBD that people use medicinally. While delta-9-tetrahydrocannabinol (THC) is found in high quantities in marijuana and low quantities in hemp, the reverse is true for CBD. The CBD in CBD oil is most often extracted from hemp as opposed to marijuana because hemp naturally has a higher volume of CBD and lower volume of THC. THC is the component that causes a change in sensorium (high) when smoked or ingested (Sigmon, nd; Wong, 2019; Stamberger, nd).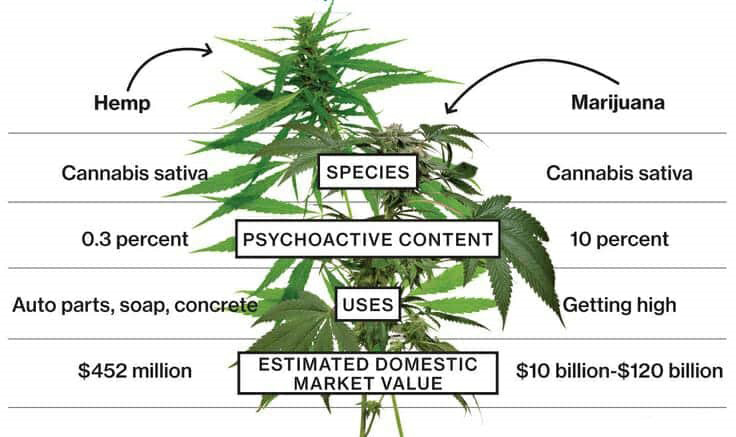 Graphic by Bloomberg Businessweek; Data compiled by Bloomberg Getty Images
CBD Effects
All cannabinoids, including CBD, produce effects in the body by attaching to certain receptors. The human body produces certain cannabinoids on its own. Those produced by the body are endocannabinoids (EC), which have a natural anti-inflammatory effect. Certain foods can stimulate endocannabinoids, such as flax seed, walnuts, sardines, and pasture-fed eggs. The EC system plays an important role and function and has two types of receptors for cannabinoids, called the CB1 receptors and CB2 receptors. CB1 receptors are present throughout the body, but many are in the brain. The CB1 receptors in the brain deal with coordination and movement, pain, emotions and mood, thinking, appetite, memories, and other functions. THC attaches to these receptors (Scholastic, 2019).
CB2 receptors are more common in the immune system. They affect inflammation and pain. Researchers once believed that CBD attached to these CB2 receptors, but it now appears that CBD does not attach directly to either receptor. Instead, CBD oil seems to direct the body to use more of its own endocannabinoids (Scholastic, 2019).
Understanding the receptors is important to realize that THC is not the only ingredient in cannabis that has a direct impact on brain function. CBD oil, which is the second most abundant cannabinoid found in the plant, is often touted as "nonpsychoactive"; however this statement is somewhat misleading (Felton, 2019). Any substance that has a direct effect on the function of the brain is considered psychoactive. CBD most certainly does this, as it has powerful anti-seizure and antianxiety properties. The only FDA-approved CBD medication, Epidiolex, is for two rare seizure disorders (Johnson, 2018; Wong, 2019). In 2018, researchers conducted preliminary studies on CBD addressing anxiety, cognition, movement disorders, and pain, and found that some individuals improved with CBD usage while others felt little to no effect (Felton, 2019, Kubala, 2018). As future research looks at the pharmacological effect of these substances, we will continue to learn how these might be best managed in the camp setting.
Legality of CBD
The most significant concern is the legality of CBD use. During the summer of 2019, many camps received calls about bringing CBD oil to camp for both campers and staff. This was the most common call by far (even surpassing measles calls) received by the Association of Camp Nursing Hotline. How do we respond to these requests? First, we must consider the legal aspects of the substance. Some state and federal laws differ regarding cannabinoids, and current marijuana and CBD legislation in the US can be confusing, even in states where marijuana is legal (Cadena, 2019).
On December 20, 2018, the federal government passed the Agricultural Improvement Act of 2018 (115 P.L. 334, Farm Bill) (Hudak, 2018). Among its many provisions, the bill nationally legalized CBD that comes from industrial hemp. Hemp-derived CBD is legal in all 50 states; marijuana-derived CBD is not federally legal (Hudak, 2018; Market Intel, 2019). The government classifies hemp as any plant of the cannabis family that contains less than 0.3 percent THC (Cadena, 2019). All marijuana-derived products (regardless of THC concentration) are considered a Schedule I medication and are still illegal at the federal level (US Department of Justice, nd; Hudak, 2018: Gov Information, nd). Before you buy any cannabis product, review your state's laws and understand the legal implications for your camp. Consult your camp's legal counsel regarding state and federal perspectives of CBD oil (Market Intel, 2019).
Is It What It Is?
A second and vital consideration is if the CBD oil is in actuality from hemp and is less than 0.3 percent THC (Felton, 2019). You can go to many different Internet sites to purchase this product. However, because this product is often advertised as a supplement instead of a medication, it is not regulated by the FDA or other agencies (US Department of Justice, nd). There is no mechanism to know for sure that the product contains the identified properties.
If an individual brings this product to camp, the camp will most likely want to treat this product as a medication, which adds legal implications for care. If a medication, the camp nurse must be assured of the "five rights" of medication administration (refer to the sidebar), including right drug and right dose. Legally, if a nurse cannot be assured that they are giving the correct medication at the correct dose, the camp should be concerned that they are not following the Scope and Standards of Camp Nursing Practice (Association of Camp Nursing, 2017). The Scope and Standards outlines camp nurse practice and states that a vital competency is to "utilize and promote evidence-based research to guide camp nursing practice." Another competency is to "ensure that nursing practice is safe, effective, efficient, equitable, timely, and client centered" (Association of Camp Nursing, 2017).
With no mechanism to know for sure that a product is CBD oil, that the oil is from hemp, and ultimately that the product contains less than 0.3 percent THC, we lack evidence to support many of the current uses of CBD oil and administration of a product. No regulatory oversight means allowing campers and/or staff to use it could represent unsafe and ineffective care.
Staff and CBD Oil
Considerable attention needs to be given to camp counselors and other staff who use CBD oil and the implications such use may have for job performance. Camp leaders interviewing individuals for a staff position cannot ask health-specific questions and likely will not know what medications or supplements they are taking until after they are hired. In addition, staff may consider the CBD oil a supplement, just as they do their daily vitamins, and give little concern to how the CBD oil might affect job performance.
It becomes very important for camps to have policies and procedures in place to address not only narcotic medications and ADD/ADHD medications, but also herbals and supplements that may impact cognitive function. Share this policy with potential staff when conducting an interview and list the medications that are addressed in the policy. Including the nurse or healthcare staff in this process can be a helpful and insightful move. The nurse can review the health history with staff and understand their current medications and health concerns as they arrive at camp. This allows for a proactive approach to developing a plan or immediately addressing any concerning medications that may impact job responsibilities.
CBD Considerations
Beyond legal concerns, camps should consider other important safety elements before administering CBD oil.
The FDA-approved CBD oil is Epidiolex, and it is only prescribed for two rare forms of seizure disorders. No provider (medical doctor or nurse practitioner) can write a prescription for marijuana because it is a Schedule I drug and still illegal federally, creating implications for care as well (Johnson, 2018).
There is some indication that CBD might harm the liver. About 10 percent of people taking CBD in studies had increases in liver enzymes, which would indicate possible liver damage (Scholastic, 2019).
It may take 5–60 minutes to feel the effect of the CBD oil depending on the route of ingestion. Individuals vaping CBD oil will feel the effect most quickly but can also experience a headache as a side effect. A second route is sublingual (under the tongue). The oil is provided usually in three sublingual products: water soluble, CBD in medium-chain triglyceride (known as MCT) oil, and CBD in hemp seed oil. The third route (edible products) is the slowest route. The benefit is that you can put the oil in about any edible product. The more food you've eaten before consuming CBD oil, the longer it will take to feel the effect (Charles, 2019).
CBD can be applied topically for inflammatory conditions. It is helpful in these situations as it has a slower rate of absorption than other routes (Felton, 2019).
The appropriate dose of CBD oil is based on weight, tolerance, and route of administration (Carter, 2019).
CBD oil inhibits the cytochrome P450 enzymes, which are essential for the metabolism of many medications. Consider medications that might be impacted by inhibition of this pathway. This again is another time to include the camp healthcare provider in the conversation if not already involved (Devitt-Lee, 2015).
Although CBD oil is generally considered safe, it can cause reactions like diarrhea and fatigue in some people (Kubala, 2018).
Nurses at camp must have a prescriber's order to give any medication (prescription or overthe- counter) to individuals in their care. Giving medication without an order would be outside the nursing scope of practice, so be sure to check your state nurse practice act for further guidance. All state nurse practice acts can be found on the Association of Camp Nursing website (campnurse.org) under State Resources (Association of Camp Nursing, 2017).
The Five Rights
There is still much to consider when deciding about the use and/or dispensation of CBD oil in the camp setting. While hemp-derived CBD is legal in all 50 states, camp nurses need to feel comfortable with the drug, dosage, drug interactions, and potential side effects of the medication. Healthcare providers should have a plan for responding to potential CBD adverse events if they were to occur. More information and evidence should come within the next few years, but, for now, the most important consideration is camper safety. Each camp should consider all the variables and make a decision that best supports the mission and work of the camp.
When we arrive at camp and decide to work in a relaxing natural educational environment, we may not realize the challenges we might encounter. We share with parents and guardians the great experience that their child will have while at camp. We receive questions about housing, food, and activities. We get inquiries about health services and who, what, how, and when the camper will receive care. These are all important and appropriate questions as families attempt to identify a "safe place" for their child to attend during the summer.
Inherent in a camp experience are certain risks. Some of these risks promote healthy behaviors such as self-awareness and personal limitations. Other risks, however, we wish to minimize. This includes medication errors. This concept of error in medication management can be complex, and a camp's healthcare team should strive to make sure they are providing what are called the "five rights," by identifying the:
Right medication — It is generally a requirement for a medication to be brought to camp in the original prescription bottle. The prescription label on the bottle provides the five rights so the healthcare provider can verify information and minimize risk to individuals in their care.
Right person — typically done via two or more methods such as:

The name on the application matches the name on the medication bottle.
The individual states their name, which matches the medication bottle.
The individual provides their date of birth which matches the application or the medication bottle.

Right dose
Right route
Right time
Conducting these safety checks at camp can be challenging due to the nature of the camp environment and fluctuations in understanding medication management. What if a medication is brought to camp in such a way that healthcare providers cannot successfully determine the five rights? Historically, this has occurred with vitamins, herbals, supplements, and nonregulated products. These products may not have a label on the container, the product could be homemade, or maybe the product has a different family name on the packaging. All these potentials give rise to concerns about medication safety, and it is the camp healthcare team's responsibility to address these challenges before administering any medication to campers or staff.
References
Association of Camp Nursing (2017). Scope & standards of camp nursing practice (3rd. ed.). Retrieved from admin.associationsonline.com/sites/site_store.cfm?pk_association=1124
Cadena, A. (2019, June 10). Is CBD legal? The legal status of CBD in 2019. CBD Origin LLC. Retrieved from cbdorigin.com/is-cbd-legal/
Carter, A. (2019). CBD dosing: Figuring out how much to take. Retrieved from healthline.com/health/cbd-dosage
Charles, S. (2019, March 21). CVS to sell CBD products in 800 stores in 8 states. NBC News. Retrieved from nbcnews.com/health/health-news/cvs-sell-cbd-products-800-stores-8-states-n986016
Devitt-Lee, A. (2015). CBD-drug interactions: Role of cytochrome P450. Project CBD. Retrieved from projectcbd.org/medicine/cbd-drug-interactions/p450
Felton, K. (2019, February 14). Every question you have about CBD — Answered. Health. Retrieved from health.com/pain/what-is-cbd
Gov Information. (nd). Content details: 21 U.S.C. 844 – Penalties for simple possession. Retrieved fromgovinfo.gov/app/details/USCODE-2011-title21/USCODE-2011-title21-chap13-subchapI-partD-sec844/context
Hudak, J. (2018, December 14). The Farm Bill, hemp legalization and the status of CBD: An explainer. Brookings Institution. Retrieved from brookings.edu/blog/fixgov/2018/12/14/the-farm-bill-hemp-and-cbd-explainer/
Johnson, J. (2018, July 27). Everything you need to know about CBD oil. Medical News Today. Retrieved from medicalnewstoday.com/articles/317221.php
Kubala, J. (2018, February 26). 7 benefits and uses of CBD oil (plus side effects). Healthline. Retrieved from healthline.com/nutrition/cbd-oil-benefits
Market Intel. (2019). The 2018 farm bill provides a path for industrial hemp. Retrieved from fb.org/market-intel/2018-farm-bill-provides-a-path-forward-for-industrial-hemp
Scholastic. (2011). The science of the endocannabinoid system: How THC affects the brain and the body. Retrieved from headsup.scholastic.com/students/endocannabinoid
Shamard, C. (2019, March 21). CVS to sell CBD products in 800 stores in 8 states. NBC News. Retrieved from nbcnews.com/health/health-news/ cvs-sell-cbd-products-800-stores-8-states-n986016
Sigman, Z. (N.D.). CBD oil: An introduction. Project CBD. Retrieved from projectcbd.org/cbd-oil
Stamberger, J. (nd). What is CBD oil: The basics. Medical Marijuana, Inc. Retrieved from medicalmarijuanainc.com/what-is-cbd-oil/
Wong, C. (2019, September 23). The health benefits of CBD Oil. Verywell Health. Retrieved from verywellhealth.com/cbd-oil-benefits-uses-side-effects-4174562
---
Tracey Gaslin, PhD, CPNP, FNP-BC, CRNI, RN-BC, is executive director of the Association of Camp Nursing.