I recently spoke with Megan Lynch, a volunteer with EPIC New England and a member of the Women in Camping speakers committee.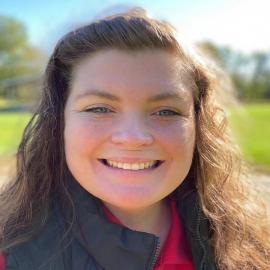 Bekah Carmichael: So tell me, Megan, how did you find your way into the camp community?  
Megan Lynch: Well, about 13 years ago I was in college and needed 500 hours of working with children in order to graduate. A friend of mine at the time suggested that I look into going to America to work at summer camp. So I did and I signed up and the agency I was applying through put me on review at Camp Aldersgate. And this has been my camp home ever since.  
BC: Oh, you're a lifer! I love it. So tell me how you found your way to ACA.  
ML: On my first day working full time at Camp Aldersgate in 2019, the executive director handed me a flyer about EPIC and said I should join. I didn't really know what it was, but he said it would be really beneficial, so on my second day of work, I joined! I loved it because it got ACA back on my brain and connected me to camp people who were outside my own camp.  
BC: Yes! The networking benefits are excellent. What got you involved as a volunteer with ACA?  
ML: I joined EPIC right at the start of the pandemic and found myself on the events subcommittee. We were navigating the quick changes to online-only events, so that was a learning experience. Along the way I got really involved with the Women in Camping community, which was started by ACA, Illinois. It's a community that focuses discussion on topics that affect women in the camp industry. I joined the speaker committee for the Women in Camping conference, so I got to read session proposals and in the process have built a really supportive network.  
BC: That's wonderful to hear, and I believe congratulations are in order, as you recently received the EPIC award from ACA, Illinois for your work with Women in Camping.  
ML: Thanks! I was surprised, and didn't plan on going to accept it in person because childcare is a challenge, but my husband insisted we go and make a trip out of it, so that was fun.  
BC: Absolutely! Never pass up an opportunity to travel! What do you think are some of the ways your volunteerism has benefited you? 
ML: EPIC has been such a great resource for me in my own life. When I started working full time at camp, I was a program director. I was in the weeds with everything and wanted to make changes to the program. I found that the EPIC community was very supportive because we're all doing similar things at our own camps.  
BC: And what keeps you here, volunteering with ACA?  
ML: There is just so much passion that folks have throughout the community. People are the biggest cheerleaders for each other and really want to see each other succeed and get better.