Hot off the press! A brand-new article on the impact of summer camp was recently published in the Journal of Leisure Research on the lasting impacts of camp experiences. Camp research tends to study individuals who just attended camp, were hired to work at camp the upcoming summer, or currently work at camp. These individuals tend to be positively biased toward the camp and tell us all of the amazing things about the camp. This article is particularly exciting because participants were recruited through an online panel (i.e., a database of individuals not currently associated with camp) which resulted in a less biased sample. Even with this less biased sample, camp has an impact on positive youth development!
The first key takeaway is that all camp experiences impact young people's lives for the better. Former campers said they developed a lot of important outcomes like relationship skills, independence, and a willingness to try new things. When we dig deeper into the findings, people who were loyal to camp (e.g., increased dosage due to going to camp for more time or developmentally progressed into leadership roles at camp) reported increased development. "Loyalty" meant you may have spent a lot of weeks or hours per day at camp throughout your childhood, you enrolled into a counselor-in-training (CIT) program, or you went on to work at camp as a counselor.
Here's a summary of the results: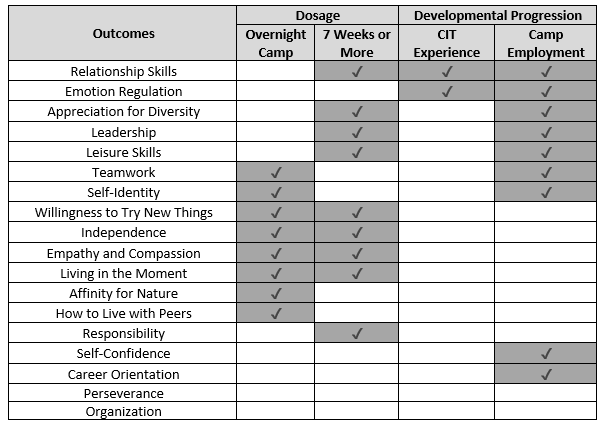 Note: Individuals who last went to an overnight camp, went to their last camp for seven weeks or more throughout their childhood, enrolled in a CIT program, or worked at camp reported significantly greater development for the outcomes that are checked off and shaded. Unshaded areas were not significantly different for these data.
You can use these data the next time you're trying to tell other people about the value of enrolling in multiple camp sessions, participating in CIT programs, or transitioning to working at camp. Greater development likely occurred at overnight camps because of more dosage simply through more contact hours throughout the day. However, ALL camp experiences resulted in the development of positive outcomes. So, no matter what the camp experience looked like or how long campers went, their lives were positively impacted.  
There could be important pathways to developing "loyalty" in campers. For example, offering camp programming that campers are inherently interested in may encourage continued enrollment across weeks. Providing campers opportunities for leadership development may inspire interest in CIT programs or working at camp. There may also be linkages between specific day camps and overnight camps so kids can grow into overnight camp experiences.
If you would like to read the full journal article on this study, we have great news for you! You can download the article for free. Please note, there are only 50 free copies available through this link. Happy reading, everyone!
Cait Wilson, PhD, is a postdoctoral research associate at the University of Utah.
Photo courtesy of Camp Howe in Goshen, Massachusetts
Thanks to our research partner, Redwoods.
Additional thanks goes to our research supporter, Chaco.