Hi Camp Pros!
I'd like to take this opportunity to introduce myself and let you know a bit about what I'm doing here on the American Camp Association® (ACA) Research 360 blog and in the camp world!
My name is Victoria Povilaitis and I am the new research assistant for ACA. I have just begun my doctoral studies at the University of Utah and will be spending the next four years working with the ACA in various capacities. I am very excited to get this opportunity to contribute to camp research in such a meaningful way, as camp has been a very big part of my life for many years now.
Wondering what my history with camp looks like? Well, I was completing my undergraduate degree in teaching, and one of my good friends said to me, "Want to do something cool this summer?" Uh, yeah, I sure do! She suggested working at camp – it would be a great place for us to take our skills outside of the traditional classroom and get a broader range of experience working with kids. Sounds perfect! So in June of 2010, I packed my bags and headed for a residential sports camp in the Pocono Mountains of Pennsylvania. Little did I know, this would be a life-changing decision. Hmm, I should remember to thank her. . .
For the next few summers, I worked as a sports coach and put my physical education teaching degree to use. During these summers, I had the amazing opportunity to see first-hand hundreds of children not only have fun, but develop their athletic skills, and most importantly, develop their life skills. My experience working directly with campers piqued my interest in research and evaluation at the camp level. I could see that every child that came to camp was leaving with increased social skills, independence, and confidence – anyone who couldn't see this was crazy! I wondered how I could show this to campers, parents, and other important stakeholders. Why, research, of course!
I enrolled at the University of Toronto and studied for two years, completing a research-based master's degree in sport psychology. Of course, I wanted my thesis project to be interesting, but most importantly, impactful for camp professionals, so I went back to camp! During the summer of 2014, I collected data from campers, counselors-in-training (CITs), first year staff members, and returning staff members. I wanted to know how the leaders, environment, and programming contribute to positive youth developmental experiences for children at a residential summer sport camp.
Here is what I found:
Camp directors have the potential to influence campers positively from a top-down approach. If camp directors model appropriate behaviors and social norms, form supportive relationships, and create a physically and psychologically safe environment for staff, they staff may then do the same for campers.
Camp staff (counselors and sports coaches) promoted positive youth development experiences through developing supportive relationships with campers, appropriately structuring sport sessions for developmental levels and abilities, displaying positive social norms, and providing campers with a physically and psychologically safe environment in which to experience growth.
Camp staff, campers, and CITs reported camper growth from camp experiences in: connection (social growth) and confidence
For a more in-depth look at what I found, read the journal article "Delivering Positive Youth Development at a Residential Summer Sport Camp."
My next few summers at camp were spent as an athletic director. Each summer I trained and supported 25–30 coaches to provide sport programming to our campers. I evaluated them too! This was a fantastic chance to put into practice everything I had learned during my graduate program. No longer did this seem like just a summer gig to me — I wanted to do it full-time and help make even more of an impact at my camp. I approached the directors and asked if they would be interested in having me join the team year-round as one of their staffing coordinators. They said yes — fantastic! Now I had the ability to ensure we hired the best, most passionate, and most caring staff possible. What an awesome opportunity to make sure our campers had an incredible summer!
It was a fantastic year and I am so grateful for the experience, but I couldn't help but think something was still missing. . . research! So off to the University of Utah I went!
You know the saying "a means to an end?" Well for me, research is both the means and the end. It encompasses a lot of different things. No matter the tool, whether we use surveys, questionnaires, interviews, or focus groups, it is how we learn about all the incredible ways kids and staff grow and change during their time at camp — the means. Research is the fantastic camp staff using results to inform their practice. It is the application of findings to real camps and youth serving organizations – the end.
No matter if research is your means or your end, if you're interested in what research has been done in the camp industry lately, take a look at the recently updated bibliography of camp research – you might find something that interests you! If some of those studies seem a bit too long for you, look at the ACA Research Forum Bibliography (2012-2017). These abstracts (short summaries of the work) are all available online. Learn more with the bibliography of studies and research forum abstracts.
Thanks so much for reading about my journey and my interest in camp research! Overall, my goal is to make sure that all of the work I do is valuable for camp directors and administrators. To do a research study that no one uses to improve their programming just doesn't make sense to me! So, I promise to make research accessible to you, Camp Professional! Now the question is, how will you use it?
Victoria Povilaitis, a research assistant for ACA, is a doctoral student at the University of Utah and has worked in the camp industry in a variety of roles, including staffing coordinator, athletic director, and sports coach.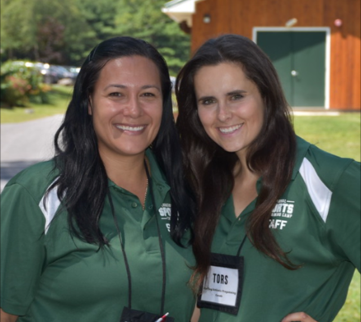 Victoria Povilaitis (right) with one of her camp mentors
Thanks to our research partner, Redwoods.
Additional thanks goes to our research supporter, Chaco.