Thanks for joining us again to continue learning about what's happening in the Camp Program Quality Initiative (CPQI). Many exciting things are occurring, and we are happy to share an update about this work. This is the fourth blog in a five-part series about the CPQI working groups.
If you've been following along our journey, you'll remember that last fall, we wrote a blog to describe how we pivoted the project given the COVID-19 pandemic. In that piece we described how the community of practice moved to three smaller working groups for the fall months:
Continuous Quality Improvement (CQI) Systems Design group
Assessment Development group
Workbook and Resource Development group (formerly known as the Toolkit and Resource Development group)
​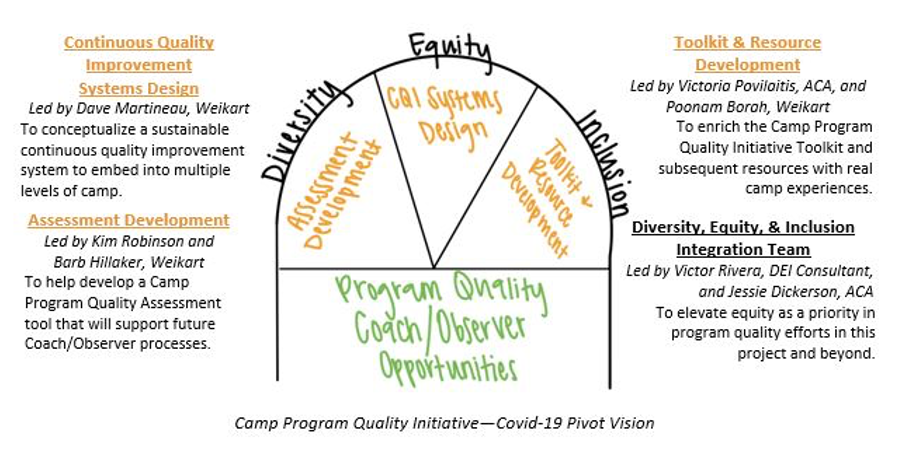 In other blogs we shared updates about the progress of the CQI Systems Design group and the Assessment Development Group. Today we're sharing about what's been happening with the Workbook and Resource Development group.
Overview of the Workbook That We Are Developing
We are adopting a modified continuous quality improvement cycle from the Forum for Youth Investment's Weikart Center for Youth Program Quality to structure this work. This cycle includes four steps: prepare, assess, plan, and improve. The workbook follows along this format and includes a section for each step. An online version will be available to ACA staff that is much shorter and interactive.
Purpose of the Workbook and Resource Development Group
The purpose of the Workbook and Resource Development group is to infuse the workbook with supplementary resources (e.g., case studies, worksheets, activities) that help camp professionals engage in the continuous quality improvement cycle at their own camps. These resources are intended to help camp professionals work through the steps in the continuous quality improvement process while thinking about their own organization and improvements they can make. The Program Quality Peer Network (or, the community of practice) includes camp professionals from various camps and with roles within the industry who have played a key role in bringing the workbook content to life with their own knowledge and experiences.
Each month the Workbook and Resource Development group meets to discuss the content for one step in the continuous quality improvement cycle, sharing their own experiences and thoughts about how this step actually occurs at camp, and discussing what resources are important to create. Based on this discussion, the group leads have created various resources (i.e., personal reflections, planning worksheets, staff training activities) incorporating group members' thoughts and experiences. The group members then review the resources and provide feedback to the group leads.
So far, the group has been instrumental in helping to create:
| | |
| --- | --- |
| | 7 case studies |
| | 7 worksheets |
| | 3 meeting plans |
| | 3 planning tools |
| | 15+ staff activities |
Here's a sneak peek at one of the reflection activities for the case studies.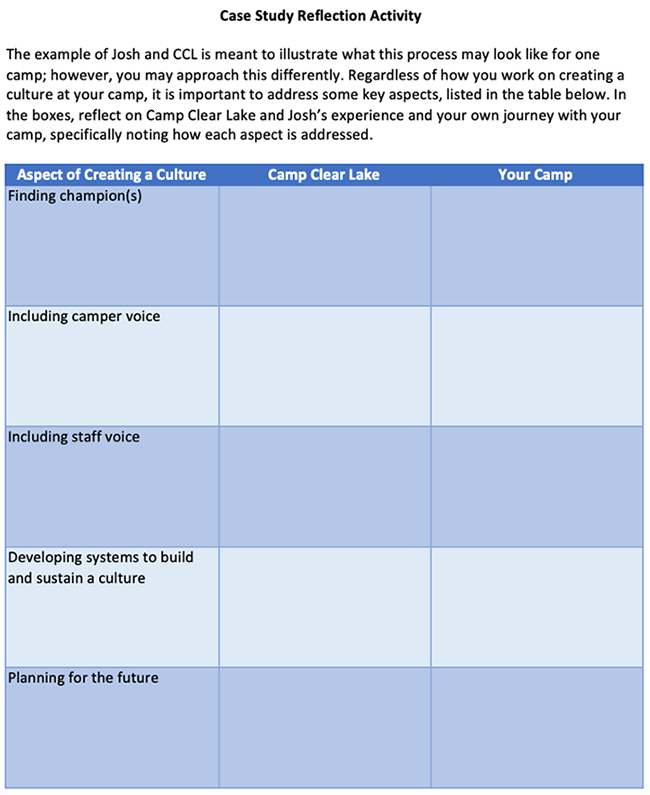 Workbook Group Member Experience
We asked group member Tim Nowak (bio at the end) to share about his experience as a member of the Workbook and Resource Development group. Here's what he had to say:
I was excited about working with the Workbook Development group, because there were clear applications for bringing research and practice together. There is something really powerful that happens when you connect the dots between research and what actually happens at camp.  Working together with this group in the midst of COVID was an interesting experience. I found it to be somewhat cathartic. At a time when our worlds were thrown upside down, I could reconnect with this wonderful group of passionate, lifelong camp professionals. I felt a sense of belonging that meant a lot to me. We did review some detailed material, and certainly at times, it was challenging to sit down to provide the type of attention needed to the work. However, once you put yourself in the shoes of a new camp director trying to "figure it out," it was kind of fun. I really enjoyed working with the case study scenarios and exploring camp with the camp director character, Josh. It was easy to go back in my mind to those first couple of years when I was first directing camp. I know that this workbook will be useful and helpful to camp professionals everywhere.
What Comes Next for the Workbook and Resources?
The goal of the workbook is to be practical and useful for camp professionals. This summer, PQPN members are trying out the workbook and the associated resources at their own camps. They will provide feedback during a feedback meeting about what worked, what didn't work, and how to improve the resources for camp practitioners everywhere. The Workbook and Resource Development group is engaging in their own version of the continuous quality improvement cycle!
Stay tuned to learn more about the initiative's progress with the Diversity, Equity, and Inclusion Integration Team. Thanks for following our journey with the Camp Program Quality Initiative!
---
Tim Nowak has been a camp professional for over 15 years, serving as a camp and non profit director after receiving his MA in Clinical Psychology. Tim has also volunteered with ACA, Indiana as Board/LCOL Chair, served on the National Council of Leaders, and he has helped his program receive the Eleanor Eells Award for Program Excellence in Research.  Currently, Tim is the Indy East Achievement Zone Director of Youth Services with John Boner Neighborhood Centers.
Thanks to our research partner, Redwoods.

Additional thanks goes to our research supporter, Chaco.