I'm going to say this right up front: Today's Research 360 post is a shameless plug for research — more specifically, a plug for participating in camp research, and encouraging others to do the same.
We can all agree that participating in research — namely, filling out online surveys — does not have a good rap. Understandably so: Surveys are lengthy and boring, and you never have any idea if and how your responses are used. So why bother?
Before I tell you why you should bother, let's recall why camp research is important. We live in an information-rich world, and good information (good = not fake) can be hard to find. Research makes our information good; it makes what we claim about camps believable, actionable, and improvable. At ACA, we rely on research to:
Develop relevant resources and professional growth opportunities
Influence policy at the state and federal level (e.g., fight against removal of the J-1 Visa Program)
Secure funding for additional research to expand what we know about campers, staff, parents, and camp programs
Promote accurate and reliable representations of camp in the media
I probably do not need to convince you that research at camp is important, at least in the big broad ways that I listed above. More difficult to grasp, though, is what it takes to make that research happen: You. Taking time out of your very busy schedule to fill out a long, boring, and seemingly pointless survey. Or talking to someone one the phone, or sending them copies of your staff manual or policies and procedures. These are the nitty gritty details of camp research, and they are often not fun or glamorous.
Camp research is not possible without camps and camp professionals committed to participating in that research. Simply put, ACA camps and the people that attend and work at those camps are our living, breathing laboratory. We do not have petri dishes or a set of test subjects; we rely on our members to participate when asked so we have the research we need to expand the value and visibility of the camp industry among parents, community partners, policymakers, and funders.
Ready to participate? Great, because fall is a busy time for camp research, which means there is a good chance you will be asked to complete a survey, participate in an interview, or encourage your staff to do the same.
Here is a snapshot of some of ways we are currently asking camps to participate in research: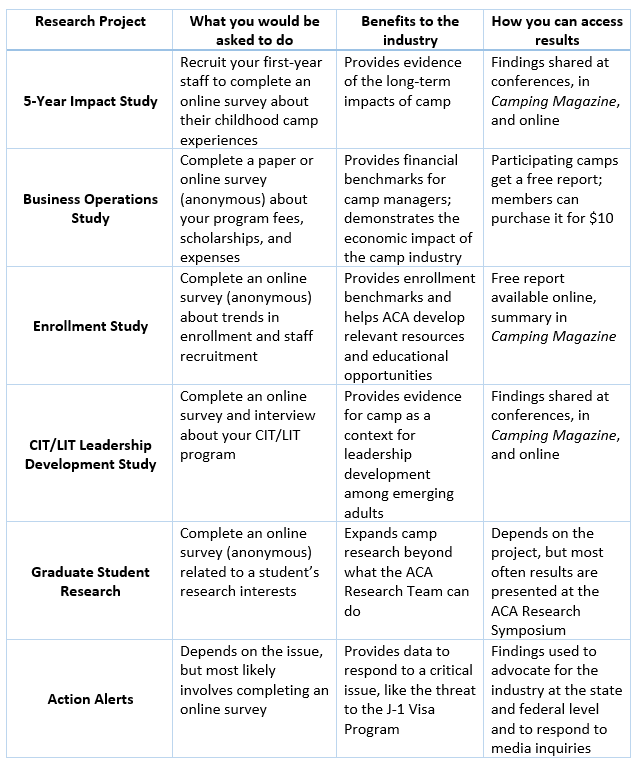 So, the shameless plug is really more of a plea: Participate in ACA research. Fill out the survey, respond to the phone call, send the information you said you were going to send. Without your response, we cannot produce the research that helps parents, community partners, policymakers, and funders realize the value in camp experiences. Research helps you do your job, and our job is to do that research. You give your time filling out a survey, and we all get research that helps more kids attend better camps.
And great news! Now's your chance: Complete the Fall 2017 Enrollment Survey, and then be on the lookout later this fall for your free report. 
Laurie Browne, PhD, is the director of research at ACA. She specializes in ACA's Youth Outcomes Battery and supporting camps in their research and evaluation efforts. Prior to joining ACA, Laurie was an assistant professor in the Department of Recreation, Hospitality, and Parks Management at California State University-Chico.  Laurie received her Ph.D. from the University of Utah, where she studied youth development and research methods.
Photo courtesy of Happy Hollow Children's Camp in Nashville, Indiana
Thanks to our research partner, Redwoods.
Additional thanks goes to our research supporter, Chaco.