On February 21, 2023, a group of 22 camp researchers convened in a meeting room at the Rosen Centre at the ACA National Conference in Orlando. The purpose? To share ideas, build relationships, and find connections and shared interests. It was a safe space for participants to talk about ideas. Participants self-identified as a camp researcher and represented a range of experience from students brand new to research to those who have been in the field for several decades.
After a few warm-up activities (how do you pronounce data?), Deb Bialeschki, PhD (former ACA research director and professor emeritus at UNC-Chapel Hill) and Karla Henderson, PhD (longtime ACA research leader and professor emeritus at NC State) kicked things off by providing a brief overview of the past 100 years of camp research. Here are some of their main points:
Both research and evaluation are crucial to building evidence-informed practices.
Social science methods have been used to frame camp research through the use of social science theories and intention to make a difference.
Over time:

Camps have moved on from only measuring satisfaction of campers to looking at the outcomes and benefits of camp participation.
Topics have evolved from a singular focus on business operations to impacts for people.
Camp research methods have evolved from simple, descriptive approaches to deeper analyses and inclusion of setting-level influences such as program quality.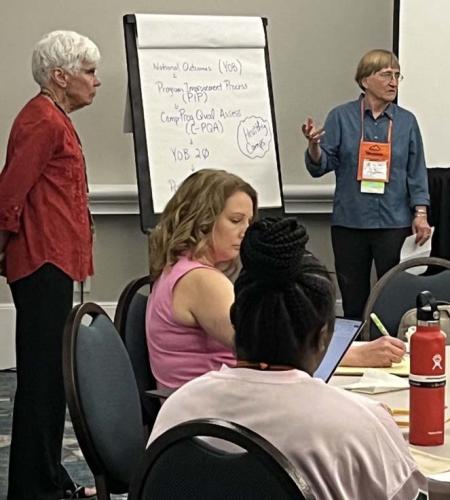 Camp research has also seen shifts toward more creativity, equity, and practical methods through improved instruments, larger and more representative samples, more complex study designs. Analytical methods have improved and increased over time, offering researchers more advanced and sophisticated analyses such as statistical narrative, predictive statistics, and new qualitative approaches to find the untold stories.
Another shift Drs. Bialeschki and Henderson discussed was how research has been interpreted. Building a body of knowledge, thinking more deeply about knowledge translation, sharing findings through blogs, podcasts, and open access journals, and a focus on collaboration and partnering are all signs of the evolving camp research field.
Drs. Bialeschki and Henderson made sure that the audience took away some key messages:
Research and practice go hand in hand.
We should think of research as "re-Search" with an ever-evolving refinement of questions, instruments, analyses, and interpretations.
Our samples need to expand beyond the campers to include staff, parents, siblings, peers, and people who don't attend camp.
Camp research methods should evolve into more technical data collection, participatory research techniques, and increased youth voice through the research process.
Past research approaches have set the stage for embedding program quality and using a social justice (especially intersectional) lens.
Evaluation tools and resources should be made easy for camp staff to use.
A shared image in this gathering was a spiral. Drs. Bialeschki and Henderson described an ever-widening spiral as time went on. When we got to the "where are we going" part of the session, Amanda Palmer (University of Idaho doctoral student and co-planner of this session) used the spiral metaphor and added colors to distinguish emerging types of research methods and an expanding diversity of voices throughout all stages of camp research. Amanda discussed the critical importance of the research questions and how research questions are evolving to reflect equitable and inclusive, youth- and strengths-centered questions that can be answered by an increasing variety of methods.
The group broke out into smaller groups to discuss context, positionality, and reflexivity in research. A few themes within these discussions included:
Deeper consideration of our roles within the camp context
How research questions are influenced by researchers' lived experiences and historical moments
More participatory approaches to study design, data collection and analysis, and involvement in communication of research findings
Navigating the politics of the camp, state, region, country, and field in relation to researchers' own biases.
Exploring when camp doesn't "work," other settings of youth development, and involving people who don't attend camp in research studies.
A few of the methods that people were excited about included biometrics, operationalizing theory and concepts such as "wellness," behavioral indicators, program quality assessment, and photovoice. Beyond these specific methods, though, was a shared agreement within the group that camp research be made more participatory with youth and camp staff and community members to avoid the problems associated with researchers "swooping in like a helicopter" to gather data and then never to return. Acknowledging that it takes time and resources and may not be immediately rewarded with tenure or other faculty job acknowledgements, the group discussed the ethical needs to explicitly consider power, privilege, context, and identities, which is especially critical in an industry that is predominantly white.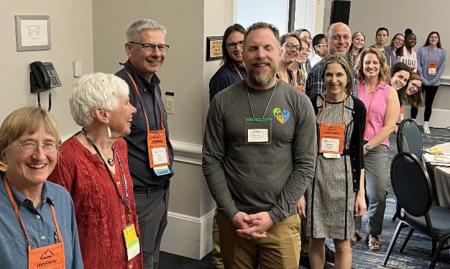 In summary, the session provided a deeper understanding of how camp research has evolved over time, engaged people in considering new viewpoints and methods, and inspired people to learn more and connect with others in the research space. Many thanks to ACA for making this session possible, and to each of the session participants who shared their perspectives and thought in new ways. Special thanks to the session facilitators and planners: Rob Warner, Amanda Palmer, Karla Henderson, and Deb Bialeschki.